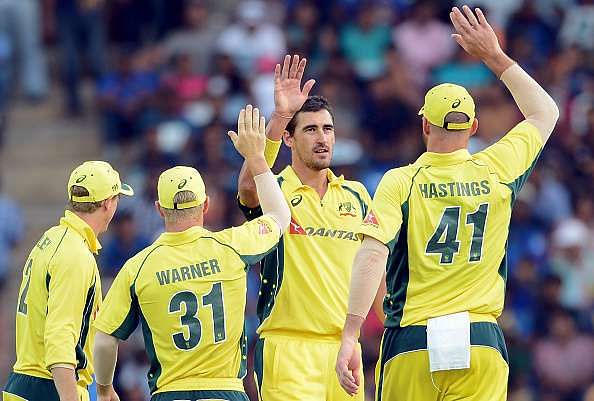 In the last decade, six of the top seven 300-plus run chases have come against Australia. And out of the top 10, eight have resulted in a defeat for Australia. Whenever Australia have managed to put over 300 batting first – a total of 42 occasions since January 2006 – they have struggled to defend it. Even if you consider the occasions when they have come out victorious, six of those have been won by a margin of less than 25 runs.
These numbers look outlandish for a country that has two World Cup wins and a quarterfinal appearance in the last 10 years.
An alarming fact comes to the fore here: in matches Australia have lost after setting a target of over 300, they have been beaten fairly comprehensively by their opposition. Barring one ODI against New Zealand where they lost by only a wicket, all other matches have been lost by Australia when the opponent team has lost five or fewer wickets.
It's evident that the mighty Australians have teetered when they've been asked to defend big targets. Most recently, this almost turned-chronic fragility of their bowling attack was exposed by David Miller in Durban when he sealed the second highest run-chase of all time for South Africa.
Fans of Australian cricket might argue that the surfaces where Australia played those games did not lend much support to the bowlers. In hindsight, this could have been a fair justification given the venues they have played on were batting heavens. Auckland, Hamilton, Jaipur, Nagpur, Harare, Sydney and Durban – barring Sydney, where the wicket is known to turn in the second half of the match, all other games were played on flat decks.
But a further probe into Australia's weakness to defend targets will tell you the problem is more than just playing on batting friendly wickets.
Since the senior players have left, Australia's transition – especially in the fast bowling department – hasn't been all hunky dory. Once legends like Glenn McGrath and Brett Lee retired, it left a huge void that the recent lot of Australian pacers have not been able to fill yet. Australia have struggled to structure the core of their pace bowling attack, even though bowlers like Mitchell Johnson and Mitchell Starc have tried extremely hard to match the greats of the bygone era.
Constant injury to pacers is distressing
Unlike previous generations of Australian cricket which possessed a strong bowling core, recent Australian squads have seldom fielded the same bowling attack in two consecutive series. A major reason for this is their key pace-bowling resources in the last few years – Patrick Cummins, James Faulkner, James Pattinson and Ryan Harris – breaking down regularly with injury issues.
Since January 2006, a total of 39 pace bowlers have represented Australia in ODI cricket (criterion here is a minimum of one ODI wicket), a list that includes Glenn McGrath and goes on till Joe Mennie. This is the highest number of pacers fielded in a 10-year period by a major Test playing side, followed by England, who are next on the list having fielded 30 pacers in the last 10 years.
But if you try and assess the talent of the recent lot of Australian pacers, it's pretty much up there with the best. Earlier this year, Steve Waugh mentioned that the quartet of Pattinson, Cummins, Starc and Hazzlewood was the best fast bowling attack in the history of the game. Given Waugh spent most of his career facing the mighty West Indian pacers, his comments cannot be ignored.
But the problem for Australia is that not even once have these four pacers played together – one possible explanation is Nathan Lyon's inclusion in the squad – but many times, it's been due to an injury to one of these four bowlers.
Australia's pace attack has been beset with injuries in the last few years, and even the selectors don't seem to have a clear strategy how to deal with this lingering issue.
Only recently have the selectors tried to rectify the problem by investing in youth. The inclusion of Joe Mennie, Daniel Worrall and Chris Tremain for the South Africa series was a notable move by the selectors.
Also read: Joe Mennie speaks about his surprise selection in the Australian ODI side
The start for these young turks was not the most ideal, as in their very first international outing, they received a battering at the hands of South Africa. Even though the conditions were tough for bowlers, the young pacers didn't look ready yet to compete at the highest stage.
But irrespective of the pasting they received, bringing in young fast bowlers should auger well for the future of Australian cricket. The selectors realize that the 2017 Champions Trophy and the 2019 World Cup will be held in seam-friendly English conditions, and the fast bowling resources should ideally be tested and be well in place by next year.
Lack of a genuine fast bowler in the line-up
One major trouble with Australia's current crop of fast bowlers is that they don't bring the tormenting pace that the previous generation of Australian fast bowlers used to possess.
After Starc, the most experienced pacer currently in the line-up is Mitchell Marsh, and Marsh isn't express pace; at best, he can tie the batsmen down from one end. Ever since Johnson blew away England in the Ashes of 2013, not one Australian quick has exhibited the ability to demolish the opposition batsmen with his sheer pace. Bowlers like Cummins and Hazzlewood rely on accuracy more than speed, and so when Starc isn't playing, the bowling attack looks unable to pack a punch.
The rising number of T20I games played by these cricketers isn't helping either. More often than not, the role of the bowlers is restricted to a containment job rather than a wicket-taking one, and this often leads to bowlers working more on subtle variations, and not on pure speed. And by the looks of it, bowling in ODIs and T20s is destined to further become a craft that requires damage-control skills, rather than wicket-taking ones.
As Australian cricket moves forward, the selectors have their task cut out – to strengthen a currently frail-looking bowling attack. They should also look to unearth some hidden talents if they want to keep the legacy of McGrath, Lee and Gillespie alive.
And it's not just about legacy; Australia are the No. 1 ODI outfit at the moment, and their inability to defend gigantic totals has disrobed a major chink in their armoury to their opponents. This is something teams like South Africa and India would look to exploit more often in the future if the Australian selectors don't act soon enough.
---