World Cup Fantasy Guru: Time to go bonkers as Phase 1 nears completion
4.81K //
25 Feb 2015, 23:11 IST
Imran Tahir usually feasts on West Indies batsmen; I don't expect it to be any different this time around. When it comes to the Proteas fast bowlers, I would go for Morne Morkel ahead of Dale Steyn. Morkel usually does better in Australia as compared to Steyn, and the latter doesn't appear to be at his best too.
Coming to the Caribbean side of it, it will be extremely difficult for Chris Gayle to repeat his heroics with the bat. The quality of the bowling attack is notches better and the grounds bigger. Marlon Samuels, despite playing two of the most bizarre innings you will ever see, can come in handy. But don't waste a transfer if you don't have him in already. Lendl Simmons is the best batting bet from West Indies.
The ploy to have both Jerome Taylor and Jason Holder in has worked wonders, but I don't expect them to do much in this fixture, except if they get lucky at the death.
Australia v New Zealand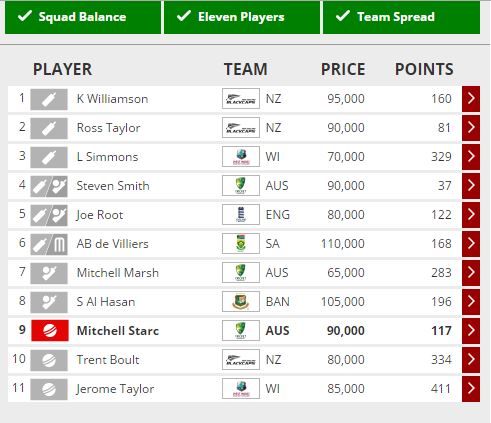 Transfers made – 5; Transfers remaining – 3
Kane Williamson in – Hashim Amla out
Ross Taylor in – Marlon Samuels out
Trent Boult in – Faf du Plessis out
Steven Smith in – Morne Morkel out
Mitchell Starc in – Imran Tahir out
Good luck in finding who will be amongst the points in this fixture. With two high-quality seam bowling attacks, I don't think it makes sense to have any of the openers from the sides, including Brendon McCullum and David Warner. One of them can get lucky and go on to score, but that's very much anyone's guess.
However, one area where New Zealand batsmen could cash in on is Australia's lack of fourth and fifth bowling options; in the absence of James Faulker, Australia have gone overboard with their dependence on all-rounders by expecting Glenn Maxwell, Mitchell Marsh, Shane Watson and Steven Smith to bowl 20 overs. Except Watson, the rest are basically freebies, more so when you consider the fact that the match is going to be played at a smaller ground.
And this is where Ross Taylor could cash in. I do realise that the ploy of picking him backfired big time in the first three matches. But it could turn out to be yet another Chris Gayle. I predicted Gayle's double hundred against Ireland and had him in my side, but he flopped. I didn't get him against Zimbabwe, but he went berserk. Not saying Taylor would bring 750 points, but it could be easy 200 points.
Kane Williamson, being the most technically correct batsman from both the sides, will obviously make his way in. It is impossible to predict who among Tim Southee and Trent Boult will return more. I stick with Boult for his angle. Corey Anderson could get plenty of batting time, but I don't see him hitting Mitchell Starc and Mitchell Johnson out of the park.
When it comes to Australia, Michael Clarke's comeback could push Smith down the order. That wouldn't matter much, as the Kiwi pacers have got enough ammo to run through any opposition's batting order, thereby bringing a No.5 into play. A choice has to be made between Marsh and Maxwell. Marsh is more clinical when it comes to hitting quality bowling and is more dependable as compared to Maxwell; therefore, I draft him in.
Starc gets a nod over Johnson because of his death bowling abilities.
India v United Arab Emirates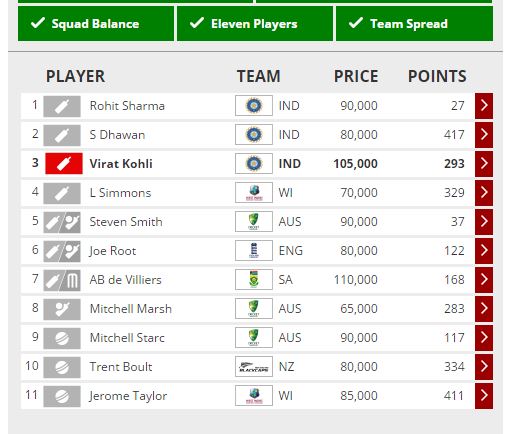 Transfers made – 3; Transfers remaining – 0
Virat Kohli (Mohit Sharma/Umesh Yadav) in – Kane Williamson out
Shikhar Dhawan in – Ross Taylor out
Rohit Sharma in – Shakib Al Hasan out
It is no rocket science to predict how the fixture will turn out. I don't see the UAE bowlers finding a way past the Indian top 3, so I get all of Shikhar Dhawan, Rohit Sharma and Virat Kohli into my team. If India bat second, Kohli can be avoided and replaced by an Indian bowler; however, if they bat first, they could score plenty. Wickets would be split up, so you wouldn't be at a loss even if you don't have a single Indian bowler for this game.
In case you have extra transfers, consider picking Mohit Sharma, as his slower deliveries may prove to be too hot to handle for the UAE batsmen. Umesh, with his pace, can cause a lot of issues for batsmen on a deck like WACA.