From Distant Lands to Derbyshire 12 - Dean Jones
610 //
24 Mar 2013, 00:58 IST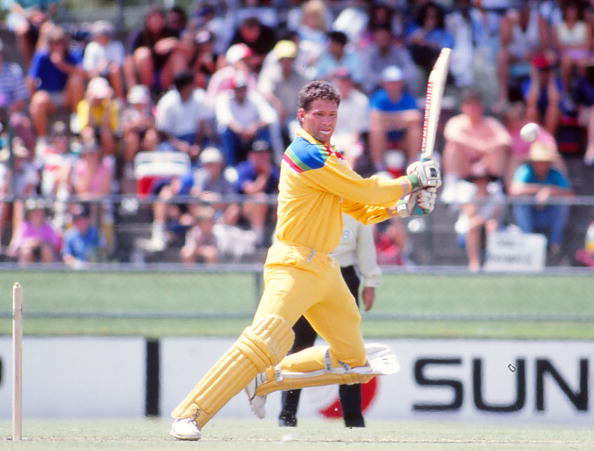 The Derbyshire dressing room of the mid-1990s was full of talent, yet a strong-willed and disparate bunch of players often seemed to lack direction. The atmosphere could change as frequently as the wind direction, but one had the feeling that if someone could galvanise this group of players, they could do something special.
There had been a number of blunt-speaking players in our legendary team of the 1930s, but Arthur Richardson had overcome any personal shortcomings as a player to lead the side with considerable skill to top three positions in 1934 and 1935 before taking the title in 1936. Something similar looked feasible in 1995, but a dressing room that was all too easily fragmented needed a strong leader.
Enter Dean Jones for the 1996 season, as close to the stereotypical Australian as you could wish for. Hard as nails, blunt and with a never-say-die attitude, that was just what the doctor ordered. With the benefit of hindsight, it was never going to last, but it was, without doubt, magnificent while it did.
Jones was a fixture in a fine Australian side and came with the reputation as being perhaps the best one-day batsman in the world, a title for which only Michael Bevan could challenge him. By the end of the 1996 season, 'Deano' had confirmed himself as an outstanding player, and proven it across all formats. He had also, despite a brusque, often confrontational persona, managed to turn a side of talented individuals into a team that came tantalisingly close to championship success.
Jones scored 1502 championship runs at 52 that summer, and also inspired Chris Adams to over 1700 runs, while Kim Barnett contributed 1400. Adrian Rollins passed a thousand too, while Karl Krikken averaged 40 from almost 900 runs down the order. Individually and collectively, there have been few seasons when Derbyshire have batted better. Jones added a further 1151 runs at 68 in the one-day games; 2653 run in a summer led by example.
Having addressed Derbyshire's perennial weaker suit, an attack featuring Devon Malcolm, Dominic Cork and Phil de Freitas was always likely to win games. Jones set bold fields, encouraged and cajoled his charges and finished the season with a side that managed second place behind Leicestershire. With his friend and coach from Victoria, Les Stillman, Jones became an instant hero. Younger players loved him, older ones, for a season at least, tolerated and responded to his way of working.
As a batsman he had all the shots, strong on anything short, unforgiving on the overpitched ball. His footwork was quick and precise, with perhaps his strongest area between mid-wicket and mid-on. A strong bottom hand, like MS Dhoni today, often saw any bowling shortcomings treated savagely in that area, as can be seen in this video:
Yet it was his running between the wickets that seemed an even stronger suit and so impressed me. When he was batting, ones became twos, twos became threes and Derbyshire looked professional and challenging. We took quick singles where previously batsmen might have held the pose of a correct defensive stroke. It was impressive to watch.
Like Peter Kirsten before him, Jones played himself in and worked the ball around before unveiling a wide array of shots. He was not a stylist, like Mohammad Azharuddin, but generally looked to be balanced, composed and in control at the crease. In over forty years of cricket watching, he remains the best pacer of a run chase I have seen, never seeming to panic if the run rate mounted. He worked the ball around, timed his shots so there were two to a boundary fielder, chipped over the infield and clubbed it to and over the boundary. He would have made a fortune in the IPL.
The 'season of Deano' was magnificent yet, like all good things, it could not last. He returned for 1997 but went home in June and the dressing room once again split into factions. Senior members of the side found his abrasive style of leadership hard to deal with and a player with a track record of fall-outs back home decided he simply didn't need the hassle. His departure set off a chain of events that arguably took fifteen years from which to recover, ensuing winters seeing the gradual departure of key members of a good side.
Whatever his personal foibles – and we all have them – cricket history will see Dean Jones as an outstanding player. His many fine Test innings, including the legendary one at Madras where he ended up on a saline drip after eight hours in the intense heat, confirm he was much more than a one-day scamperer. While he was batting, irrespective of the match situation, you always felt there was a chance of salvaging something. That is a rare and special gift for any player.
Jones was a class act but his signing was like tossing a lit match into a box of fireworks. It was spectacular and memorable while it lasted, but caused a lot of damage. While well-intentioned, it ultimately fell well short of creating a lasting dynasty at Derbyshire.
Though it could have done. I'm sure several players from that side have thought back to events and wondered 'What if?'