Good weekend turnout at Test despite tight security
911 //
02 Mar 2013, 17:14 IST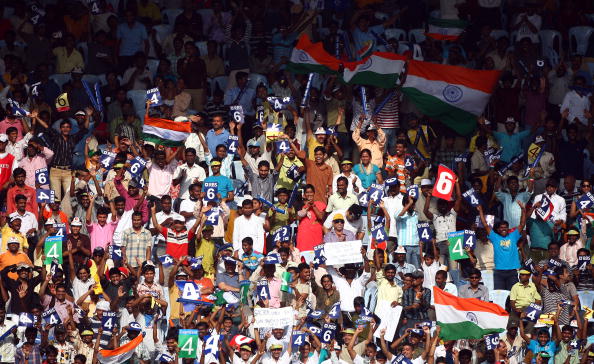 Hyderabad - Despite the unprecedented security in the wake of Feb 21 terror attack in Hyderabad, the second Test between India and Australia attracted huge crowds at the Rajiv Gandhi International Stadium.
Spectators were not allowed to carry mobile phones, cameras, carry bags and even banners inside the stadium. Many spectators carrying cell phones and other items either had to return disappointed or had to make alternate arrangements.
More than 2000 policemen were deployed as part of the tight security arrangement in the wake of twin bomb blasts at Dilsukhnagar, which killed 16 people and injured over 100.
"We have deployed 500 more men than we normally do for a match," said Hyderabad police commissioner D. Thirumala Rao, after reviewing the security at the stadium.
Authorities deployed 60 Closed Circuit Television (CCTV) cameras in the stands to keep a vigil on the spectators. Hyderabad Cricket Association (HCA) officials coordinated with police for better crowd management.
However, the tight security measures failed to dampen the spirits of cricket fans with more than 22,000 turning out to watch the clash between two of the world's strongest teams.
Braving the hot sun, the weekend crowd filled the stands and loudly cheered the fall of every Australian wicket.
Though the stadium's total capacity is 40,000, the capacity for the match was limited to 34,153 due to some construction work still going on in the top tier. The HCA made 23,000 tickets available for sale to public.
Over 9,000 were given as complimentaries, said HCA secretary M.V. Sridhar.
With India winning the first test at Chennai by eight wickets, more people turned out to watch the match. The number is expected to only go up Sunday with more spectators likely to come see India bat.
It is only the third test being hosted at the stadium built by HCA in 2004 at Uppal, almost close to the outskirts. The HCA is lucky to get a chance to host this test, the second in six months. Originally scheduled to be held at Kanpur, the test was shifted to Hyderabad due to construction work going on at the Kanpur stadium.
Both the tests played here earlier were against New Zealand. While the first test played in November 2010 ended in a draw, the last test played in August last year was won by India by an innings and 115 runs.
One of the main roads leading to the stadium witnessed long traffic jams due to the match. Tarnaka-Uppal road was chock-a-block with hundreds of vehicles coming from Secunderabad side.
The ongoing work on Hyderabad Metro Rail on the stretch is already leading to frequent traffic snarls. The spectators coming to the stadium and the office goers had to face severe inconvenience.