The ICC Champions Trophy 2017 is determined to give us splendid moments day after day. Today's match between Australia and Bangladesh saw one of its finest moments in the 43rd over Mitchell Starc took tree wickets in the same over but missed his hattrick. However, the over was entertaining nevertheless.
WATCH THE VIDEO OF STARC'S OVER HERE
Tamim Iqbal was the lone batsman who played well for the Tigers as he kept losing wickets at the other end. He was 5 runs away from scoring his century but Starc had other ideas in mind. His wicket led to an onslaught by the Aussie pacer who cleaned up the tail.
Here is how the action unfolded: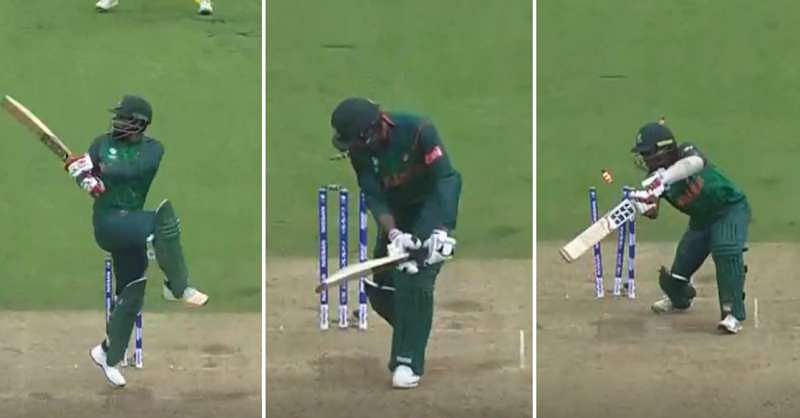 43.1: The first ball he delivered to Tamim Iqbal was short in length. The batsman elevated the ball with the top edge of his bat in an attempt to hit a boundary but ended up giving an easy catch to Josh Hazlewood who ran in front from the third man position and dived to not loose the chance. Tamim had to return to the pavilion with his hopes of scoring a back to back century. At this point, The Tigers had lost 7 wickets for 181 runs.
43.3: The second delivery was a dot ball but the next two balls were the what he is known for best – nightmaris stuff. The third ball of the over was delivered to Mashrafe Mortaza who had no answer for Starc's inswinging delivery which cleaned up the leg stump. 8 wickets down.
43.4: Another yorker by Starc and Rubel Hossain stood there contemplating the ball as it went full length and bent round the wicket hitting the middle stump this time. Rubel tried to hit the ball but he was far away from the target and ended up losing his wicket too. 9 wickets down.
Starc nearly had his hat-trick in the next ball when this Yorker went pass the stump so closely. Despite missing a wicket on the next ball, it was fine over by Starc who got three wickets and conceded zero runs.
He took the last wicket in his very next over when he dismissed Mehedi Hassan with a full-length swing delivery which went through and hit the stumps. Starc ended with four wickets and played a crucial role in wrapping up Bangladesh's innings for 182.