ICC Champions Trophy warm-up: India vs Australia – Match Preview
As we approach towards the matches which count in this year's ICC Champions Trophy, another interesting warm-up tie is awaiting us today, as the two big teams of the tournament, India and Australia face-off against each other at Cardiff. India won their last warm-up match against Sri Lanka by chasing a mammoth target of 334 quite comfortably. Australia are also coming into this match fresh from a convincing victory over West Indies by 4 wickets.
Even though India managed to sneak a win against Sri Lanka, quite a few areas that India should be concerned about came to the forefront, especially their bowling. The bowlers looked clueless, and could not find the right lengths to bowl in the whole match. Umesh Yadav didn't play for unknown reasons. Bhuvneshwar Kumar also could not impress much. R Ashwin, Amit Mishra, Ishant Sharma, Irfan Pathan and Vinay Kumar, all went for plenty. Ravindra Jadeja bowled a decent spell though.
India's batting looked solid with Virat Kohli and Dinesh Karthik piling up impressive tons. Rohit Sharma looked sorry in his short stay at the crease. Murali Vijay started well, but couldn't carry on. With Karthik making his case more stronger for a place in starting XI, it will tough for the management to decide the opening partner of Shikhar Dhawan for the tournament.
On the other hand, Australia's bowlers seemed to have found the right lengths from the word go. West Indian batsmen, barring Darren Bravo, could not manage to play them well. Mitchell Starc and Clint McKay were brilliant, picking up 7 wickets among them. Mitchell Johnson and James Faulkner also bowled reasonably well.
But despite chasing 256 with some ease, Australia's batting looked a bit jittery. It was largely due to the lone hand played by Shane Watson that they could achieve the target. Rest of their batsmen have to pull up their socks as they approach the start of the tournament. Michael Clarke chose not to bat the earlier day, and the questions will start springing up if he decides to not take crease today also.
Players to watch out for:
Virat Kohli - This Delhi batsman has been sensational for India in the past few years, and is the backbone of India's batting. He has been super-consistent in the middle order and will be expected to sail India's ship through to the end today as well.
MS Dhoni - The Indian skipper is arguably one of the best ODI batsmen in the world currently. His ability to soak up the pressure and come up with some match-winning knocks at will makes him the player to watch out for in the tournament.
Shane Watson - After a disastrous tour of India, he rediscovered his form in the IPL and has been in fine touch since then, continuing the same show here. He was simply mind blowing during his 135-run knock in Australia's first warm-up tie, which came off just 98 balls.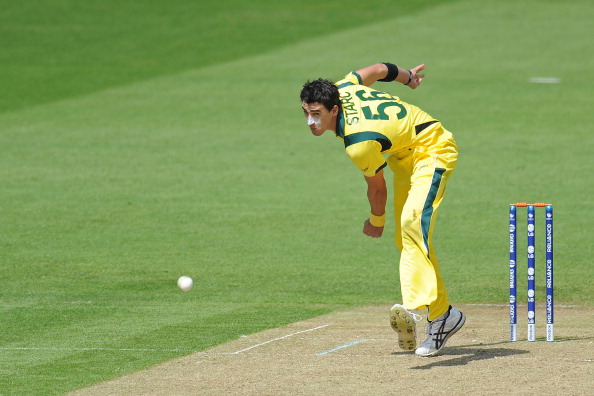 Mitchell Starc - This lanky pacer has been impressing many with his brisk pace and immaculate line and lengths. India should be wary of this pacer, as he can go through any batting order on his day.
Strategies:
Both teams would like to test their weaknesses before going into the tournament. Australia would probably look to impress with the bat today and give an opportunity to the fringe players to take the centre stage.
India, on the other hand, would like their bowlers to hit the correct lengths and show some penetration. They should also look to settle their opening combination today. With Dinesh Karthik knocking at the doors of selection, Murali Vijay has to fire today to maintain his place in the side.
Squads:
Australia - GJ Bailey, MJ Clarke(c), NM Coulter-Nile, XJ Doherty, JP Faulkner, PJ Hughes, MG Johnson, CJ McKay, MR Marsh, GJ Maxwell, MA Starc, AC Voges, MS Wade(wk), DA Warner and SR Watson.
India- R Ashwin, S Dhawan, MS Dhoni(c/wk), RA Jadeja, KD Karthik, V Kohli, B Kumar, A Mishra, IK Pathan, SK Raina, I Sharma, RG Sharma, M Vijay, R Vinay Kumar and UT Yadav.