India v Australia: 2nd Test, 4th Day - The Quick Flicks
2.53K //
05 Mar 2013, 13:11 IST
Eight wickets fell in the first session of the second Test match that broke the spirits of the Australians. Ravindra Jadeja's and Ravichandran Ashwin's stellar performances were responsible for the Aussie collapse. Here is a quick glance of the curtailed day's play: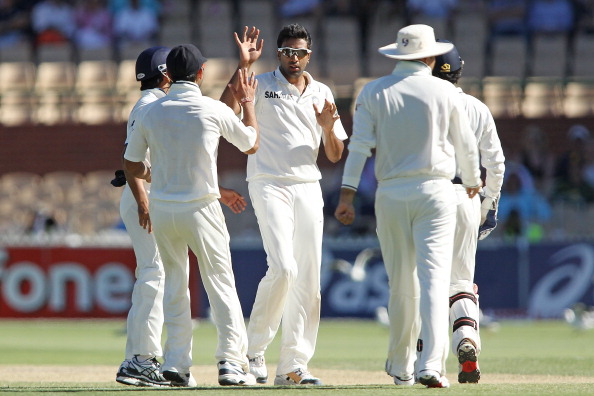 A leg-glance that wouldn't make Ranjitsinghji too proud:
Ranjitsinghji, the inventor of the leg-glance would not have been a proud man looking at Shane Watson's execution of the shot. Watson played the glance too fine and Dhoni pouched a catch diving to his left.  Ishant Sharma's innocuous ball earned him a wicket, and the floodgates opened for the Indians.
Was that the ball of the century?
We have lasting impressions of Shane Warne's 'Ball of the Century' bowled to Mike Gatting in 1993. Twenty years on, Indian left-arm spinner, Ravindra Jadeja, who has been a target of many Indian fans, produced an absolute jaffa to Australia's best batsman of spin bowling. Clarke was just bamboozled.
And then, Cowan's wicket and Henriques' run-out was the icing on the cake for the all-rounder. Jadeja trollers might be jobless in the coming days if this Saurashtra lad produces performances of such magnitude.
Nelson struck:
David Shephard's most famous ritual was the habit of lifting one foot off the ground when the scoreboard read 111 or its multiples. The number 111 was considered unlucky for a batsman. Today, three Australian wickets fell on the same score.
Millionaire Maxwell's looked clueless:
Mumbai Indians would not have liked seeing Maxwell's struggle against the spinners. His 22-ball stay was dramatic. The agony for him ended with Ashwin's carom ball.
Ash-'wins' the match with his five-for yet again:
In eleven Test matches on Indian soil, this was Ashwin's eighth five-for. His variety is earning him wickets in bunches, and he is fast approaching the 100 Test wicket mark.
Another feather added to Dhoni's cap:
With this win, Mahendra Singh Dhoni became India's most successful Test match captain. His last few assignments were tough as a captain, but now he has gone back to his old habit of winning matches.
A stat Aussies would like to forget:
Australia became the only country to lose a Test match by an innings after declaring the first innings of a Test match.