India vs Australia - The story of the 'counterparts'
1.21K //
06 Mar 2013, 11:05 IST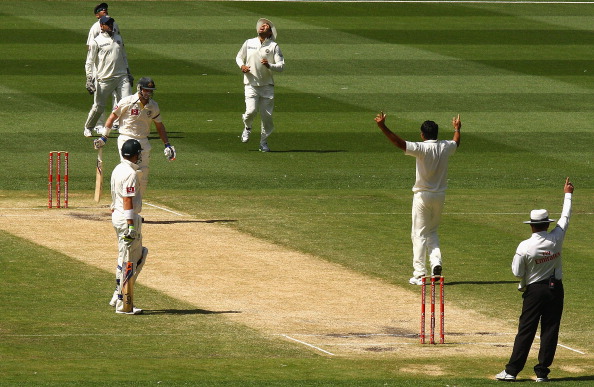 The second Test was dramatic in an absurd manner. After bravely declaring the first innings, Clarke was forced to swallow the bitter pill, standing by only as a mute spectator to the events that led to his team's humiliation. India were indeed sniffing victory at the end of day three, but even a true Indian cricket enthusiast wouldn't have wagered a fourth day finish, let alone before the completion of the second session. It was an absolute eye-sore, if truth be told.
"There is no doubt we have a lot of work to do in all facets of the game. There will certainly be no stone left unturned. The batsmen haven't put enough runs on, and there is no excuse for that." – Michael Clarke
The anguish of Michael Clarke summarizes the immense amount of 'pain' that he has suffered as a skipper and as a batsman who waged a lone battle. Australia have earned another dubious distinction of losing five consecutive Test matches against India in India, and that number portrays a story on the manner in which Australia had been thoroughly outplayed.
Though Australia had to rue the loss of the seniors, it is tough to ignore the obvious truth on the lack of plausible talents in the domestic circuit. They cannot produce a Matthew Hayden or a Ricky Ponting on a regular basis. They are a 'once-in-a-lifetime' type of players whose loss has pegged the team down quite heavily.
Shane Warne did mention in one of his many interviews that touring India is seldom easy. He stressed on the importance of grooming talents, which the Australian board has clearly overlooked. Having outplayed India in the series down under, Clarke would have been mighty confident of his chances in the subcontinent. But from what has transpired, Clarke has clearly not appreciated the importance of 'horses-for-courses' strategy.
"There will be no break between the Test matches. There will be a lot of hard work, I can assure you. You don't get better sitting on the couch. We have had guys get in and out without making big scores. That's unacceptable," – Michael Clarke
Clarke's predicament can be pitied. The Australian selection committee has clearly misunderstood the lack of temperament and ability for lack of form. Form could be obtained with ample amount of practice but to prevail as a versatile player, it takes a lot of attitude and comprehension of one's strength and weaknesses, to begin with. Even a player of Hayden's calibre had to sweat bricks in the sunny weather of Chennai to master the art of playing spinners.
"Hayden's 2001 show had a lot to do with his preparation. He came to Chennai a few months before the tour, grinding it out under the cruel sun, learning how to play against spin" – Ed Cowan, Australian opening batsman
It cannot be achieved overnight, and players like Glenn Maxwell and Philip Hughes aren't going to be at ease any more than they are at present. A shortcut or a crash course wouldn't bolster their case, and they would do better to understand that. The best option would be to undergo a minor revamp as a team and play to their strengths. By that, I do not mean that they would have to go in with three or four fast bowlers, resembling the tradition back in Australia, but they can organize the troops in accordance with the conditions.
For starters, Shane Watson is struggling to discover his form playing against the spinners. His feet aren't moving quickly and the sudden change in the batting order hasn't helped him one bit. Therefore, he should be promoted up the order to open the batting along with David Warner. Together, they can wrestle the initial momentum from the Indian seamers. The best option would be to play safe and draw the remaining Test matches. They would have to bat out of their skins to achieve that and it is no child's play. Batting under the sweltering heat against the spinners in their own den is next to impossible, but they can manipulate the bowling by employing defensive and negative tactics that would definitely play on the minds of the Indian spinners. From then, it could be only be a matter of time before the bowlers tire out and then Australia could drive the nail in the coffin.
Batting first in the first two Test matches haven't reaped any dividends for the team. On sub-continental pitches, day two and day three are considered to be a batting paradise, and Australia could contemplate restricting the Indians for a low score and try to make use of the placid conditions on day two and three.
Bowling has been the major concern for them. They are unable to administer the killer blow after the initial burst. Picking Sehwag's wicket is like a walk in the park these days, but they would have done better to get the wicket of Murali Vijay, especially understanding his nervousness, playing international cricket after quite a while.
Honestly, the grey area in their bowling is the lack of a genuine spinner who could bowl well in any conditions. But personally, I feel that Clarke missed a trick by not picking Nathan Lyon for the second Test. Bowling in tandem with Xavier Doherty, Lyon would have been lethal. Let us not forget that he was mighty successful on his debut tour to Sri Lanka. One brilliant innings by the Indian skipper would not demolish the skill and repertoire of Lyon in any way, and Clarke would do better to pick him for the third Test. The casualty should definitely be Glenn Maxwell.
The fielding has been pretty clean and Australia can tick a box on that account. Their players are live wires on the field, pouncing on the balls with energy in the typical Australian fashion. "It is easier said than done" – the mantra for Michael Clarke and his men would be to do and not just say.
It would definitely prove arduous, but it is worth giving it a shot since they have got nothing to lose. Australia are on the mat, and it is time to witness one of the brave fight backs yet again. Or wait, is it going to be a classic case of an Indian domination? It is a long shot, but I can say with surety that India is well on its way to avenge their white-wash successfully.