India Vs England 2nd test: The DRS Irony
901 //
31 Jul 2011, 10:21 IST
The momentum kept shifting between England and India on day two of the Trent Bridge test. Which lived up to be another fantastic day of test match cricket.
India got ahead of England on the back of two good partnerships, anchored by the Wall Rahul Dravid, who scored yet another test century. Some excellent stroke play by the sublime Laxman and aggressive Yuvraj put India into the drivers seat. Or did it? Stuart Broad had other plans for the Indian batting order. He quickly picked up 5 scalps for 0 runs, including a hat-trick, to rudely wrap up the Indian innings from a strong position of 267-4 to finish 288 all out.
India missed the opportunity to gain a bigger first innings lead, that saw them restricted to just 67 runs. This may be plenty, provided that India bowls out England once again on day three. The sunny conditions will certainly make batting just that bit easier than day one. Pressure in the first session will be on Ishant and Sreesanth to produce the goods for India, and also on Strauss and Bell to play out the session without losing a wicket.
The DRS debate hit centre-stage twice yesterday. If you are a fan of irony, get a piece of this.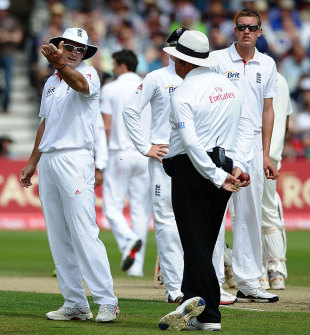 It started with an unmistakable conflict in the results produced by HotSpot and Snicko. It's worth noting that HotSpot claims 90-95% accuracy and is mandated for use in the DRS. Yet when Laxman apparently nicked one to Prior off Anderson, HotSpot confirmed he hadn't. Snicko soon confirmed he had. Note thay Snicko is not used in the DRS and is only for the viewing pleasure of TV audiences, because it takes about 5 minutes to give results. Laxman survived and England lost a review.
India refused the  use of HawkEye, arguing that the projected path technology is not yet mature. England on the other hand have argued strongly in favour of using this technology and a full DRS. A compromise was reached for the current series, where LBW decisions are not up for DRS reviews.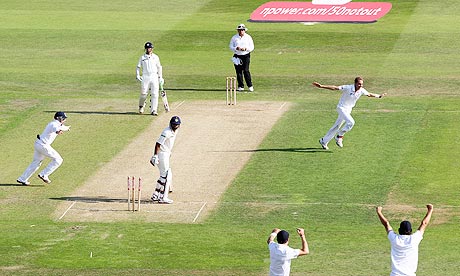 Later in the day, the wheel turned. Just after Dhoni threw away his wicket,  Harbhajan nicked one onto his pads from Broad, and was given out LBW, but could not review it. The ball took a big inside edge before hitting the pads. Praveen Kumar came next and he was clean bowled by Broad, there by completing his hat-trick.
In all the power play and quibbling, the ICC is missing out on some simple home truths. Let's revisit the possibilities.
Should decisions be challenged by players  or should the umpires take all the technology support they need, if the need arises, to reach a verdict?  With no challenge, no reviews, just technology supported decisions if and when the onfield and third umpire are in doubt. What's wrong with that?
Is there a case for ICC mandating use of all technology for all decisions in all series?
So we may lose 5 overs in a 90 over test match day. Not the end of the world, is it? Besides whats all the fuss about 90 over days, they could be very thrilling, and fair, even if they were 85 overs.
In case you've not considered this, the commercial breaks on TV caused by "decision breaks" could add millions in advertising revenue. There you go, problem solved. Are you listening ICC?
Catch you later after day three. Have fun watching England and India battle it out at Trent Bridge.