India vs England 4th Test: Preview
910 //
12 Dec 2012, 23:50 IST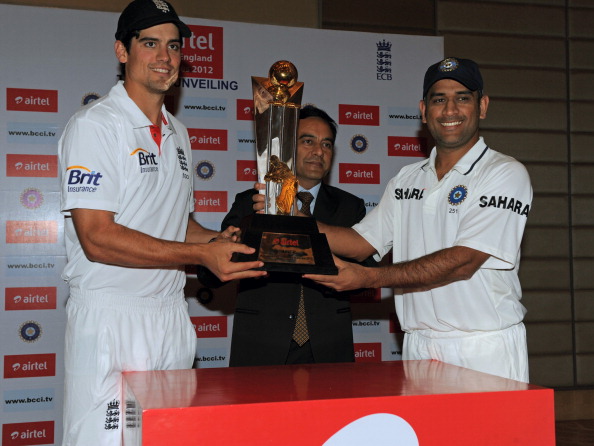 This could be the worst ever phase for Indian cricket on and off the field. There are a few things difficult to fathom at this point of time, with the selectors who've just completed their term, complaining about the team. This is the same team they've been selecting for the past 3-4 years and it is really incomprehensible how someone can change one's stance so quickly. Nevertheless,  team India have also not been performing close to what they are actually capable of. This much talk would not have happened had they scored about 100 more runs in the 2nd innings of the Kolkata test. But the truth is, they did not and hence lost the test by 7 wickets.
So now moving to the 4th and final test, Dhoni's men have a daunting task ahead of them which they would not have imagined about a month back. India is trailing 2-1 to England in a series in India. It has not happened in a long, long time. Though England can settle for a draw, they will definitely be going for the win. It is very disheartening to read scathing articles by cricket pundits about the Indian team but there is no better way to disprove them than by actually performing well and producing results. The match beginning tomorrow at Nagpur is going to be crucial for many Indian players and the team as well.
It is finally good to see some reaction from the new selection committee, unlike the previous one which is making statements now and did not dare to do anything when they were in-charge. Though the replacements are not the best, it can be attributed to the fact that India doesn't have a great number of reserves. I think there will be a direct replacement of Yuvraj Singh with Ravindra Jadeja and Zaheer Khan's spot will go to either Parwinder Awana or Ashoke Dinda. With his recent performances, Awana has been good with both bat and ball and should be given the nod ahead of Dinda. Jadeja is also coming on the back of some brilliant performances – getting 4 wickets in each innings and scoring around 70 odd in each outing in his previous match.
England have injury worries as well, with scans revealing Steven Finn might have a lower back injury. They would most probability go in with Tim Bresnan, who despite having a shoddy performance at Ahmedabad, is quite capable with the bat and does have a few threatening spells to his name. With Ian Bell showing what he is actually capable of in the short time he spent in the 2nd innings at Kolkata, I doubt if the England outfit will make any tinkering with their batting line up. But it will be interesting to see how the team does if either Alistair Cook or Kevin Pietersen or both fail in the same innings. Jonathan Trott has not been at his best though the performances in the 3rd Test will be encouraging for the England No. 3. Samit Patel too, has not scored after his blistering innings in the warmup games.
India should go out there in a positive mood and ensure they come out on top. There has been a lot of talk going around, calling for Dhoni's sacking. Though he has had a very poor outing as a captain and as a batsman the last 18 months, we all know what he is capable of. It definitely would be a good idea to get a new leader for the test team and have Dhoni as just a glovesman, but this is a topic for another day and for another article. With the weather doing great and India injecting some young and new blood into the team, I expect a fantastic contest starting tomorrow and hope for an even contest. Gear up guys!