India vs England: Day 1 report - The LOL Route
1.64K //
15 Nov 2012, 23:07 IST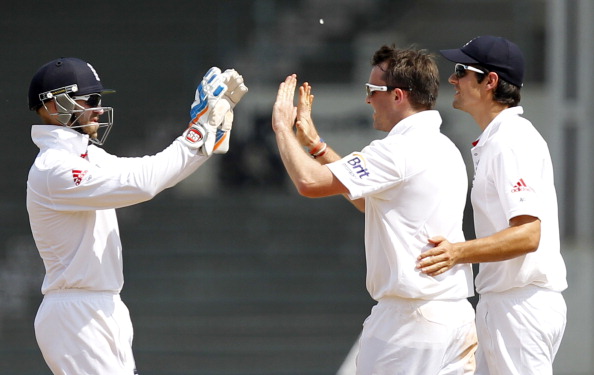 A bright and sunny Thursday morning greeted the players at Motera before the start of the first Test between hosts India and visitors England. Everybody's attention was on the wicket. Alastair Cook and MS Dhoni, while walking out for the toss, spotted the groundsman sitting next to the pitch, with a hand on his head, listening to the song, 'Shut up and Bounce'.
The last time MS Dhoni won a toss was probably in the Medieval Period. Bowling first would have been a nightmare for an attack that lacked firepower unless the wicket offered turn right from Day 1. But, to everybody's surprise, MS did spin it right. Well, of course, he decided to bat first. The tallest players of their respective teams – Ishant Sharma and Steven Finn – were ruled out due to injuries.
"And you thought Diwali ended yesterday?," Sehwag seemed to ask the English bowlers as he toyed with them, scoring at a run a ball. Meanwhile, Harbhajan Singh and Monty Panesar, who were left out of the playing XI of either side, attended a special screening of Son of Sardar in the players' lounge. Interestingly, England's Samit Patel was the only player playing on his home ground today.
When Sehwag got to his hundred, MS Dhoni was seen smiling and giving a standing ovation. Some people thought the rifts are long gone. But, only Dhoni knew his own acting skills. Sehwag who saw that on the big screen, couldn't control the urge to go run and hug Dhoni. He soon threw away his wicket and walked quickly to the pavilion, proving his fitness.
It was a day when there weren't any ducks but there certainly were plenty of Swanns. After the quick bowlers struggled to get the ball to bounce over waist height, it was time for spin. Sehwag was dropped, Gambhir's stumping chance went begging, Anderson misjudged Pujara and they tried everything possible to ensure Tendulkar doesn't come out to bat so soon. However, the Little Old Master flattered to deceive. The other bowlers struggled miserably while Swann continued to trouble the batsmen.
When Virat Kohli came out, there was a sense of calm in him. Perhaps the whites did some magic to his concentration. It took him 30 balls to get off the mark but a classy Tendulkaresque straight drive got him going. Trott decided to take advantage of this calmness and decided to claim a catch that wasn't. It wasn't too long before Kohli dished out his MCBCs after watching the replays on the big screen. With that, went the concentration and Swann claimed his fourth.
Then came Yuvraj Singh. Swann had him clueless but the anticipation of thrashing Stuart Broad kept him going until the umpires called stumps. Swann walked out with thoughts of taking all ten wickets in an innings at the back of the mind. He remembered Anil Kumble and thought, nothing is impossible. What he didn't realize that one of the umpires when Kumble took all ten, was AV Jayaprakash. At 323/4, the Indians had a slight advantage at the end of Day 1.