India vs Pakistan T20I - A Fan's View
3.80K //
27 Dec 2012, 22:30 IST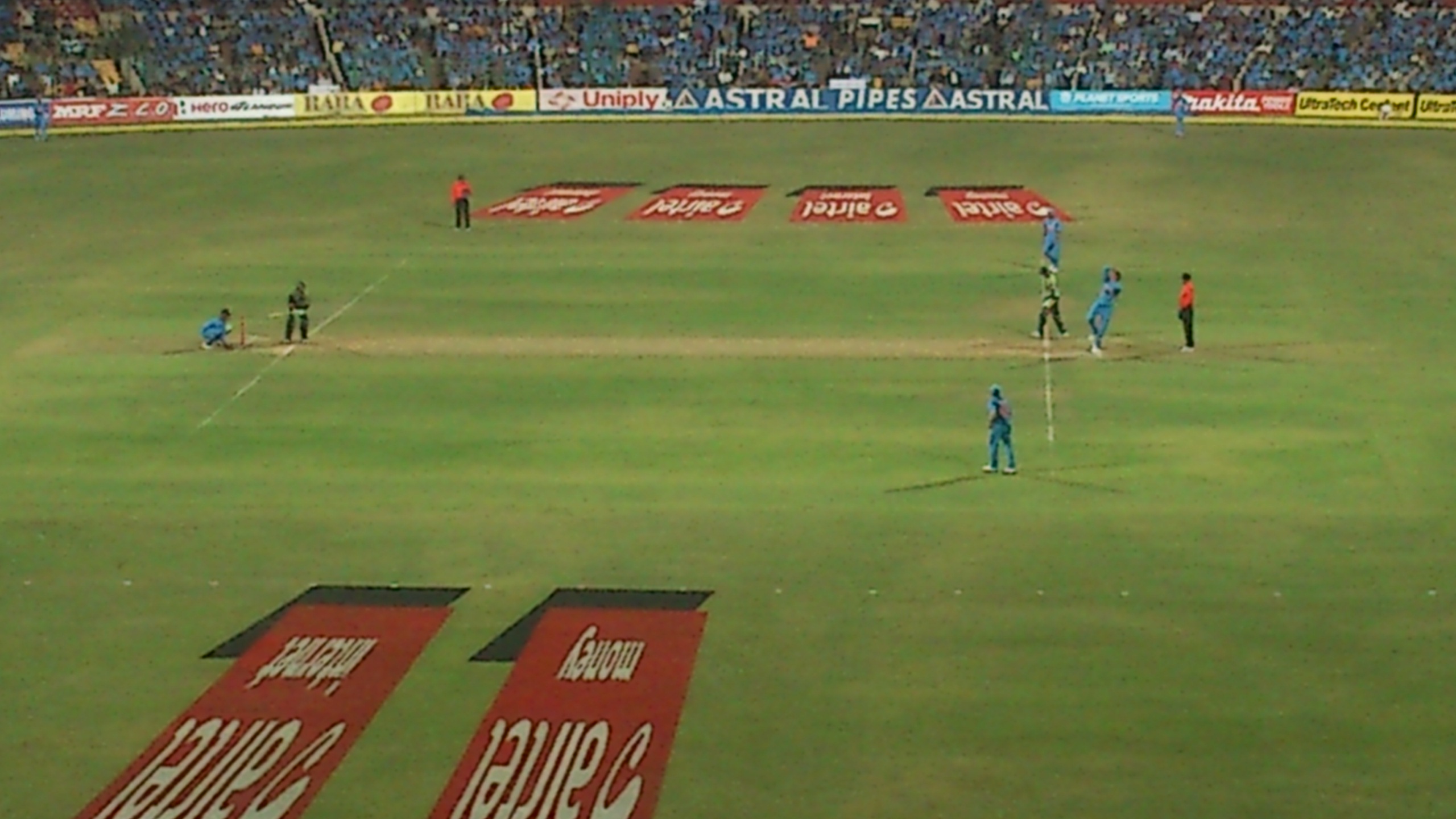 One of the things that I thought that I wouldn't do ever again was go to a stadium and watch a cricket match. But all that went to the dogs when, with all my infinite wisdom, I agreed to tag along with my friend to get tickets for the India-Pakistan T20 game in Bangalore. After standing for four and a half hours in a line slower than a snail and longer than a Chan's Megastick line, the only thing that went through my mind was: This better be fricking worth it!
Long story short, it was.
Prologue
The last time that I had gone to watch a cricket match at a stadium was way back in 1996, when Kenya played Australia at the Indirapriyadarshini Stadium in the City of Destiny (also sometimes called Visakhapatnam). I know, it was a Kenya vs Australia match and you already knew who was going to win. But hey, it was a world cup match and I was too young and too worked up to bother about minor details like that. I had to go to the stadium, end of story. I did, and it wasn't really that great. Either I was too small or the place we were sitting was too far, because I couldn't see a thing if my life depended on it. The pitch and the batsmen were so small that I had to have binoculars to have any decent chance of seeing any action. Suffice it to say, it wasn't the greatest experience, and you will forgive me if I didn't really make any serious attempt at going to any other stadium, cricket match or otherwise.
The Match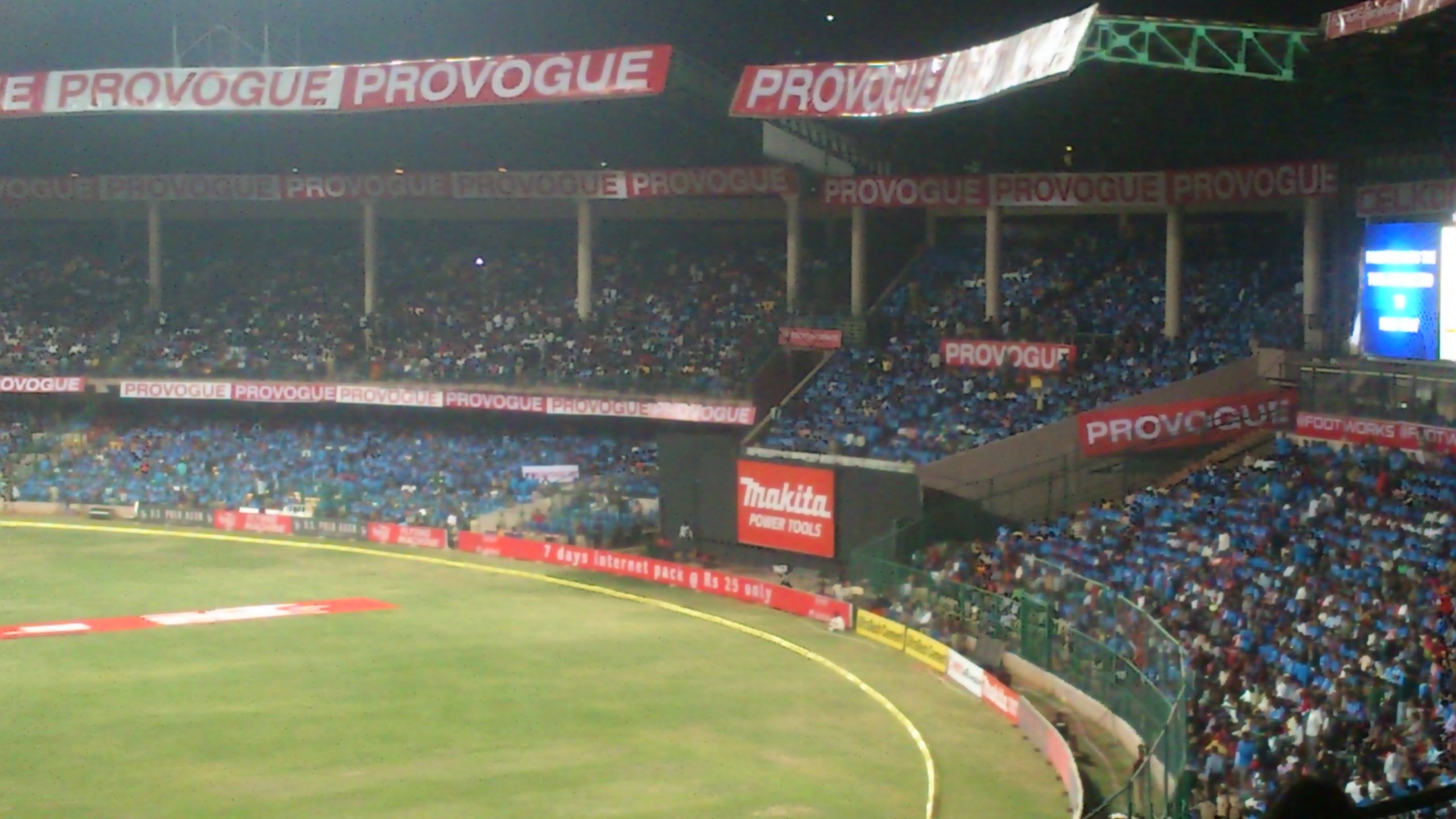 I and my friend reached the Chinnaswamy stadium, only to be met with a beehive of people going here, there and everywhere. I mean, what was this, the Oktober Fest? We managed to find the gate through which we were supposed to enter, only to find another long queue that stretched to the next street and to a galaxy far, far away.
*Enter clichéd saying about slow moving long lines*
I was beginning to wonder if this was going to be that kind of match where the players decided that the Test match was the best form of cricket and give a glorious display of it.
Finally, after spending another hour and a half of my precious Bill Gates time, we managed to reach the Holy Grail, that is the entrance of the stadium for the security check. No Santa Claus caps, no hoots, no patriotic India head bands on your, you know, forehead. I quit trying to work out the logic behind such a measure. I am sure they had reasons, but I couldn't be arsed to reason it out. And we had to remove our shoes too, apparently. They were leaving no stone unturned, literally. Yes, all you Sheldon Coopers out there. Literally.
We finally made it to our stand, and I was really surprised by the proximity of the pitch and the ground from my viewing area. It was nothing like 1996, and I could see the entire thing without having to squint! That was a pleasant surprise. The mood lightened, and I was beginning to believe all was not lost yet.
So, by the time we found a couple of places to rest our back sides on, the electronic scoreboard showed that Pakistan had won the toss and elected to field. Good for us. I was looking around to see if I could find something to eat, as we weren't allowed to bring any food or water inside because, you know, we were at the Leela Palace. And of course, they were mightily overpriced and supremely untastely (the word exists, I swear!) looking. So I grumbled to myself about how I had come to watch the match and not hog Samosas, and let it be.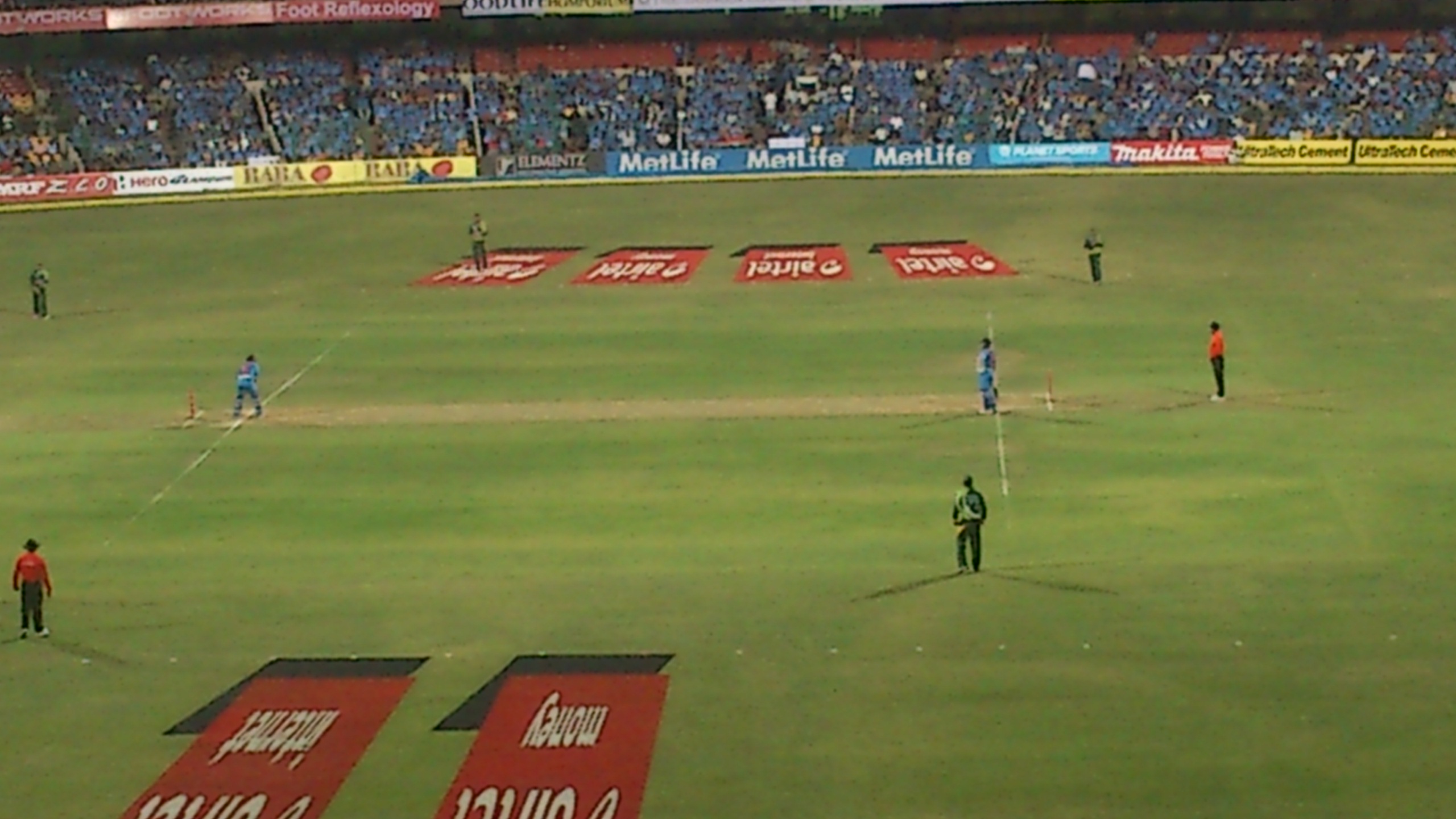 Gambhir and Rahane walked in to a loud cheer and presently started to make my fear of the Test match a reality. But Rahane came to his senses and belted a few while Gambhir continued practising for the recently completed Test series. This drew a chorus from the crowd asking Gambhir to the decent thing and get out. Who could blame them, really? Everybody had gone through so much to get here, were hungry and had no appetite for a Test match.
Finally, Gambhir started to pick up the boundaries too, and this seemed to satisfy the crowd a bit. At this point, both batsmen decided that they had done enough exercise for the night and it was time for the others to try out the equipment. So, they went ahead and gave up their wickets like a couple of good Samaritans. Now, the Indian team is like the Japanese Sumo wrestlers. They don't want to make others look ashamed. So the rest of the team made a bee line for the pavilion so that Gambhir and Rahane's spotlight was not stolen. Nice.
All this time there was this one guy in front of me who believed that he had what it took to be an umpire, and proceeded to give us a demonstration of his best Billy Bowden act. Needless to say, it was lame, he was drunk and it was downright irritating because he would get up and do his thing only after everyone sat down and the next ball was being bowled. Right in front of me. Prima Donnas, I say!
The Pakistan innings started, and while all of us were having plans of reaching home early, it seemed Bhuvaneswar Kumar had not read the script. He proceeded to rip apart the Pakistan batsmen with a devastating four over spell. Yes, four continuous overs. And what do I know about cricket and captaincy, they say!
Nevertheless, we, being the good hosts, let Kumar's mistake not affect our reputation. Hafeez and Malik (no, I am not going to make any corny Sania Mirza jokes) notched up fifties, which essentially robbed us of any chance of winning the match and gave everyone in the crowd a chance to rest their sore throats. Even Ishant Sharma's flare up with Kamran Akmal did not do much to rouse the crowd apart from a couple of screams from the drunk man in front of me. Somehow, we managed to take the game to the last over, and the genius that our captain was, ended up being left with no one other than Sir Ravindra Jadeja to do the bowling. Was Dhoni forgetting that Bradman was never asked to bowl? Jadeja decided to teach his captain some manners and tossed one in the air so that Malik could relieve us all from the misery.
Epilogue
If you thought that people, along with us, were going to wait for the Man of the Match award to be given before we left, you were so far off target that you would have made Torres look like a legendary poacher. Everyone decided that they had enough of the amusement, and made it out of the stadium. Surprisingly, everyone was really calm about the entire thing and nobody was even trying to make an analysis. The Englishmen seem to have done a good job of hitting crowd expectations out of the park. Even the man beside me who cheered for Pakistan was spared punishment. We are going a bit mellow, I say!
So, that was how my experience of watching a cricket match in a stadium was like. Make no mistake about it, I had a great time! But would I do it again when the IPL comes to town? Don't hold your breath!