Indian Test team - More chinks in the armour than what meets the eye
1.56K //
27 Nov 2012, 17:22 IST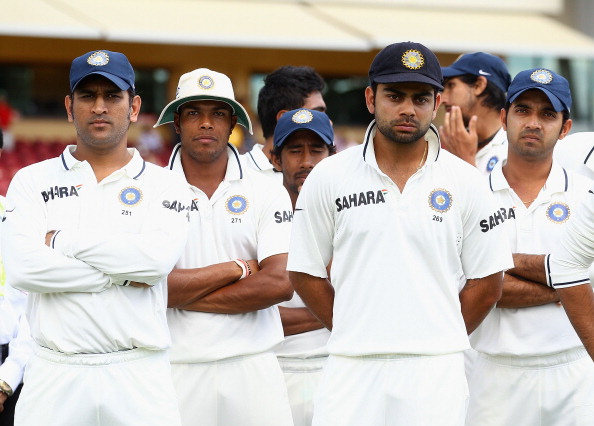 Indian cricket sunk to a new low at Mumbai when the visiting English team demolished all the hopes of a 4-0 revenge series victory.
At this point of time, there are more questions in Indian cricket than answers. The defeat is indeed the right assessment of Indian cricket in test arena. Fans might get agitated with this performance, after thumping England at Ahmedabad only a week ago.
Cook, however, showed signs of remarkable recovery at Motera itself. It was just that he couldn't accomplish better results at Motera. England were on the mark from ball one at Mumbai. Jimmy Anderson didn't get a wicket for 152 balls at Motera. Here he consumed Gambhir in only his 2nd ball of the test match. Since then, England has been completely on top for most part of the Mumbai test.
I had said, Mumbai test was the right assessment of Indian cricket in test arena at the moment. There is a strong reason behind that. India's batsmen aren't world's greatest anymore. For a long time in the past decade, they were the best batting unit in the world by a distance. The quality of batsmen was the reason why India managed to reach the top of the test rankings. The batting order doesn't exude the same quality now. India's batting hasn't looked as vulnerable as what it is now, for quite a long time.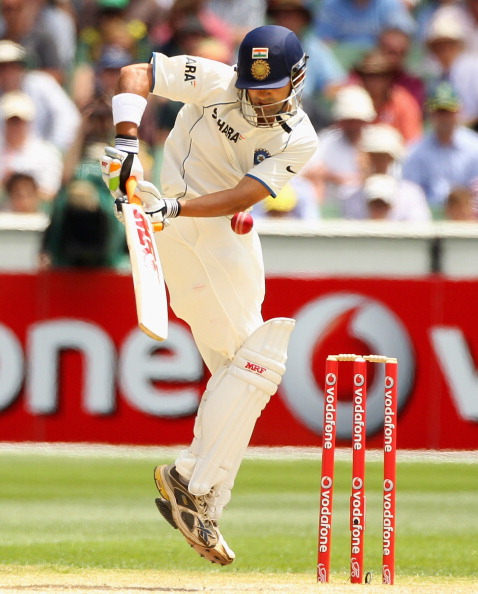 Gautam Gambhir is nowhere close to his best. He is still in search for that moment when he would gain confidence in his strokes once again. He looked every bit jittery even when he scored the half-century in the 2nd innings. It was a stark difference from his innings at Napier, three years ago. It was probably the most dogged, assured and fighting knock every played by an Indian batsman. However, he now lacks a lot of assurance with his shot selection, balance and footwork.
Sehwag could claim that he had scored his first test ton in over 2 years. But that hasn't reflected on his performance at Mumbai. He didn't look like a batsman who has walked into the test after scoring a hundred only a few days ago. Monty Panesar had him in spin which is rather unlike Sehwag. I am delighted that he respects spinners nowadays. You could, these days, visibly notice the caution he brought in his game but somewhere he throws us clues that he is caught confused between batting aggressively and conservatively. That has largely been the undoing for Sehwag.
While Kohli has thrived against lesser opponents, he hasn't made it big against stronger opponents so far. He lacked the fluidity and confidence in both the tests. His form going into the series was very important as he was India's best batsman before the series. Kohli's scoring rate and shot selections will leave lots of fans gasping in frustration than anything else. He has bogged down without playing naturally more than once in this series already.
Yuvraj Singh sparkled at Ahmedabad but had no answers against Swann and Panesar at Mumbai. Even though he has scored huge in domestic cricket recently, you can't overlook the fact that Yuvraj has been fast-tracked into test arena quite earlier than what even he would have imagined.
After so many years in the international arena, Yuvraj hasn't yet managed to seal his spot in India's test line up. I don't think he starts as a certainty for the Kolkata test even though we all know Dhoni seldom makes sweeping changes to his teams.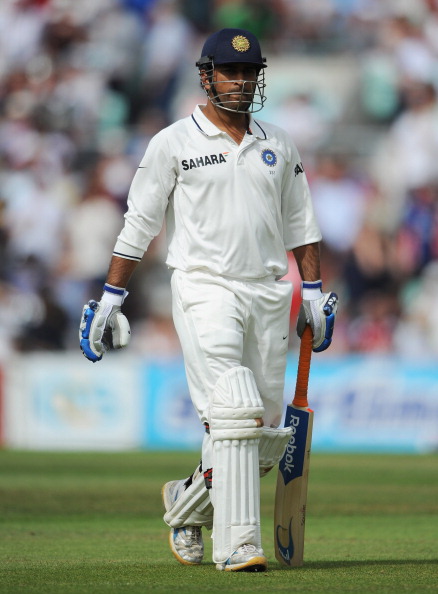 MS Dhoni's batting is falling into pieces in test cricket. If it was someone else donning the gloves instead of Dhoni, that player would have been long dropped by now. Despite his repeated failures, he continues because we don't have a replacement for him as a skipper. Who has the ability to lead India now? Each of India's batsmen has their own set of problems to address. That in itself doesn't allow someone like Dinesh Karthik back in the mix. Karthik is scoring well this season. But that is not going to take him to next level in the near future.
Sachin Tendulkar is beyond all criticisms and comments. But the load of not scoring a test hundred in close to two years will now start to put more pressure on him. He is slowly waning off the scene and it is getting evident by every passing day.
So far, Indian batting has been only about Cheteshwar Pujara in this series. While others have failed to apply themselves, Pujara has done everything right so far. The form factor also has to come into picture. Only Pujara looks in prime touch to take on the English bowlers. A friend of mine told me that we as fans, we expect the worst even before the second innings begins for India. That suggests how poor we bat second time around in test matches.
If you look deep into India's reserves for replacements, you shouldn't get disheartened. Cheteshwar Pujara, S. Badrinath and Ajinkya Rahane were the names doing the rounds for a long time now. Two of the three are in the squad. One of the three has already sealed a spot in the batting line up. Rahane could soon seal one too. Badrinath has had an ordinary Ranji season so far. So he is not in the radar now. How much faith would Indian selectors invest in Rohit Sharma? Manoj Tiwary isn't calibrated for the test format yet. Suresh Raina has failed to use his chances. In the Ranji season too, he hasn't set the scene on fire so far. Abhinav Mukund and Murali Vijay are unfinished products and aren't figures who would push players like Gambhir and Sehwag to perform better. So where do you go? It is a question that hangs without an answer!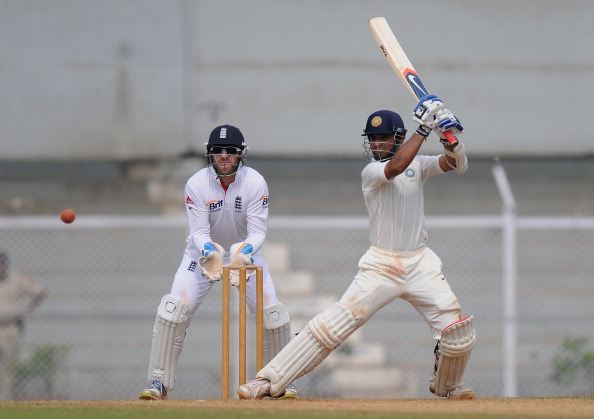 Sport is all about competition – competing with your opponents, with your own team-mates for places and within yourself to only get better.
The reserves aren't the greatest at the moment. So how much ever the main eleven fail, you would have to stick with them, rather than choosing the untested young batsmen. Of all the players who are vying for a test spot, only Ajinkya Rahane looks good to take to test cricket immediately.
India's bowling resources too, are something we can't be proud of. Zaheer Khan and Umesh Yadav looked really good in the first test. Zaheer bowled good in the 2nd test too. But with Umesh Yadav's injury now, the game of revolving doors is open once again. Ishant Sharma might as well play at Kolkata. But what has Ishant done to make this comeback? Not many have an answer for it. Ishant lacked penetration at Australia and England despite bowling a lot of overs.
It has to be seen with much hope, whether Ishant manages to rediscover his glory days once again. Who are the back-ups for these fast bowlers? Australia has plenty of resources. So do England and South Africa. Where are India's fast bowlers? Players like Praveen Kumar, Munaf Patel, Sreesanth, RP Singh, Vinay Kumar, Abhimanyu Mithun and Jaidev Unadkat have all been thrown into obscurity over a period of time. Questions hang over Varun Aaron's fitness also. Are all these bowlers good enough to earn their next India cap in the near future? If not, who else is pushing for that fast bowler's slot? It is a question for which we don't have a convincing answer.
What's worse than that? The number of quality spinners in the circuit. There was a time in Indian cricket, when we felt sorry for a large number of spinners who couldn't earn their India cap because of the quality already in the side –  the likes of Bishan Bedi, Venkataraghavan, Erapalli Prasanna and Anil Kumble never let the thought of replacement come in selectors' mind. Now you don't have any reserve spinner to feel sorry for!
When you have a certain Harbhajan Singh as India's 3rd best spinner at the moment, it tells you the dearth in the quality of spinners in the country. We can't blame the selectors for bringing Harbhajan into the squad because he is indeed India's 3rd best spinner at this point in time. Murali Kartik has gone past his sell-by date. Amit Mishra and Piyush Chawla have long gone out of selectors' favor too.
It is a sad state of affairs in Indian cricket as it has touched a new low with the loss to England at Mumbai. But it was only fitting that this team lost a test at home. Given the form of the players and the quality of reserves, it will push the main players to perform better.
What is life without hope? Back in 2001, when India's revival kick started at Eden Gardens, the sword was over VVS Laxman's head. Dravid had to silence a lot of critics. Tendulkar was the lone sparkle in India's batting order. Ganguly produced a rare gem but was a failure for long phases in his career once he took up captaincy. Anil Kumble was injured and that brought Harbhajan Singh into limelight. Zaheer Khan was raw. India's openers in that series weren't as good as what India possess now. Matthew Hayden, like Alastair Cook, scored aplenty. But the team conjured a great fight back against one of world's best ever sporting units. The fight back begun only after the team reached Eden Gardens following a massive 10-wicket loss at Mumbai. The script isn't too different now. It's easy to say, but now is the time when Indian cricket needs to discover its new Dravid and Laxman to revive the life in Indian cricket!