An Interview with Brian Jackson - Part 2
1.84K //
11 May 2014, 17:55 IST
This is the 2nd part of the interview with former Derbyshire cricketer Brian Jackson. Read the first part here.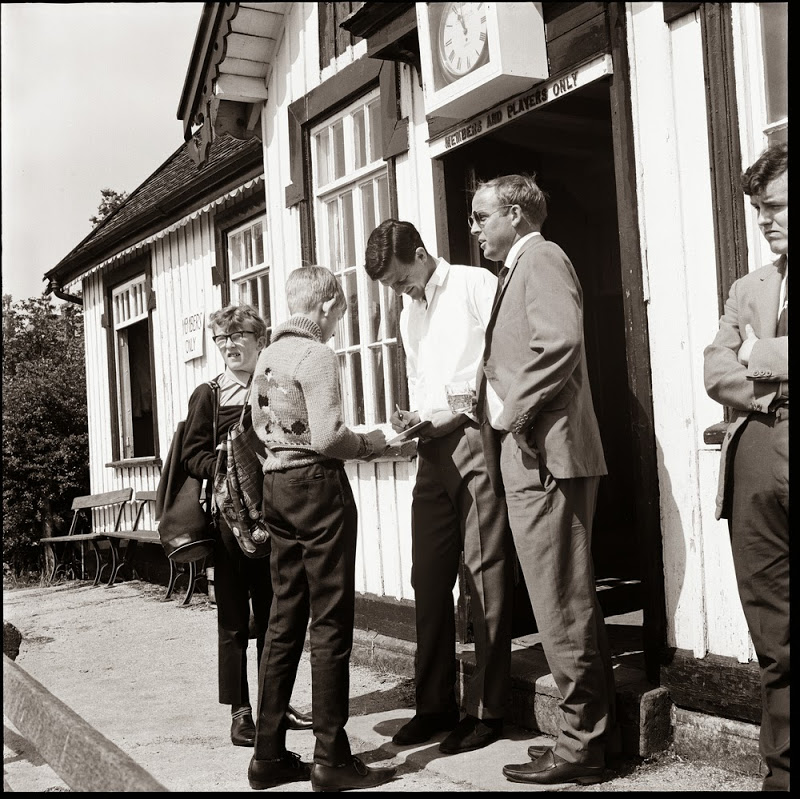 It must have been daunting following such a legendary bowler as Les Jackson, though?
Well, I knew how good he was, of course. It was certainly useful to be able to chat with him and get his thoughts on bowling. He didn't play every game in 1963, but he stressed to me that when the wicket was helpful, as an opening bowler you had to bowl the other side out – there were no excuses. He told me about the strengths of different batsmen and how you had to watch them closely to see how they move their feet.
What about Harold Rhodes?
Harold and I became good friends. When I got into the first team in 1963, Charlie Lee was skipper. Harold and I quickly hit it off as a bowling partnership and as friends. Quite often we would sit in the dressing room and have tea and sandwiches together at breaks, talking about the game, what we'd done right and what we could have done better.
Harold told me that his team mates used to complain that he didn't bowl enough bouncers, when the opposition quick bowlers were dishing them out frequently?
That's true. I've thought about it over the years and I could and perhaps should have bowled more. I had a high action and I naturally got the ball to bounce, but my biggest asset was movement off the wicket. We were both well aware that as well as taking wickets we had to keep the runs down – bowling bouncers seemed like a waste of energy and runs to Harold and I.
I understand that your father was perhaps your sternest critic?
Oh, he was – and my biggest fan too, of course. When I took 7-21 against Cambridge University at Fenners I was really pleased, but his reaction brought me down to earth. "They're nowt but school lads, so it doesn't really count".
He was much more impressed when I took 8-18 against Warwickshire at Coventry in 1966!
For the benefit of modern fans who never saw you bowl, who would you compare yourself to from a pace perspective?
That's a good question! I think the closest would be Graeme Onions at Durham. He's a very good bowler and in pace and what he does with the ball he reminds me of myself in my prime.
What was life like for a professional cricketer in the '60s?
It was very different, less competitive. Of course we wanted to win and we played hard to do so, but there were a lot of convivial evenings in the bar after games, when you could chat to other players from the opposition. That hardly happens now and I think that the game is worse for that.
I remember talking to Brian Statham and asking him where he used to aim when he bowled. I'll never forget his answer – an INCH outside off stump! An inch. That showed how accurate he was and I tried to aim for that level of consistency, because we rarely had a lot of runs to play with.
Those of us that had cars used to take it in turns to drive to away games. We got sixpence a mile expenses for away games, at a time when a gallon of petrol was five shillings. It wasn't a lavish life style but it was a lot of fun.
And of course, I should mention that like most players I had to work from the end of September until the second week of March each winter to pay the bills. I was a cashier in a different factory to the one I'd left to join the county circuit.
At what point in your development did you realise that you could make it in first class cricket?
From the first ball! Like I said, I knew I could bowl and I was glad to get the chance to prove it to a bigger audience than had seen me at league level.
You had an astonishing season in 1965 with 120-odd wickets in the summer at only twelve runs each. Harold and you came first and second in the averages. Did you ever hear of interest from England selectors?
Not really. You must remember that I was 33 then and that was too old to be starting an international career. I was proud to be selected for the MCC v Surrey, the champion county, in 1966 though. It was played at Lords and I was very excited – but it rained for nearly the whole game so I didn't get to play much cricket.
The County Ground was always high on the list of disliked grounds for players at that time. What was it like?
It was just a big open space. You must remember it was the old racecourse. There were small saplings that have now grown into sturdy trees and they have acted as a nice wind break over the ground, but it used to be really windy – and cold. There weren't too many days when you could dispense with sweaters!
The facilities were pretty basic too – it was a world apart from today.
I far preferred Chesterfield, which nearly everyone did. At that time we played around six three-day matches at Queens Park every summer and it was always a thrill to play on such a beautiful ground. The wicket was often favourable to bowlers too, so there was a lot to like.
I used to bowl from the Lake End – Harold was quicker and took the Pavilion End. At Derby I was happy with either end and we used to rotate, but the old Grandstand End was probably where I did most of my bowling.
To be continued – photo courtesy of Buxton Cricket Club