Legends of yore: Adam Gilchrist - The 'walking' hurricane
2.06K //
31 Mar 2013, 12:00 IST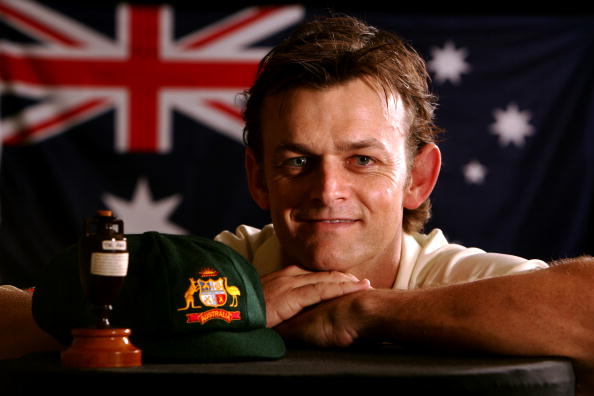 Someone who dreamt of being the fastest bowler in the world as a child, Adam Gilchrist went on to become one of the best in everything else in the cricketing world except that. Adam Gilchrist was part of an Aussie outfit that dominated the world for over a decade, in what was the golden era for Australian cricket. No matter how good a player you are, it's easy to be left in the shadows of legends like Steve Waugh, Ricky Ponting, Shane Warne and Glenn McGrath; but as time would tell, someone like Gilchrist too was outstanding and way too brilliant for the world to not take notice.
Indisputably the best wicket-keeper batsman ever to have played the game till date, Gilchrist would unequivocally make anybody's all-time best XI squad. Whether as an opener in the ODIs or as a number 7 in the Tests, Gilchrist single-handedly turned the tide in Aussies' favour on countless occasions. As a batsman that redefined the term aggression, he showed the cricketing world, the depth a wicket-keeper batsman could add to any side.
For the first two years of his career, after his ODI debut in 1996, Gilly came to bat in at the traditional number 7 position of the wicket-keeper. He started off slowly, taking about 6 months to finally find his batting form at the international level. His career went supersonic when Steve Waugh, in an inspired decision, pushed him up the order, asking him to open the Australian innings. His consistent heroics at the top of the order cemented his place in the ODI side and in 1999 presented him with a chance foray into the Test side.
Gilly was called up to replace an injured Ian Healy at his home ground. He was greeted with a cold reception in his debut Test, as the crowd felt that he was a few years too young to replace their hero. The unfazed alacrity, with which he won them over in the course of one match, bears testament to his calibre. It was no coincidence that the Australian hegemony started about the same time as Gilly's rise in international cricket.
Gilly always maintained that, as a batsman, his motto was to "just hit the ball". Whether as an opener or as a number 7, he did just that – smashing every ball he could out of the stadium. And no batsman could ever make aggression look as elegant as this left-hander. Anyone who has watched him tear apart the opposition's bowling attack would empathize with the 20 bowlers who chose him as the "scariest batsman" to bowl to in a Wisden poll. With impeccable concentration and amazing bat-speed, he truly decimated any bowling attack on his day. His aggressive approach to batting helped Australia come out from many a tight spot, to reverse the situation.
It would break any team's spirit if after working hard to get Hayden, Langer, Slater, the Waugh brothers and Ponting out, in walks Adam Gilchrist. One is often so captivated by Gilchrist, the aggressive batsman, that the fact that he is also one of the greatest modern day wicket-keepers is often overlooked.
As a successor to Ian Healy and Rodney Marsh, arguably two of the best wicket-keepers in cricket history, Gilchrist had big shoes to fill in as a wicket-keeper, and he did not disappoint. For the most part of his career, Gilly had to keep wickets to the likes of Glenn McGrath, Brett Lee and Shane Warne; even when keeping to a prodigious turner of the cricket ball like Warne, he hardly ever dropped a catch or missed a stumping chance. He was not only brave enough to stand up to the wickets to someone like McGrath steaming in at over 135 kmph, but also adept enough to collect and whip the bails off in a flash to give McGrath his only victim as stumped, in one of the rarest forms of dismissal for a pacer.
His terrific presence of mind and incredible concentration are showcased in some of the most unbelievable ricochet catches that he pouched. Gilchrist ended his career with best figures for a keeper in both the short and long formats of the game. His Test record of 416 dismissals was later surpassed by Mark Boucher, but his ODI record of 472 still stands, unlikely to be broken in the near future.
In an Aussie side that frequently made news for sledging or some other controversy, Gilchrist made news for a different kind of controversy, when he "walked", even after being ruled not-out by the field umpire, in the high profile semi-final match of 2003 World Cup. The entire cricketing world (with the exception of his team) lauded Gilchrist for his exemplary sportsmanship. Of course, one can (and many did) argue that he left his teammates hung out to dry at a critical juncture, for his personal satisfaction. But as they say, it takes a lot of courage to stand up to your enemies, but it takes a whole lot more to stand up to your friends. And it shows the strength of his character, how he stood up for something he believed in, even when the entire dressing room was against it.
In an interview later, he wanted it made clear that when people associate terms like sportsmanlike behaviour and sporting spirit with his walking incident, it was only his personal choice and that anyone who doesn't want to walk was not unsportsmanlike or such. Gilchrist continued to "walk" throughout the rest of his career, whenever he felt that he was out, fuelling much debate over "walking" in the cricket world.
This champion cricketer finally decided to call it quits when he dropped a regulation keeper's catch off an outside edge of VVS Laxman's bat, for he felt that he was lacking that competitive edge. That's how high a standard he set for himself. At a time when there was immense pressure on most of the cricket veterans to retire, there was immense pressure on him not to. In a generation where players are forced to retire after repeatedly coming up empty, Gilchrist bowed out on a high, and while in blazing form. It was fitting that an invincible hurricane that was his career should be influenced into cessation by none other than himself.
I leave you with a select few of his innumerable career accomplishments, some of which might have been the memories that were playing on the minds of the 20 bowlers that elected him their scariest opponent.
He smacked 100 sixes in 96 Test matches, the highest by any batsman.
His 100 off 57 balls against England is the second fastest century in the history of Test cricket, one short of Viv Richard's 56-ball century.
Gilchrist's 16 ODI centuries is the highest 100 tally by any wicket-keeper.
His Test strike-rate of 81.95 is the third highest and ODI strike-rate of 96.94 is the fifth highest ever (among players who scored more than a 1000 runs).
With 416 Test dismissals and 472 ODI dismissals, he is statistically the second best wicket-keeper ever, with Mark Boucher, another contemporary wicket-keeper legend, being his only competition.
Gilchrist's 6 dismissals in an innings is the highest by a wicket-keeper in the ODIs. Although it is a record shared with five others, he is the only one to have achieved it more than once, repeating the feat a whopping 6 times.