Legends of yore: "It's not a bird, it's not a plane; it's Jonty Rhodes!"
6.31K //
17 Mar 2013, 18:50 IST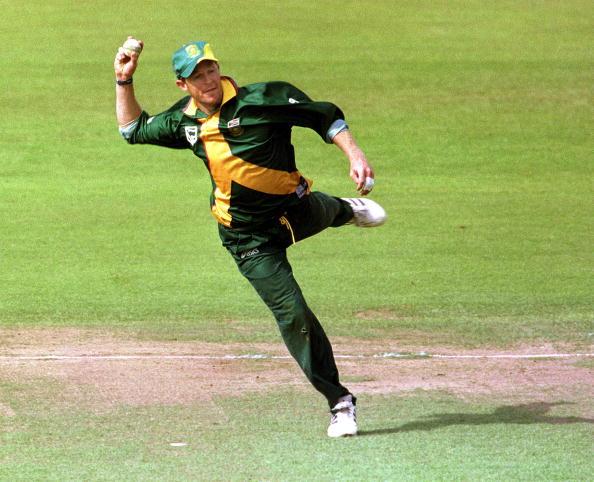 If I were to explain cricket to a sporting neophyte, the first question I'd be asked probably would be: "So you're telling me that of the 13 players on the field, it is these two willow wielding blokes, the one running in with the ball and the guy behind the stumps, who are the only ones in play?" Twenty years ago, that would probably have been true and I would then have proceeded sheepishly to explain how fielders, as a supportive cohort, are also involved. I mean, if one were to open any book on cricketing history, it would be fraught with the batting and bowling exploits of players with only a rare mention of any player for his fielding merits. The same fans that used to sing songs glorifying the swing bowling and square cuts, would merely acknowledge a fantastic effort in the field as another mundane event innocuously part of a bigger picture. And the one putting in the effort would have received an approving nod or a pat on the back at best.
But this was all before an affable short-framed South African decided to take matters into his own hands and change the sport. It would be a hyperbole to say Jonathan Neil (Jonty) Rhodes taught fielding to the cricketing world. But it would certainly not be an exaggeration to say that he brought glamour to what was earlier seen as a mandatory supportive role in the game of cricket. Jonty did what fifteen generations of cricketers that preceded him could not; he made the ordinary cricket fan appreciate the art of fielding. It was not just his technical perfection in the field; it was the panache with which he operated that really made a difference. With a career full of blinding saves, lightning-quick run-outs and spectacular catches, he earned himself a permanent position in history, not as the middle-order right-handed run scorer, but as "the backward point fielder".
Jonty had a very humble and rather uneventful start to his career when he made a debut against Australia in South Africa's opening match of the 1992 World Cup. Four matches later, when South Africa were playing against Pakistan (who eventually went on to win that edition of the World Cup), he did something that the world had never seen before. When the partnership between Inzamam-ul-Haq and Imran Khan was rapidly taking the match away from South Africa, a miscommunication between them while trying to steal a quick single presented South Africa with an outside chance. Jonty literally seized it with both hands when he outpaced Inzamam to the stumps and did a full-stretch dive, throwing himself at the stumps with the ball in his hands. The run-out tipped the scales in South Africa's favour and the following day's newspapers featured a picture of Jonty suspended in mid-air parallel to the ground, his right hand crashing into the stumps, as a puzzled-looking Inzamam was scurrying back into his crease. And from there, it wasn't too long before Jonty Rhodes was a household name.
Many years later in an interview, Jonty humbly said that most of brilliance attributed to him is actually spectacular camera work than extraordinary cricket. One glance at his career summary and you might easily be deceived into mistaking what was spoken out of modesty for fact. A tally of about 6000 ODI runs at an average of 35 doesn't sound particularly impressive, nor does a total count of 105 catches. In fact, the only outstanding feature one can find in Jonty's resume is the record for taking the most number of catches (five; video below) in an innings by a fielder (other than the keeper). Sadly, there aren't any records that can tell you the countless number of runs he saved through his brilliance in the field, or the many run-outs that he effected directly or indirectly, or the pressure he created on the batsmen by just standing at backward point (not by sledging, mind you; he was one of those cricketers who did not believe in sledging).
Jonty was not blessed with extraordinary technique or a razor-sharp cricketing wit like some of his compatriots, but he more than compensated for that with his unshakable resolve and diligence. Cricket was, in fact, not his first choice as a sport. He had great passion for, and was very talented in, football and rugby when he was a young man. After his diagnosis with a mild form of epilepsy, he was forced to resort to sports with lesser physical contact – cricket and hockey. Jonty borrowed and adapted his technique from all these other sports he played. When his batting technique failed him against the spin of Anil Kumble, he toiled hard for months in the nets before he perfected the reverse sweep, where he says his hockey skills came handy (he was also a talented hockey player who was picked to represent South Africa in two Olympics). Constantly refining his technique through sheer hard work, he evolved into a key middle order player for South Africa, single-handedly turning the tide in their favour on more than one occasion.
But most of all, Jonty loved fielding. He said that it made him feel that he was involved in every single ball of the game and that on the field, he was constantly wishing that the ball came his way. Backward point is a very important fielding position in cricket, with the fielder requiring extraordinary reflexes to cope with the powerfully struck shots from a very short distance. But even for the cricketing world, Jonty's reflexes can only be described as superhuman, which allowed him to pull off catches and saves that other fielders before him wouldn't even have dreamed of. The absurdity of his reflexes can be made sense of if one were to understand how Jonty saw himself on the field.
He always said that while fielding he saw himself as a goalkeeper defending a penalty; his sole aim was not to let the ball past him, and any catches or run-outs in the process were a bonus. These goalkeeper-like reflexes did not come naturally to Jonty; he practised long and hard, bruising and grazing himself all over before he could develop such sharp reflexes. He designed his own practice sessions after the regular practice with the entire team to mimic a goalkeeper's environment, with two points marked nearly a goal's width apart; he would then try to stop all the balls hit towards him from five meters away. When asked in an interview how long he practised like that, he said with a smile, "It depends, till I stopped bruising my hands."
Indeed, in his long and entertaining career full of uninhibited dives, he only suffered two major injuries, the latter of which signaled the end of his career earlier than he intended. The legend of Jonty Rhodes had an anticlimactic end when he fractured his finger trying to take the catch of Maurice Odumbe during the match against Kenya in World Cup 2003. Ultimately, it's like they say – in the end all good things must come to a close. Well, maybe not all. Jonty Rhodes may have stopped playing cricket after the 2003 World Cup, but the viewers, unknown to him, continue to watch his legacy on the field whenever a fielder puts in a dazzling dive or pulls off a spectacular catch.