Let's not write off India so easily
12.47K //
01 Feb 2015, 02:20 IST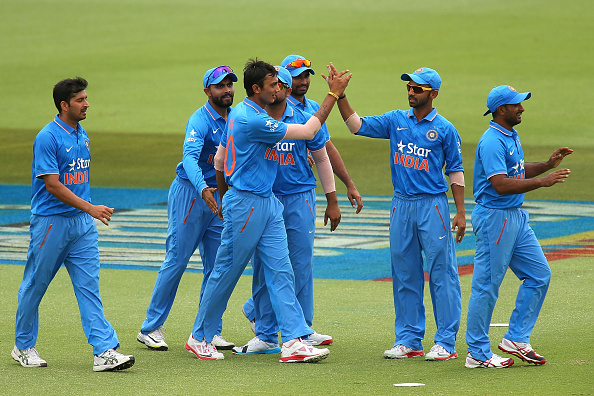 Over the past few weeks, since India have been failing to open their account in the ongoing tri-series in Australia, I have come across countless articles claiming that India have no chance of defending the World Cup in Australia and New Zealand over the next two months. At the cost of sounding like a fanboy, I must admit that there is a part of me that thinks that India is being written off too easily here.
Yes, their form lately has been terrible. Yes, three months in Australia haven't given them a single win, and the bowling attack is in tatters. But let's not forget the spunk Team India displayed in all the Tests barring Brisbane maybe. Let's not forget that peaking too early isn't something too desirable. Now when was the last time South Africa entered an ICC tournament not being the favourites? How many titles do they have to display?
If the past is anything to go by, in longish tournaments like the World Cup, the team that peaks at the right time eventually wins the more important matches.
Peaking at the right time
Look at the 2011 World Cup. In the group stages, India tied against England and lost against South Africa. So technically, the only top team they were able to beat were the West Indies – and calling them a top team in this format would be questionable in the first place. South Africa, on the other hand, topped the group, losing just one game against England by a close margin. But come the all-important quarter-final against New Zealand at Dhaka, they capitulated, getting bowled out for 172 while chasing a mediocre target of 222.
It was the same New Zealand that had seemed hopeless in Indian conditions till just a year back. India, despite having an edgy group stage where even Ireland put them in a spot of bother, went on to win the tournament and were clinical in the knock-outs.
In fact, the way the Indian team is being perceived right now is nothing new. Back in 2002, right before the 2003 World Cup in South Africa, similar questions had been raised about the team and its chances of doing well in the World Cup.
Captain Sourav Ganguly had a fledgling bowling attack at his disposal, and was desperately forced to call Javagal Srinath out of retirement. Rahul Dravid was performing a dual role he wasn't quite used to performing, and barring Anil Kumble, Sachin Tendulkar, Srinath, Ganguly and Dravid, the team reeked of inexperience.
In the midst of some controversial strategic decisions, India was exposed in the testing conditions of New Zealand. 108, 219, 108, 122, 169, 200 and 122. These were team totals posted by India during that ODI series, which they lost 5-2. While the clamour to call back the team grew back home, and the tongues kept wagging, India scripted a magical streak of wins against top sides and reached their first final in 20 years.
Eventually, it didn't matter that New Zealand dominated India before the World Cup. They still exited in the Super Six stage. What mattered was how India played during the World Cup, and that's what cricket experts should wait for till declaring their verdict. After all, a tri-series in Australia isn't the end of the world, and an exit is a good way to be refreshed before the World Cup begins and take stock of the situation.
Competition format augurs long run
This point of view becomes extremely pertinent considering the format of the World Cup. There are sure shot wins to be had against Ireland, Zimbabwe, UAE and West Indies. So even if one is to presume a loss to South Africa in the group stage, India will most likely end up at second spot.
The challenge in the quarter-final will be if India face Australia or New Zealand. Irrespective of how England have performed in the tri-series, they aren't an experienced side in knock-outs. So if India face England or Sri Lanka in the quarter-finals, there is a strong possibility of them making it to the semi-finals, after which it can be anyone's competition.
What augurs well for Team India here, is the team's extensive experience in playing tournament finals – games that are as good as knock-outs when measured in terms of the pressure each player faces. Between 3rd April 2011 and today, India under MS Dhoni has played five knock-out games, which includes two finals and two semi-finals. All five of those games have been won by India. Add to that the experience of playing knock-out games in the IPL, each India player knows a thing or two about holding onto his nerves in tricky situations.
The idea of this post isn't to dissect India's batting and bowling. There's enough of it already. The idea is to point out that some of us are hastily writing off the team. As I said, the quarter-finals are for certain, semi-finals are possible; after that, it's a matter of a couple of games.