Mahendra Singh Dhoni: The rags-to-riches story of 'THE' man for Indian Cricket
4.16K //
01 Jul 2011, 20:24 IST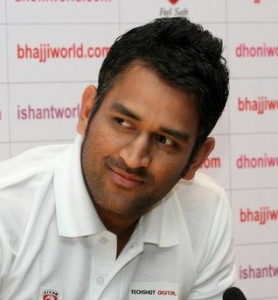 Mahendra Singh Dhoni is a straight forward level headed leader who has as many admirers as another leader from a country antipodean to his own-Barrack Obama. Indeed both share similar past and traits
Cricket and Dhoni met by accident not design, took a look at each other and decided they could get along. It's not that Dhoni cherishes the game or is obsessed with it. Nor is it merely a means to an end, a vehicle for an uncovered talent. He just plays it exceptionally well. Accordingly he can look it in the eye. He might as well be racing bikes with his friends in forgotten Jharkhand for all he seems to care
Unlike most teenagers of the country he hasn't come through the usual route of academies and tracksuits with the baggage of parental pressure, expectations and youthful dreams. His has been a entry of the street rat. A street rat is canny, bold, simple and never too ambitious. These traits more than any else define Dhoni the Man. Indeed in a team of demi gods and party going 20 somethings Maahi doesn't fit the bill. Despite this and I suspect because of this he has gained respect from Tendulkar to Ashwin. A man with immense physical strength-he was a excellent soccer goal keeper- he has a seemingly unending reserves of stamina and will. No surprise that this has rubbed on his team that traditionally had been criticized and compared-not without reason- with fitter outfits like the one down under.
Previously India may have been defiant, even cynical, often charming, but they were never quite as ruthless as they have been under Dhoni. His 8-1 field set on a Nagpur test against the Aussies was as uncompromising as it was unsettling. It was a civilised version of Bodyline. Uncompromising he maybe but intolerant and hasty he is not. When a paceman sends down rubbish, which is not a uncommon sight- he does not rant or rave or scowl but points out that "everyone has an off day". Judgment is left to the priests. By bringing back home the coveted ICC Cricket World cup, Dhoni has  brought to the nation few captains had been able to-a sense of expectation not a sense of hope.
Finally with his unparaded affluence, his composure and laughter, and his rags-to-riches story so easily told, he is modern India, not a land of a thousand dreams but a place of a hundred possibilities
The future of Indian cricket as indeed cricket is in safe gloves.