Mansoor Ali Khan Pataudi - A charismatic prince among cricketers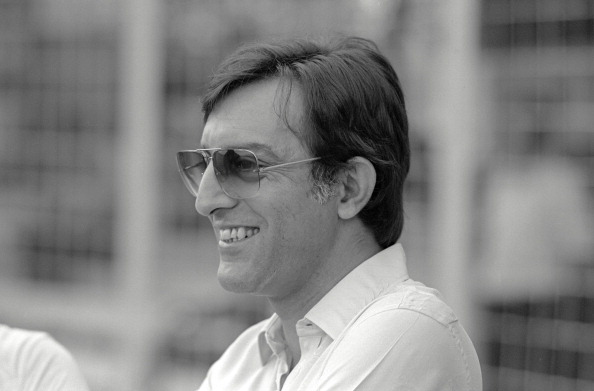 MAK Pataudi's feats as a skipper of India were not really astounding. His numbers were at best modest, with India winning nine of the 40 matches he led in. But Pataudi is hailed as one of the finest Indian skippers and the best thing that happened to Indian cricket since 1932 – the year in which India played its first Test. From 1932 (Lord's) to 1962 (Barbados), India won only eight Test matches in an era where winning a cricket match was an aberration. A draw or a loss was India's regular feature. And whenever India won a match it was because of stellar performances of one-two individuals – Vinoo Mankad's 8/55 against England in 1952/53 at Madras or Jasu Patel's 14-wicket haul against Richie Benaud's Australia at Kanpur.
Indian cricket administration was in shambles as the selection of players was not based on meritocracy at the time. A player was discarded for trivial reasons, such as not knowing India's mother tongue or for the part of country he came from. There was a lot of politics and it was impossible to survive in the team for long without having the backing of influential members within the board.
Come the Nawab of Pataudi junior and the face of Indian cricket changed for good. The 21-year-old Nawab, India's youngest captain, backed his players. He was trusted with the responsibility of captaining the side after Nari Contractor suffered a life-threatening head injury from a Charlie Griffith bouncer. Pataudi did his best as a captain but India lost the series 5-0. But Pataudi took the initial disappointment in his stride and made sure that the Indian team believed that they could win.
The Indian dressing room was a place where people came from diverse backgrounds. Pataudi believed in the concept of team work – probably for the first time any captain was actually concerned about the team, rather than lobbying. Pataudi was a commoner in the team despite being the 9th Nawab of Bhopal. He had no airs about his royal background. Pataudi expected total commitment from his players on the field and did not impose any restrictions on them off the field. For the first time, there was a captain who fought for the rights of his players.
In 1963-64, he led India against Mike Smith's England. His form as a batsman hit rock bottom. In the first seven innings, Nawab recorded scores of 0, 18, 10, 0, 2, 31, and 13. People talked about how it was difficult for a player with one eye to score runs consistently. But his second innings at Delhi is regarded as one of the most famous innings played by an Indian.
It is no wonder that Nawab led India to its first overseas win in New Zealand in 1967-68. He got the team out from the quagmire of defeatism and instilled a sense of belief in the eleven men. The famous spin quartet of Bedi, Prasanna, Chandrasekhar and Venkataraghvan was born under his leadership.
Pataudi was an aggressive batsman and scored 2793 runs in 46 Tests with six hundreds – an exceptional feat considering the fact that he had been in a car accident and lost vision in his right eye six months before his Test debut in 1961. One wonders how mighty effective Pataudi would have been, had he played Test cricket with both his eyes functional.
Pataudi as a batsman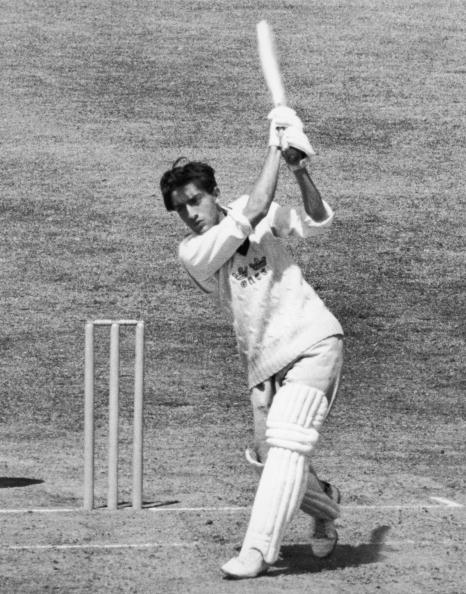 As a batsman, Pataudi was boldly adventurous and quite unorthodox. He was not afraid to loft the ball over the infield and often attacked the spinners using his feet. He often dictated the terms to the bowlers and did not believe in getting bogged down for too long. Today we see batsmen adopting that approach across all the formats, but during those days that style of batting was not common. Salim Durani, Pataudi's colleague, was famous for hitting sixes when the crowd demanded them. Not surprisingly, the critics did not condone Durani and Pataudi for bringing in that element of risk in their games. Pataudi interspersed stout defence with aggressive hits. He was a charismatic player who brought in a sense of excitement- a brand of cricket which brought more and more people to the stadiums. Nawab was a crowd puller.
Pataudi had a decent debut against England in 1961 at Delhi. He scored 13 and 61 in his first Test. But the entire nation admired Pataudi for his 103 which he scored at Corporation Stadium, Madras in his third Test match.
Some of his top innings:
1) His 203* against England in 1964 was monumental since he was in total control of the situation and was battling poor form. This innings made his critics eat humble pie.
2) At Madras in 1964, Pataudi scored 128* against Bob Simpson's Australia and was responsible for posting a decent total on the board. By scoring this hundred, he emulated his father's feat of scoring a century in his first Test against Australia. In the next Test at Mumbai, Pataudi scored 86 and 53 which helped India clinch a cliffhanger – a match they won by two wickets, chasing 254. Pataudi's 93 run alliance with Vijay Manjrekar in the second innings was pivotal in a tricky run-chase.
3) His 113 against New Zealand in Delhi in 1965 was his third Test hundred. His unbeaten 20 off 34 minutes helped India to win the Test when they needed 70 runs in the final hour of the final day.
4) In 1967, at Headingley, Pataudi bravely encountered John Snow, Ken Higgs, Robin Hobbs and Ray Illingworth. His 148 made people wonder how great a player Pataudi would have been with two eyes.
5) On a green Melbourne wicket in 1967-68, India were reeling at 25 for five. Nawab, who had sustained a leg injury, led by example and scored 75 and 85 in the Test match. Noted cricket writer K.N Prabhu, who covered the tour for the Times of India, wrote "an innings played with one leg and one eye in a thin drizzle on a dark day."
Sacked as a captain 
In 1969, Pataudi was appointed as captain for the home series against New Zealand and Australia. India won the first of three Test matches against New Zealand at Mumbai by 60 runs but lost the subsequent Test match at Nagpur. It was then that the chairman of selectors, Vijay Merchant, criticised Pataudi. India nearly lost the final Test at Hyderabad but for rain. India lost the Test series against Australia by a margin of 3-1.
In 1971, the selectors congregated at the Cricket Club of India (CCI) to pick the captain of the national team. It was here that Merchant used his casting vote against Pataudi. Ajit Wadekar became India's next Test captain.
"I tried to convince them (the selectors) that Indian cricket urgently needed a change of guard. Added to our drawing with great difficulty (1-1) the series against Graham Dowling's lowly placed New Zealand, we had, with the best spinners in the world, lost (1-3) the series to Bill Lawry's Australia – after having drawn level with that conclusive win in the Kotla Test. In the eight Tests at home against New Zealand and Australia, Pataudi was not viewed to lead from the front as his own batting witnessed a sudden decline. As Chairman of Selectors, I wanted results. If Pataudi could not get them after having been captain through 36 Tests running (17 of them lost and only seven won), why not a radical departure from convention? But my plea fetched no response. That's how I came to use my casting vote in favour of Ajit Wadekar," said Merchant.
Grand comeback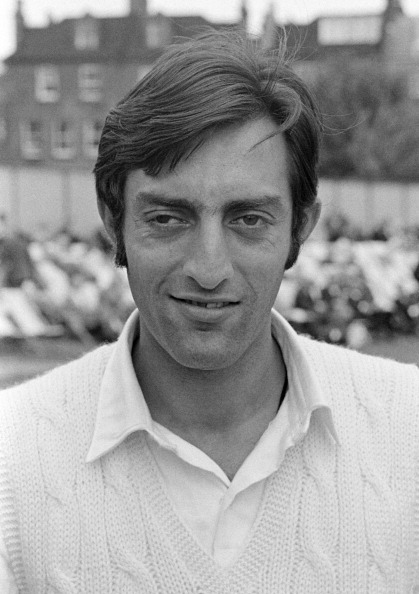 After Wadekar's triumph in West Indies and England, the whole cricketing world talked about how India was a force to be reckoned with in world cricket. But in 1973, India lost a home Test against England at Delhi and the team was in tatters. Pataudi was recalled and he acceded to play under Wadekar. That was astonishing since Indian cricket is replete with instances about how princes always had ego problems and never returned after they were wounded.
But Pataudi returned with a bang. His 73 was an innings of high pedigree. In the second innings, Pataudi batted despite sustaining an injury, only to guide the team home on a slippery surface. India won the Chennai Test by four wickets.
Final stint as an Indian captain
The selection committee wanted the experienced head of Pataudi as leader when West Indies toured India in 1974-75. Pataudi had told the selectors in no uncertain terms that if they wanted a leader, he was in and if they were looking for a batsman they should look beyond him. India had been bruised and battered after 2-0 loss in England earlier in the season. The acrimonious 42-all out disaster still haunted them. Wadekar was out of the team and the Indian team was in a rebuilding phase.
West Indies won the series 3-2. Pataudi's form with the bat was abysmal. He scored twin nines in his final Test at Mumbai.
Life after cricket
Pataudi had a suave air about him and had an amazing sense of humour. He was the editor of Sportsworld magazine. Pataudi modelled for a few products as well. He resided at Pataudi and the family palace in Bhopal.
He stood as ICC Match Referee for two Test matches and 10 ODIs.
What people said  :
Wonderful line by ian chappell at the RSD talk on pataudi " tiger is my favorite animal, tiger was also one of my favourite human beings

— Sanjay Manjrekar (@sanjaymanjrekar) December 19, 2011
T 503 – Fond memories of the past with Tiger Pataudi .. his wedding, playing cricket with him, his tabla playing prowess, social evenings ..

— Amitabh Bachchan (@SrBachchan) September 22, 2011
Mansur Ali Khan `Tiger' Pataudi is no more. Great cricket/captain, terrific personality. Big loss not just to cricket, but the nation. RIP

— Cricketwallah (@cricketwallah) September 22, 2011