India vs Pakistan in 2003 was the best World Cup game of my life: Sachin Tendulkar
8.50K //
15 Feb 2015, 02:57 IST
Cricket legend, Sachin Tendulkar, has said that the match against arch-rivals Pakistan in the 2003 World Cup was the best World Cup game he has been a part of. He also admitted that the 2011 semi-final was the most high-pressured game of his life.
Sachin scored 98 runs from just 75 balls in the 2003 World Cup match against Pakistan and he accepted that there hasn't been a better World Cup match he has been a part of.
He said, "I don't think there was a better World Cup match that I have been a part of."
Talking about the 2011 semifinal match in Mohali where he scored 85 runs to help India win over Pakistan once again, he said, "It was definitely the most high-pressured game of my life. It was a different kind of a feeling, hard to explain what it is."
"The six off Akhtar in 2003 was instinctive"
India open their World Cup campaign in a mouth-watering clash against Pakistan on 15th February and Sachin insisted that despite the entire nation wanting to win this match than anything else, it is more crucial that India do well at the tournament rather than one match.
"The interest levels of people start a year before the start of the tournament. People tell us that this is a match we need to win, whatever happens later, we do not care... fortunately we do not think that way," Sachin admitted.
"The post-match celebrations, talking to all my family members and friends, the whole of India was celebrating that match (Mohali, 2011)," said the veteran who has represented India at six World Cups.
Sachin even talked about the 2003 match where he smashed Pakistan paceman Shoaib Akhtar out of the park while hitting 18 runs off his over.
He said, "We knew that we had won the first round against Pakistan and we had put them on the backfoot.
"That ball (the one he hit for a six at backward point) was released at 150 kms and a batsman does not have enough time to plan and play a shot like that.
"Hundreds don't matter. What matters is that India wins," admitted the masted blaster.
"Indian and Pakistani players respect each other off the field"
He also talked about how he used to ease the pressure ahead of similar crunch encounters against Pakistan.
"I try and remain in my room before the game. In my own space and with my own thoughts. I have a habit of packing my bag in advance. I do not do this at the last minute. Doing all this is all part of the preparation," he revealed.
"It is all sorts of music - Kishore Kumar, Lata Mangeshkar, Asha Bhosle, Mohammed Rafi to U-2, Dire Straits. Sonu Nigam," he added.
Sachin reiterated that the players are not enemies off the field despite being competitors on it.
"We are not enemies off the field. When we play each other, we compete, we want to win. It does not matter that Wasim (Akram) is a friend or not. I think it is the same thought process in their dressing room as it is in ours. We respect each other as individuals off the field."
"I thought I couldn't deal with it after my debut Test"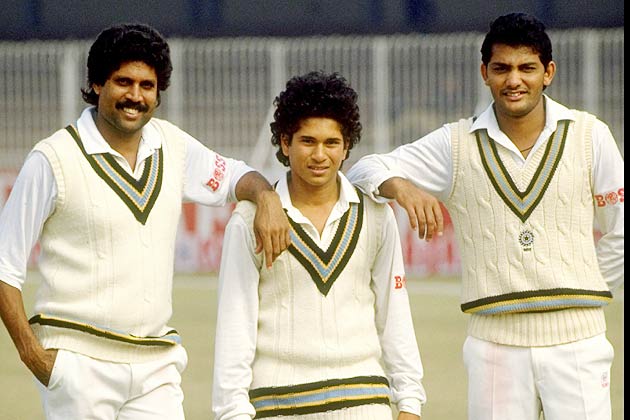 Tendulkar, who made his debut against Pakistan in Karachi at a tender age of 16, also reminisced about his debut and how he handled the pace attack spearheaded by Imran Khan, Wasim Akram and Waqar Younis.
"I hadn't faced that kind of bowling, that kind of pace, that kind of hostility, that kind of skill to bowl late reverse swing," said Tendulkar.
"After my first Test, I thought it was too tough for me. I spent a lot of time talking to my seniors, Chandu Borde, Ravi Shastri and they advised me that I need not rush. You need to give yourself time.
"In the next innings, I realized that I could deal with it. But then Waqar hit me on my nose and in those days I did not wear a helmet with a grill. Post that I started wearing a grill. But I did not want to leave the battlefield as that would have put on tremendous pressure on us."
The 41-year-old concluded by narrating an interesting anecdote.
"(Abdul) Qadir challenged me because I hit Mushtaq (Ahmed) for a couple of sixes and a boundary. Qadir said, 'bacchon ko kyun mar raha hai (Why are you hitting runs off deliveries by children). Hit me, I will bowl to you. And in the following over, I hit 27 or so runs on Qadir's bowling," he signed off.