Mohammad Shami Ahmed –The discovery of a new star!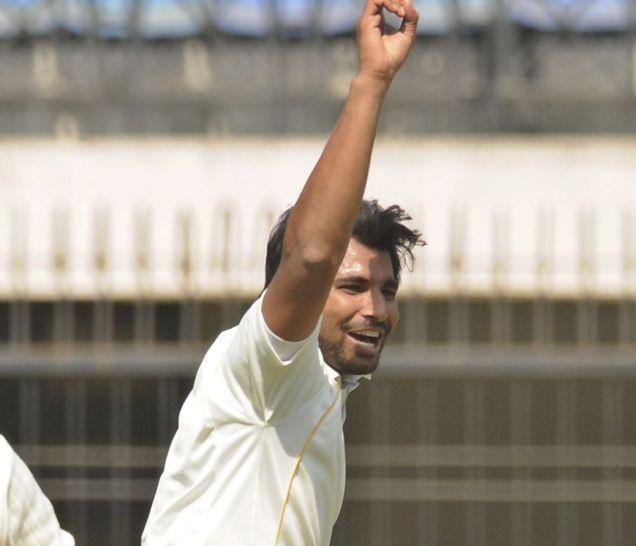 Just yesterday, our vibrant and versatile captain had given a hint that the services of Shami Ahmed will be utilized in the first test against the touring West Indies. And Ahmed has given a very impressive performance today by taking 4 important wickets. I believe that Shami Ahmed is simply the luckiest newcomer in the team – as his timing of getting a break seems to be perfect. With the ouster of Sir Jadeja and Ishant Sharma, the edge of the Indian bowling attack needed to sharpen and Shami Ahmed will hopefully contribute on his part. Though it is too early to predict anything, but the initial symptoms are apparently looking good. For him, confidence and self- esteem proved to be the keywords.
Apart from his display of quality bowling, this young man has been fortunate enough to play alongside the legend Sachin Tendulkar – a rare chance of a lifetime. His name will always be associated with this historical match.  Since he plays for Bengal in the Ranji Trophy, the advantage of playing in his home ground might have given him much needed encouragement.
Sincere, committed and very focused, Shami Ahmed has got good control over line and length. Also, the sweat and toil put in by him was clearly visible, as his stamina was worth appreciating. Thus, he seems to be capable of bowling long spells without compromising on quality. The entire exercise – right from bowling run-up to releasing of the ball – was smoothly synchronized. He bowls in a pretty mature manner as well.
Incidentally, this was his debut in test matches and grabbing 4 wickets in 17 overs with 2maidens is really a very good effort. He also displayed effective use of bouncers today, a necessary ingredient of a pacer. On a lighter note, the Test cap was awarded to Shami Ahmed by none other than Ishant Sharma – what a smooth passing of baton!
Prior to this, Syed Abid Ali, on his debut, had taken 6 wickets for 55 runs. However, the bowling figures are surprisingly similar for both Syed and Shami – 17 overs and 2 maidens! Stalwart Venkatesh Prasad had also taken 4 wickets for 71 runs – but he did this in 28 overs in comparison to Shami Ahmed's 17 overs.
I am fully convinced that this energetic 23 year old hardworking player, having a down to earth approach, is a precious discovery. He must be nourished properly to enable him to give his best and fill the void of a real pacer.
He has also played another vital role today – with his impressive performance, he has been able to shift the attention of fans from the bitter truth that this is the penultimate match of Master Blaster Sachin Tendulkar.
A load of best wishes to the talented Shami Ahmed!