In cricket, like in literature, the genius is often misunderstood, sometimes vilified. It is often hard to understand how in a land that loves creating heroes by the day, Mohinder Amarnath doesn't get the adulation he so thoroughly deserves. Lesser mortals have donned the country's colours for much longer than he has, he of the red handkerchief. The earliest memory of his in my mind was the DD programme he presented, 'Cricket with Mohinder Amarnath', where I heard about Sachin Tendulkar for the first time. I sometimes wonder if my generation would have heard of Amarnath had it not been for his stellar performances in the World Cup. Only Aravinda De Silva and Warne come close when it comes to sealing the country's fate in the semi-finals and finals of a World Cup. He did it with bat and ball, and contrary to his lethargic demeanour, did it with flair that only the opponents could comprehend.
The son of a legend, Lala Amarnath, Mohinder had legacy gifted to him. He had to chalk out his own unique brand on it. Some would say, he did. Some would say, he wasted it. Truth is, it is the administration at that time that ruined it. But administration rarely ever has the comprehension of genius, rarely ever understands the flap of its wings, the expanse of its stretch. And though Mohinder had friends like Kapil and Gavaskar and mentors, he found himself in and out of the team more than you would expect from a cricketer of his class. For someone who debuted in 1969 and was in international reckoning for a decade and half, he played just 69 Tests. He had a decent batting average of 42.5 in Tests, with centuries stacked up against the most feared fast bowlers like Marshall, Holding and Imran Khan. The man, known for infamously calling the selectors a 'bunch of jokers', has been held in high esteem by the world's greatest players, foremost amongst them being the charismatic pin-up boy of India's biggest rival, Pakistan.
Stats can tell you about success in cricket, but they don't tell you about greatness. Certainly not, if it is someone like Amarnath, who flirted with greatness, like someone once said about him, without ever achieving it. I agree partially on the first part. Whether he actually missed achieving it, is purely subjective. If scoring against the greatest fast bowlers of all time when your team is breaking apart all around you isn't greatness, it would be hard to find realistic measures to define greatness. The true artist is a rare species, the artist who lives what he creates. Amarnath was one such cricketer. With the bat, he was the same as he was anywhere else – fearless, undaunted, unfettered almost to the point of arrogance. In another life, he could have been a West Indian batsman and I am very sure he would have received a longer run, a little more patience than he did in this country. A person no less than Imran Khan once said he should have turned up for India every time it played, since his debut in 1969. Amarnath didn't.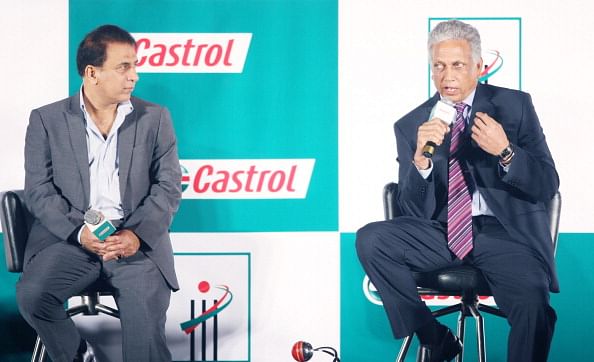 Described by Gavaskar as the finest batsman in the world of pace bowlers, Amarnath's greatest highs came around 1982 and 1983, followed by his greatest troughs. He was Man of the Match in the semi-finals of the 1983 World Cup, scoring 47 in a tricky chase after bowling 12 overs to give away just 27. He was the Man of the finals too, with figures of 12-3 in 7 overs after scoring 26 in India's sub-par batting performance. He took home the Man of the Series too, but in the subsequent aftermath of that emotional high, life was never the same. That is the poetry of life. Some peaks precede the deepest valleys and Amarnath realised it during a disastrous tour of West Indies, where his World Cup heroics enticed a barrage of bouncers from Holding and his compatriots. Known for making more comebacks than most notable cricketers, with the exception of Sourav Ganguly, Amarnath had a penchant for hooking; the faster the bowler, the better he got. Almost every great fast bowler of his era had a piece of him – skull fractured by Hadlee, knocked senseless by Imran, jaw broken by Thomson and teeth knocked out by Marshall. Yet, he would get up, every time. He, like Sachin after him, loathed showing pain, loathed admitting defeat. Probably that was why he was the comeback man, ignoring the incomprehensible fact that he was dropped more often than he should have been.
One of Wisden's five cricketers in 1983, Amarnath during that whirlwind year, scored 1000 runs before May, a record that grows bigger on you when you realise it came against Pakistan and West Indies. Averaging 73 in a series where Gavaskar was the next best at 48, Amarnath shared the Man of the Series with Imran, even though India were hazed, fazed and erased 3-0 in that series. It prompted Imran to say Amarnath, during 82-83, was the best batsman in the world – quite a compliment coming from one of the greatest cricketers of all time, who almost killed Amarnath with a scorcher that smashed into his head. It wasn't superfluous either, for rarely can a batsman boast a tally close to 600 runs against fast bowlers of the class of Roberts, Holding and Marshall nearly at their peak. Jimmy Amarnath, the guy who saw a gladiator's bloodied, clobbered and hacked side of the gentleman's game, will find it ironical that he was called one of the nicest men to have ever played the game, by the original master blaster with an intimidating swagger. Boon, the Australian with the moustache to celebrate, said of him "Concede didn't seem to be in his vocabulary" and Holding only reiterated it when he said, "What separated Jimmy from the others, was his great ability to withstand pain." To be a fearless genius with enormous talent and yet be played around by the gimmicks called cricket administration, you need to know how to withstand pain. Yes, Amarnath did know.