Most incredible matches in World Cup history: 7 – Pakistan v New Zealand (1992 SF)
1.67K //
10 Feb 2015, 10:49 IST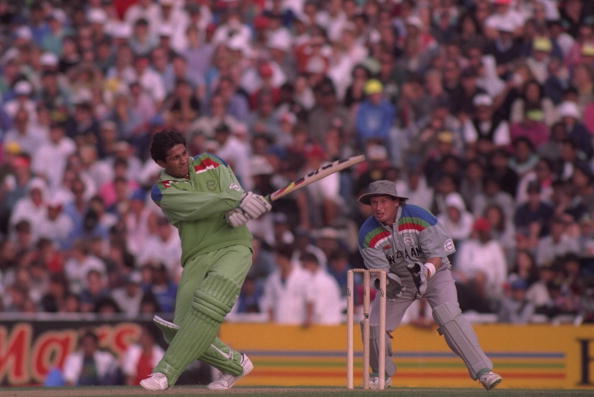 There are times when cricket transcends the barriers of sport and becomes a manifestation of destiny. Sometimes, destiny is so predominantly visible in the way things work out eventually that even the most ardent of followers cannot do much more than just sit back and wonder. The famous semi-final of 1992 was a clash of titans, quite literally, a clash of ideologies, of leaders, probably the best their respective countries had ever produced in the game. The script ensured that everyone witnessed and comprehended why!
Pakistan make it to semi-finals against odds
On that fateful day, March 21, 1992, Martin Crowe found himself two steps away from glory. Like all great leaders, though, he had to choose – stepping off the field to nurse his hamstring or lead from the front but risk missing the finals. Then there was the small matter of a rain forecast in a tournament that had been marred by a strange rain rule. Imran Khan, flanked by two amazing rookies in Wasim Akram and Inzamam-ul-Haq and two trusted subordinates in Javed Miandad and Rameez Raja, had stormed into the semi-finals.
He had no business being there, he was not meant to. But he did, eventually, winning three successive matches and coaxing fate to arrange permutations, combinations and rain in a manner so strange that you had to believe Imran influenced all of it, with a waft of his wand. Not many know that in that scintillating New Zealand campaign, the only team to beat them was Pakistan.
Before the big day, even Imran had a choice, of picking a 22-year-old Inzamam, suffering from fever and throwing up continuously, almost frustratingly asking to sit out of the match. Instead, he gets nothing more than words of encouragement from his skipper. What he did next is the stuff of legends!
Martin Crowe sets up an imposing target and sits back
New Zealand, after virtually bulldozing their way to the semi-finals, were crystal-clear favorites. They batted first at Eden Park, Auckland, buoyed by home support. While Mark Greatbatch had given them smashing starts throughout the campaign, it wasn't meant to be this time around. They soon went into a rut, thanks largely to a 44-ball 13 from vice-captain John Wright and a 53-ball 21 from Andrew Jones.
The form man, Ken Rutherford was hiding himself in a slab of concrete too. He did pick himself up eventually from his hole and managed a half-century of an agreeable 68 deliveries. But the Kiwi skipper Martin Crowe wouldn't let unruly subordinates and nervous partners decide his fate that day. Seven boundaries and three sixes studded his 83-ball 91 as he batted on with a runner, troubled by a hamstring injury. Only a run-out, a mix-up, the one runners are infamous for causing, could send him back that day. Nevertheless, New Zealand managed 262, a total so imposing that Crowe felt comfortable enough to let John Wright take over as he sat there strapped in the dressing room.
The Inzi storm
The semi-final isn't considered as one of the greatest matches ever for nothing. It was adorned with twists and turns through its length. From a slow start to a great consolidation, New Zealand's innings had its own high and low points. Pakistan's innings was no different. Although they got a solid start from Rameez Raja and Imran Khan, Pakistan eventually found themselves in a hole at 140-4.
What was worse, Imran's 44 in 93 balls meant Pakistan needed 123 at more than eight per over when the great Inzy eventually walked out. Years later, Crowe will tell you about how the plans were laid out carefully, all the bowling spells planned and all the bowling changes scripted. Yet that evening when rains refused to spoil Inzy's party, his blitzkrieg found no answers in Wright's moves.
Dipak Patel or Chris Harris didn't matter as Inzamam plundered 60 off 37 balls, with seven boundaries and a biggie, quite a few of them coming off an expensive Chris Harris over. Javed Miandad would remain unbeaten on 57 while Moin Khan with a cameo of 20 in just 11 balls will ensure Inzamam's efforts don't go wasted as Pakistan romped home with an over to spare.
Encore
Pakistan batted first once and chased once in the two big matches. They won from difficult positions to eventually lift the trophy. In the final, they found another hero in Wasim Akram. But Akram along with all cricketing greats would swear by the magnitude of destruction Inzamam had wreaked on the Kiwis, against all odds, in an innings that had not faltered at any point and had started straightaway on an explosive note, laying all the best laid plans haywire.
New Zealand, in form and hosting the World Cup again, will want to exorcise those ghosts in 2015, the ghosts that had haunted an entire generation!
Read: Most incredible matches in World Cup history – No. 8