Most incredible matches in World Cup history: 6 - England vs Ireland, 2011
2.16K //
12 Feb 2015, 00:45 IST
Everyone loves an underdog. In an adulation which has transcended boundaries of sport, movies, reality entertainment shows and more, these David vs Goliath battles tug at our heartstrings like nothing else, with a generous dollop of initial sympathy, which gradually builds into an overwhelming empathy and culminates in excessively strong feelings of joy or sorrow, based on how the story ends up for the David in question.
The greatest stage of the 50-over cricket game provides excellent scope for such skewed battles, with several instances of leviathan upsets by so-called minnows over their more fancied opponents. As the name suggests, a minnow often lures its unwitting prey into a trap, but the story I am about to recount here is one where a minnow develops shark-like features to batter its foe into submission before crunching it to bits.
Clash of the neighbours
When next-door European neighbours England and Ireland clashed in Game 15 of the 2011 World Cup on 2nd March 2011, at the M. Chinnaswamy Stadium, Bengaluru, not many expected David to trump Goliath.
Ireland had shown some promise with an impressive bowling display against higher-echelon minnows Bangladesh in their tournament opener, but England were coming off an outstanding display against favourites India, clearly in the ascendancy in the final stages of the match, despite chasing 338, before collapsing under the impact of a brilliant Zaheer Khan and a bit of hara-kiri to register an exciting tie.
The Irishmen were not expected to trouble them beyond the temporary minnow moments of glory, customary of most non-embarrassing clashes featuring the lesser nations.
Trott-ing away to glory, with impecca-Bell support
England won the toss and elected to bat on a belter of a wicket, a move soon vindicated by the excellent opening partnership between previous match's almost-hero Andrew Strauss and quintessential bad-boy Kevin Pieterson, both of whom fell on either side of the team hundred.
Ireland's joy was short lived, as Jonathan Trott and Ian Bell settled into a 167-run partnership, looking least bothered by whatever the bowlers dished out. In the process, 'Test specialist' Trott reached 1000 runs in One Day International (ODI) cricket in only his 21st innings, equalling the record set by famed ODI specialists, Viv Richards and this inning's ancestor Pieterson.
Bell provided solid support as both men hurtled towards their respective hundreds, and a 350-400 looked very much on the cards.
A hole in the middle
Both Trott and Bell lost their wickets in a display of utter disdain for the bowling, the beneficiary on both occasions being soon-to-be second lead hero John Mooney. This was followed by a hole-in-the-middle implosion with Matt Prior, Paul Collingwood, Michael Yardy and Tim Bresnan departing in quick succession, without bothering the score-keepers too much.
In a rather rare phenomenon in cricket, England's death batting woes returned to haunt them (the final five overs yielded just 33 runs) the second time in two games, and Mooney finished with a career-best 4 for 63.
England's 327, though about 40-50 runs short of what they looked capable of achieving during the Trott-Bell partnership, still looked a mountain too high for Ireland to surpass.
A minnowy start
In response, Ireland lost opening batman William Porterfield first ball to a nothing delivery from James Anderson. What followed was a struggle, with star batsman Ed Joyce trudging along at a strike rate of 50, and Paul Stirling chancing his arm with moderate success, with a bit of help from the sloppy Prior.
Graeme Swann came on to bowl in the first Powerplay, and gradually weaved his magic on the game, accounting for three quick wickets in the middle order. With Stirling falling to the sword earlier, half of Ireland's side was back in the pavilion with the scoreboard reading 111.
The match had, till then, dedicatedly stuck to the standard minnow script – chasing a huge target, the underdogs, after suffering an early jolt, stick manfully to their task, eliciting a few words of praise, before being slowly outgunned and eventually obliterated.
However, a purple-haired marauder decided to throw a spanner in the works and engineer a slightly different script.
The Kevin carnage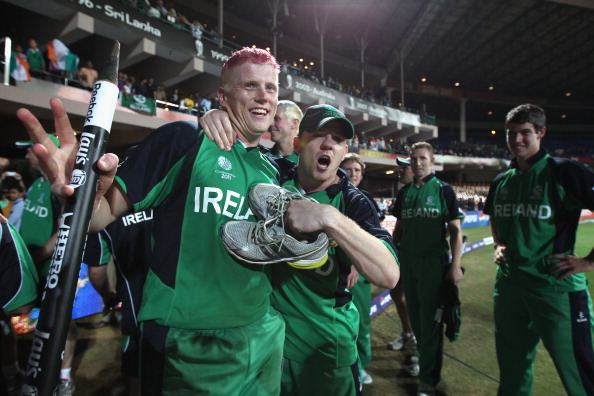 "Sometimes Kevin gives you the impression that he is 100% determined not to just give it away. On this occasion his was just a carefree, relaxed attitude." These words by Andrew White, Ireland's most capped player who was dropped after the loss against Bangladesh, described Kevin O'Brien's frame of mind when he went out to bat. Incidentally, they quite aptly captured what was to follow in the middle as well.
O'Brien began with a couple of sixes against England's most successful bowler thus far, Swann, before cutting loose with the calmness of a highly trained sniper against the quicks, during the batting powerplay. The clean hitting was reminiscent of, but with superior technique, what an unknown Kieron Pollard displayed, playing for Trinidad & Tobago against New South Wales, in the group encounter of the inaugural edition of the Champions League T20 tournament.
O'Brien waltzed to the quickest century in World Cup history, off just 50 balls, and the match had turned on its head, with Ireland requiring 65 runs off the final ten overs for a memorable victory.
The support staff
Almost as significant was the contribution of O'Brien's unsung mate in the 162-run 6th wicket partnership, Alex Cusack, whose 58-ball 47 paled before O'Brien's in statistical terms, but the solidity of whom allowed the purple-haired Irishman to come out all guns blazing, while allowing him to catch his breath occasionally with a few magnificent strikes off his own.
Cusack's final act of the day was perhaps his most heroic as well. With nine overs remaining and 56 runs yet to be knocked off, Cusack sacrificed his wicket after a misunderstanding over a non-existing single. The soldier had laid down his life so that his king (for that day at least) could continue to wage battle, and win the all-important war.
The dismissal brought out Ireland's bowling champion of the day, Mooney, whose support role with the bat was to provide tremendous relief to a tiring O'Brien.
A memorable victory
Mooney was to the Irish chase, in the finishing moments, a shot of adrenalin into a well-worked but faltering heart. He hogged the strike, and combined the optimum mix of defence and attack to propel the team along towards a now very gettable target.
Like most great matches, this one was not bereft of last minute drama. With 12 runs required off the final two overs, O'Brien ran himself out, ending one of the most stunning innings in recent memory, the fruitfulness of which yet remained to be ascertained.
Given their lack of experience at the highest level, a panic attack may have been warranted, but as White recalls, when he ran out to the centre with drinks after the run-out, "The calmest people in the ground were the two batsmen. They knew exactly what they were trying to do. I asked John (Mooney) if he was happy with the way things were going. And he said, 'Yes, all under control.' This, when the rest of us were sitting on the edge of our seats."
Mooney's words of reassurance were not spoken lightly. New man Trent Johnston blazed the first delivery he received, a gentle full toss from Stuart Broad, to the extra-cover fence, and sensible batting off the remaining deliveries of the penultimate over saw Ireland require just 3 runs off the final 6 deliveries.
Leaving no space for last moment histrionics, Mooney clipped the first ball of the final over, bowled by Anderson, to the mid-wicket boundary for his country's greatest victory ever.
As the man whipped off his helmet and emanated a warrior cry, the message resounded around the world: 'Goliath was slain yet again; long live David'.