MS Dhoni - An inspiration on and off the field
3.93K //
08 Mar 2013, 22:47 IST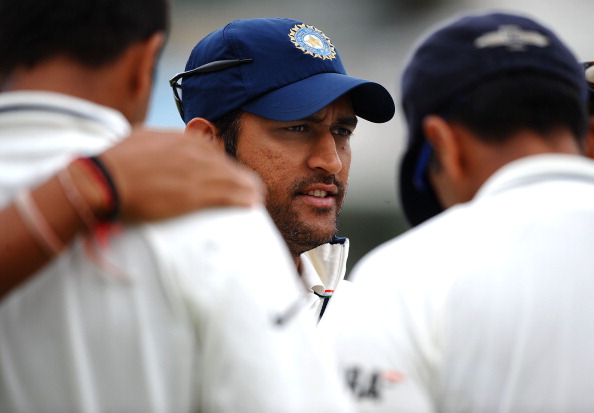 Does the saying – "one never knows when it happens" holds true in case of admiration too? In my case, it is a yes. People ask me, "Why do you like Dhoni?". Well, I have my reasons. But if they ask me, "When did you start liking Dhoni", I don't know. When I try, with big black and white circles revolving in from of my eyes, my past flashes back to IPL 1. I was in +2 then. I fought with my principal for permission to go on an outing, only to go home and watch the final against Rajasthan. That means I was his follower already. It might be, or rather is, a story of "cricket because of Dhoni" but not "Dhoni because of cricket". I just cannot continue watching the match once an umpire raises his finger, asking Dhoni to go back to pavilion. Prayers to a million Gods would already have happened in those few seconds when umpire looks to raise his hands till he actually does it. When it is certain that he is out, the story is different – I just use those few seconds to switch off the television which I was, without a moment's gap, staring into till then.
I wonder what my cardiograph looks like when Dhoni is on strike. My heart beats faster with each step the bowler takes, every time Dhoni taps his bat on the pitch and it stops momentarily when the ball is released – until I know he is not out. Not that I am confident about bowler taking his wicket, but out of a small fear, what if Dhoni gifts away his wicket? Mates can see three different forms of me in the post-hitting moments – 1) a human admiring the way he runs quickly between wickets, never resting scorers; 2) a crazy person screaming with both the hands up in the air if the ball crosses the ropes; 3) a monster jumping all around if the ball takes one beautiful flight and lands into the stands. I would probably feel happier if Dhoni plays his helicopter shot, making a circle in the air and using all his strengths to hit the ball, than getting a chance to go around the world.
How delighted will one be while watching Michael Jackson do his moon walk, or Aishwarya say "crazy kiya re", or Hritik Roshan say "Dhoom again"? I will be much more delighted when MS dives sideways to stop the ball, breaks the stumps or does any stunt possible to get the batsman caught behind wickets. How tiring it should be to smash balls, keep wickets and simultaneously, make strategies for eleven people? But Mahendra Singh Dhoni, like a warrior, never pauses in the battle.
No other leader inspires me as much as Dhoni does. Each time I see him taking decisions which nobody else in his place could have taken, my respect towards him grows manifolds. The way he keeps things as simple as possible for him and his team, never ceases to amaze me. Words which he speaks on and off-cricket topics, are lessons for life. His calmness is his greatest asset. He quickly creates his own mark in whatever he does. And his finest quality is that he never knows how to give up. He never quits. And this makes him belong to the elite group of legendary leaders.
On the field, he is a great leader, with a calm countenance, never letting his emotions play the game. He accepts everything that comes his way as he believes, "It's all about coping with the challenges that come to you". The unprecedented success he has brought to Indian cricket, the number of records he made and broke, the humbleness with which he credits all these to the team; who can watch cricket without following Dhoni? The style with which he uproots the wickets after winning a match, the manner in which he faces media with his sharp and "will come back" confidence after losing, the way he shields his team from the deterring comments by critics, who can follow MSD without feeling inspired? He is no lesser off the field. When he sings "mast mast do nain" for Bin Laden in a sports awards function, when he imitates (Virat) Kohli or (Manoj) Tiwary, or he dances to the tunes of "nakamukka" for Chennai Super Kings, who can watch Mahi without a smile on their face?
Exceptional has been his story, a journey of a small-town boy who has risen to bring laurels to his country. His is not a story, but  history indeed, one which can be scripted in gold in the books of Indian cricket. He is an inspiration personified.
Gilchrist quotes, "He isn't second anyone. He is the first MS Dhoni. He is a wonderful package for Indian cricket."