MS Dhoni's balancing act - The secret of captain 'cool'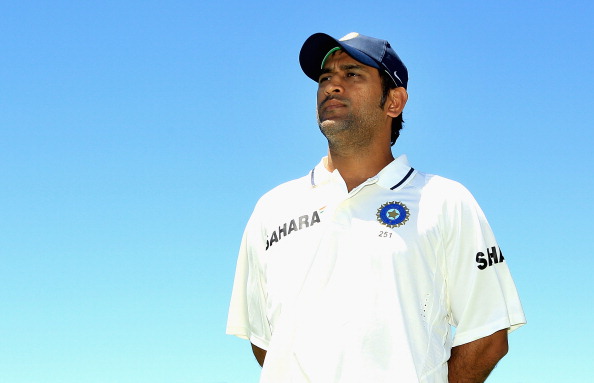 Everyone is talking about MS Dhoni. And everyone has been talking about him since past couple of years. After Tendulkar, Dhoni is the only player in the current Indian side who can sway emotions from one end of the spectrum to the other with such regularity. Not too long ago, the 2-1 loss to England was supposed to be the nadir of Dhoni's career according to the media (not for the captain himself, who rated 2007 World Cup ouster a worse scenario). Within 3 months, the perception about the Indian captain has swung more than Bhuvneshwar Kumar's first ODI delivery.
Well of course, that's how the Indian fans' psyche works, doesn't it? And Dhoni knows that, more than anyone else.
Sachin Tendulkar's appeal, apart from his batting, comes from his off-field demeanour; that calm and down-to-earth personality that wins an Indian's heart. And that's exactly how Dhoni is; only that he's also the captain of a side that plummeted to depths too quickly after achieving the biggest prize in the sport.
Virat Kohli's words after the 3rd day's play gave away the secret of the man. He revealed that Dhoni didn't want to talk about the game when he came on to bat. He didn't want to know how the pitch was or how the bowler was bowling, et al. He wanted to talk about something else, anything but cricket. Now, this was not a discussion over a cup of tea between office workers, but between two of India's best batsmen in the side currently, one of them being the captain of the side. India were playing a Test match and weren't exactly safe yet. To imagine that the two individuals would have a discussion on anything else but cricket was quite preposterous.
But that's why Dhoni remains sane after going through the rigours of being an Indian captain. As he accepted earlier, he is, after all, the 'punching bag' in the side. It's the truth of life, even outside cricket. If a team is doing well, there's always someone or the other to be praised, but when the going gets tough, it's the leader who's held responsible. And that's the fact of life Dhoni's accepted extremely well.
If you can keep your head when all about you
Are losing theirs and blaming it on you
He is not too troubled at being ridiculed. He has stated earlier that he is not a natural leader and was a shy kid at the start. The most important factor of Dhoni's leadership is that he knows, better than any cricket expert on the planet, what his side can or cannot do. His understanding of the game, from that vantage point behind the stumps, is quite rich.
He's rightly criticised for being a 'defensive' captain and somewhat detached from the surroundings sometimes, but that's what helps him keep a cool head on those shoulders. It's a side-effect of being able to think clearly under pressure situations. That he's not a classical cricketer is not just reflected in his batting. He is someone who will try to get things done by thinking of all the options at his disposal.
If you can trust yourself when all men doubt you,
But make allowance for their doubting too
His decision to come on to bowl after Zaheer's injury against England in 2011 was criticised by many. But it's also important to question that criticism. Kapil Dev termed it as a mockery of Test cricket. But that's the quintessential leadership quality of Dhoni – to take things into his own hands. He was praised for the decision lavishly when he promoted himself in the World Cup Final and came up with a match-winning knock. At Lord's, he almost had Kevin Pietersen out, only for Hot-Spot to reverse the on-field umpire's decision.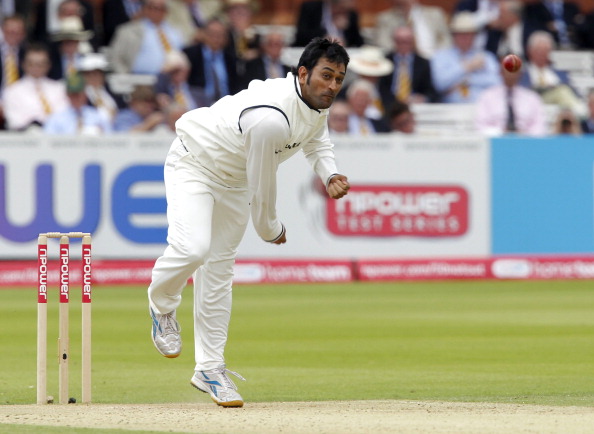 I don't think Dhoni ever took the coaching manual too seriously. For him, a basic rule of life holds strong – it's more important to do things correctly than fret over doing the correct things by following the words from a book.
If you can meet with Triumph and Disaster
And treat those two impostors just the same
He said once in an interview that he relaxes the most with his dogs at home, who react to him the same way irrespective of him winning or losing a series. And that's how he treats the two sides of the coin. He's captain 'cool' because he doesn't go over the top irrespective of the enormity of the win or loss. A balanced outlook has helped him keep his feet firmly on the ground.
A twirl of the bat, taking the stump as a souvenir, hugging the teammate in tears, holding back his, getting engulfed between the teammates rushing onto the ground, wiping away any tears which might be captured by the cameras, Dhoni showed the kind of man he is on the day he made himself immortal. It takes some time to find him in the winning photograph.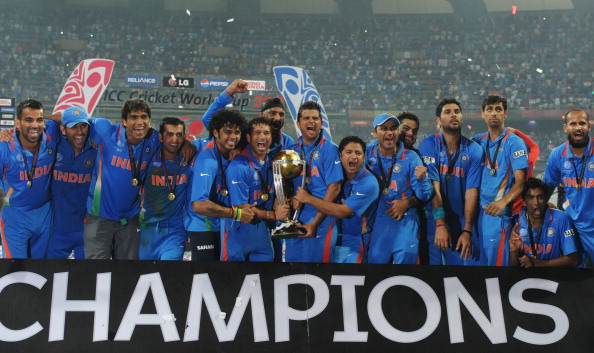 If he doesn't sound absolutely demoralised even after humiliations abroad and at home, fans who can never understand what Rudyard Kipling meant in those two lines ridicule him even more. He remains calm at the risk of sounding almost dispassionate. But that's what makes Dhoni the best man to lead India. We've had some emotional skippers, and it's not a negative quality. Being an ardent Sourav Ganguly fan, I treat being emotional as a motivational tool. But Dhoni shows the more practical approach towards captaincy and life.
If you can talk with crowds and keep your virtue,
Or walk with Kings – nor lose the common touch,
if neither foes nor loving friends can hurt you,
If all men count with you, but none too much
Not one to mince words, Dhoni isn't someone who reads too much into statements. The 'rift' between Dhoni and Sehwag or Dhoni and Gambhir is only an example of reading too much into words. The more you see Sehwag and Dhoni talking and laughing with each other between overs when the cameras are not on them, the more foolish you feel at giving second thought to such gossip. Suresh Raina once said in an interview that there are no 'friends' in cricket, only professional cricketers at the end of the day. And that's precisely how Dhoni approaches his job. There are bound to be different opinions in a group, but he's been at the helm for far too long to let rifts exist in the dressing room.
If you can fill the unforgiving minute
With sixty seconds' worth of distance run
The man has time and again reiterated his liking for living in the present and not thinking too much about the future. After winning the Cup in 2011, there have been talks of defending the title in 2015 but Dhoni stated that he would cross the bridge when he reached it. When he talked about taking the decision on his future in the game in 2013, there was huge controversy around his alleged dislike towards the longer format. Even though he's much more comfortable in the limited-overs format, it was simply an honest opinion about one's ability to carry on playing all three formats and give the best in them. As he pointed out then, India would need a wicket-keeper who has played at least 80-100 games before going into the World Cup; there's logic in that statement that can't be denied. MS Dhoni can't keep playing the role of captain, wicket-keeper and batsman in all the formats.
But he's always aiming for the next series, the next match, the next innings, the next session. Breaking down the long-term targets by focusing on the job at hand first and reaching short-term targets is essential to last the distance.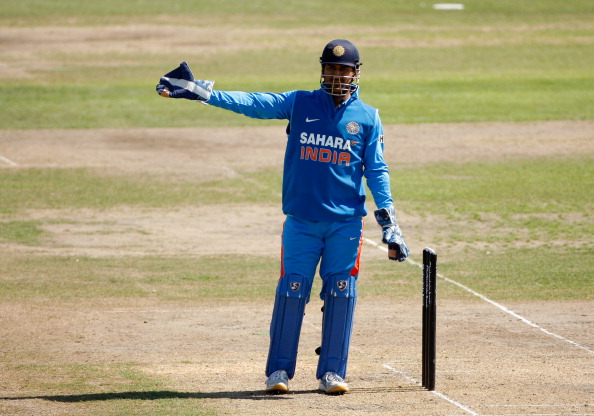 It's not just his batting or captaincy which makes him the unique person he is. Mahendra Singh Dhoni's thoughts and philosophy behind confronting almost every other challenge make him a great example in life outside cricket. If he hadn't been a cricketer, he would've still been a great leader in any other sphere of life. Leaving the game wouldn't be too hard for him and he's a man who wouldn't be found behind a mic once he retires.
The best of his sentences are uttered while he's marshaling his resources standing close to the stumps. The stump mic picks up some of the choicest gems ever heard from an Indian captain, whether telling Jad what he thinks about the short ball which was dispatched to the boundary or waking Sree from his slumber by making a joke about his girlfriend.
He is always in the game when he's playing it. But once that helmet is off, the captain 'cool' knows very well that at the end of the day, it's just a game.