Mumbai Test: England crush India
727 //
27 Nov 2012, 14:29 IST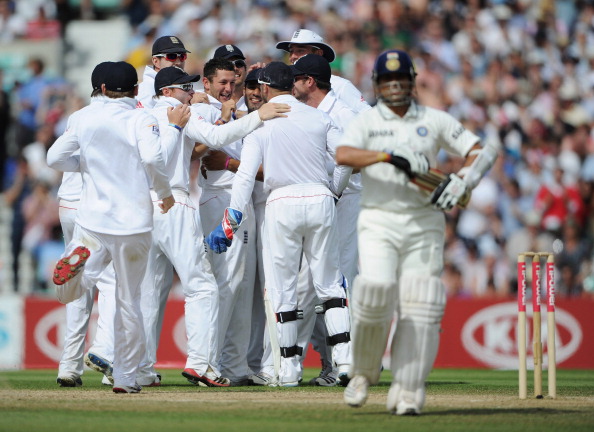 England bounced back to level the series 1-1 in the second test in Mumbai. Monty Panesar and Kevin Pietersen helped England regain their self-belief in sub-continent conditions and pose serious doubts about India's strategy to prepare sharp-turning wickets ahead of the third test to be played at Kolkata next week. Cook was successful in motivating the team after the defeat in the first game.
The pitch which turned and bounced from day 1, was tailor-made for India, who went with three spinners, to take the lead to 2-0 but their counterparts had some other plans. Cook again lost the important toss on this wicket where batting last on such a wicket can be dangerous and the anguished expression on his face said it all at the toss. India brought Harbhajan in the side leaving Umesh Yadav while English replaced Bell and Bresnan with Braistow and Paneser.
The pitch suited the pace at which Monty bowls and he made his presence felt by taking the prized wickets of Sehwag and Sachin to reduce India to 60 for 3 before lunch on day 1. India went on to post 327 with the help of a brilliant century, the second of the series, from Pujara (135) and half-century from R Ashwin (68) after being 168-6. Panesar and Swann took 4 and 5 wickets respectively in that innings. Alastair Cook and Kevin Pietersen scored hundreds to take England past India's score and get a decisive lead of 86 by getting 413 in the first innings. It was again a brilliant century from Cook as well as Pietersen's strokeful 186, which proved to be the difference between the two sides in terms of batting. With the deficit of 86, it was an up-hill task for the Indians to post a good total to defend on a wicket which turned and bounced viciously. Monty and Swann took 6 and 4 wickets respectively to bowl India out for a mere 140 and set up a great test win for their country. Gambhir was the lone fighter in the second Indian innings, with a score of 65. Needing 57 to win, Crompton and Cook levelled the series by scoring those runs as if the pitch had no demons in it, inside 10 overs.
The English spinners completely out-bowled their counterparts and took 19 wickets between them while the Indians could only manage 9, that too with three spinners in the side. Indians were guilty of bowling it too short, drifting down leg and providing too many scoring opportunities on a wicket where there was always help available for them. Pietersen and Cook were toying with Indian bowling and Indians were playing the waiting game rather than trying and forcing things to happen. Dhoni's captaincy can be criticized for not attacking much and removing the close-in fielders as soon as KP began to attack. He didn't utilize Zaheer, the lone pace bowler in the side, properly. He bowled only 15 overs and his ability to reverse the ball was wasted. He kept on persisting with spinners even when Cook and Pietersen were at ease playing them.
Monty took 11 wickets and bowled nicely, drawing the batsmen forward which kept the close-in fielders always interested. Swann complemented him nicely and they kept the pressure on from both sides. Ojha was the only spinner from India who bowled well but other spinners let him down. Coming back after 14 months, Harbhajan Singh was not effective at all and is surely not getting any chance further in the series unless one of the two preferred spinners get injured. Ashwin could get only two wickets from 80 odd overs in helpful conditions.
Sachin got out in single digits in both innings, raising serious questions on his position in the side as the master now averages only around 15 in the last 10 innings. Yuvraj is not suited for test conditions, and this was proved again. Still, the logic of revolving around him and Raina for the number 6 spot is hard to explain. Even if they score once here and there, it is not a big deal on flat tracks. Virat Kohli is still learning and his wicket in India's second innings was a gift as he played the full-toss directly into the hands of mid-off. Dhoni's keeping and batting both were below par in this match, along with his captaincy. India seriously needs to rethink their test combination, whether it is batting, bowling or captaincy. This Indian side will struggle against a quality opposition more often than not.
England fans will be delighted with their performance in every department of the game. Monty with the ball and Pieterson with the bat plotted India's downfall. KP's knock was even more special after his reintegration in the side. Every time he scores a big hundred, England ends on the winning side. This shows how dangerous he is. He scored all round the wicket. Played great drives, paddle sweeps, reverse sweeps and hitting the spinners out the park over square leg, midwicket, long-off and covers. The flat six over extra-covers against Ojha was the best of the lot. Cook played the patient knock and scored his 22nd century, equaling the record of most centuries by Englishmen.
This is one of England's most famous wins which will be cherished for a long time. It will be a great contest to witness between bat and ball in the next two tests. Spinners from both sides will be competing against each other in getting most out of the helpful wickets. With the test series interestingly poised, lets wait and watch!