Nick Compton makes his presence felt
822 //
10 Mar 2013, 18:09 IST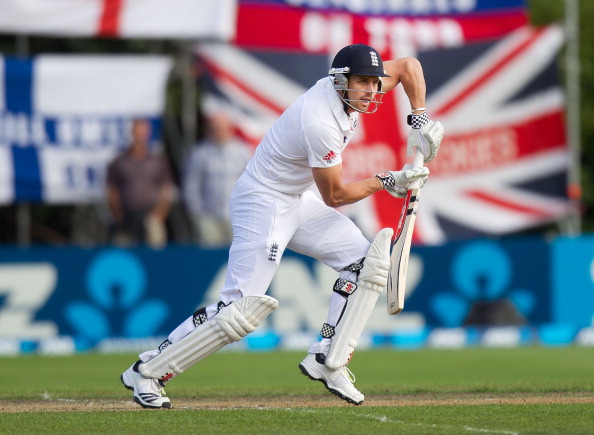 When World War II ended in 1945, Britain was eventually victorious, but the long and bloody war that lasted six years had left Britain virtually bankrupt. As the country was reeling from troubled economic times, Denis Compton emerged as a national icon by capturing the imagination of the public with his flamboyant, dazzling and cavalier stroke-play. Even now, a few old-timers romanticise the bygone era and reminisce about Compton's thrill-a-minute triple hundred for MCC against North-Eastern Transvaal in 48-49. He strode across the sporting world like a colossus, as he also played football.
More than six decades later, Denis Compton's grandson, Nick Compton, was about to take guard in his debut Test at Ahmedabad against India. He didn't set the world alight in his debut Test with scores of 9 and 37. But his three-hour stay at the crease in the second innings of that Test showed that the critical art of building an innings was ingrained in his batting at a young age. In India, it was a constant battle for Nick Compton to come to grips with the alien conditions. But his hunger for runs and a sound temperament gave an unmistakable impression of a cricketer who had the will-power to succeed at the highest level.
Inspite of his hardwork in testing conditions in India, the critics weren't impressed. He was criticised for not converting those starts into big scores. One can never understand the psyche of critics, as they are ever-ready to pounce on a cricketer. In the first Test against the Kiwis at Dunedin, Compton got out for a duck. But in the second innings, he gave a fitting reply to those cricket pundits with a backs-to-the-wall century. Compton was an able foil to captain fantastic, Alastair Cook, as both erected a solid platform with a 231-run opening stand to take England out of troubled waters.
In many ways, the mettlesome Compton's resolute century at Dunedin encapsulates the essence of his batting. His game is built on the old maxim of knowing your off-stump, and leaving the ball well. He can wait all day long for the bowlers to get tired and drift onto his pads. At Dunedin, Compton showed the rare virtues of concentration and patience. The Kiwis even baited him by throwing the occasional carrot and bowling wide of off-stump, but Compton didn't oblige them by taking the bait.
Compton may not fill stadiums with lissome flicks, silken smooth drives and lofted shots with deft footwork. But he knows his game, and seems to have that insatiable appetite to get big scores. The industrious Compton is, in every sense, a utilitarian.
Compton on his method, "I keep saying to myself, 'Give these bowlers nothing'. Even after I reach my hundred, I say to myself, 'Give these bowlers nothing.' I don't care what I look like, I just want to give them nothing." 
It wasn't always this easy for the quiet achiever from Somerset. When Compton decided to leave Middlesex in October '09 and play for Somerset, it seemed like his ambition of playing for England would remain unfulfilled. Infact, the year before he left Middlesex, his career had touched its nadir, as he averaged just 8.50 over five first class games. The 2009 season wasn't great for him either, as he amassed 860 runs at a disappointing average of 33.07. As he came from a rich cricketing heritage, the weight of expectations didn't help his cause for sure. The timely decision to move to Somerset though, paid him rich dividends. On good batting tracks at Taunton, he was a thorn in the opposition's flesh and made gallons of runs.
In 2011, Compton aggregated 1010 runs at an impressive average of 56.11 for Somerset. In particular, 2012 was an annus mirabilis for Compton. He made 1191 runs at a Bradmanesque average of 99.25. Nick Compton has admitted that former Somerset wicket-keeper, Neil Burns, played a pivotal role in helping him to develop a sound defence. All those runs for Somerset caught the eyes of the selectors, and he was subsequently drafted into the English set-up for the tour of India. Interestingly, Compton doesn't open the batting for Somerset.
It is so unfair to compare Nick Compton with his grandfather, as Denis Compton was a true legend of the game. Let Nick Compton tread his own path and make a name for himself in Test cricket. With an insatiable appetite for runs and the concentration powers of a zen master, he certainly can make it to the top echelon of Test match batsmen in the future.