Post-match blues: Derbyshire Falcons v Leicestershire Foxes - Friends Life T20
1.47K //
28 Jul 2013, 01:55 IST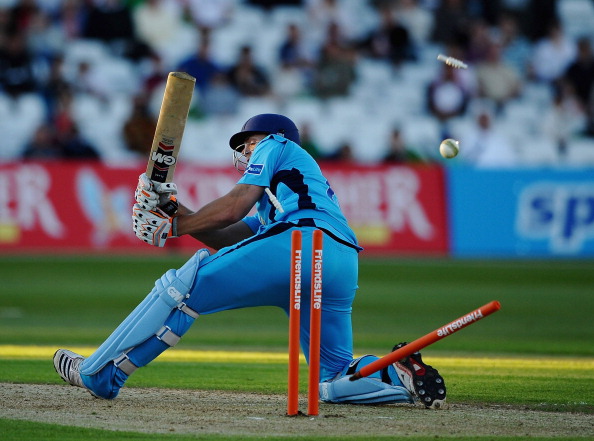 By any standards, that was an awful effort last night.
When the best you can find to say about a batting display is that the Twitter feed from Tony Palladino was very good, you know that you've had a stinker.
It's funny, despite the fact that I still maintain that chasing a total offers a better chance of success than setting one, oblivious to the capabilities of the other team, it goes out of the window when any chase is approached in much the same manner as adopted by the Keystone Cops, perhaps accompanied by Sergeant Jones of Dads Army shouting "Don't Panic!" at the top of his voice.
We simply have to get better and that will doubtless be something occupying the thoughts of Chris Grant and the Derbyshire board in coming months. Maybe there is no quick solution, but whether it is in different players coming in or the coaching setup being tweaked, we cannot afford many nights like that.
The marketing team work wonders in attracting people along to the ground to witness exciting cricket. Three straight wins at the start of the campaign did the same. The remarkable win at Trent Bridge on Monday would have convinced a number of people that there was no better place to spend a Friday evening than the County Ground.
Then we bat like that.
No, I can't and won't defend it and when a team is slaughtered (there is no more apposite word) by a very average Leicestershire side, then supporters have a right to be disappointed and angry.
Yet there is no quick fix. Players we were lauding twelve months ago have not become bad players in that time. Some have found their comfort level exceeded, others have, in unison, hit the bad season experienced by most at some time. Yet no one must lose sight of the fact that we cannot simply, as one correspondent suggests, 'sack them all' except for three. As an example of knee-jerkery (just invented that one…) it's high on the all-time list…
Contracts are contracts and even though it often seems that they offer security to the player alone, rather than the club when an individual and his agent start getting twitchy, the club cannot rip up the remaining deals of 12 players and wave them off. It doesn't work like that and nor should it, or we would be back in the dark ages. Aside from falling foul of legislation, it would probably ensure that no one else wanted to play for you, ever.
The coaching staff will work over the winter to get the careers of some players back on track and continue the development of others whose encouraging displays have been somewhat overlooked in those kneejerk, but understandable reactions of supporters to last night.There is a massive interest and depth of passion about Derbyshire cricket, as evidenced by this blog setting a new record for hits in the current month, even with four days to go. These people care and they want to see a successful club. Three of them got in touch from overseas, having followed the action from afar.
No one cares more than Chris Grant, who faces a busy winter. He, more than anyone, knows what needs to be done, what money we have and how we can feasibly improve within budgetary constraints. I am sure that Mr Grant will look back on 2012 as a delightful honeymoon period, when all was sweetness and light after the previous year, when the mid-season departure of John Morris gave him a stern introduction to Derbyshire cricket. 2013 will not carry the same memories, but perhaps has given him an even greater appreciation of the size of the challenge.
Keep the faith people. Last night didn't make us a disaster, any more than last year made us the best team in the world. I get as frustrated by the team's inconsistency as you all do and I wish, to use football parlance, that there was a route one to success.
But there isn't. We must continue to be patient and give the boys our backing. Whatever you may think in the aftermath of a poor display, they are working hard and they are trying their best.
It's just that on occasion the best is a long way from good enough and needs to get better.