Pujara continues to dominate
914 //
23 Nov 2012, 18:53 IST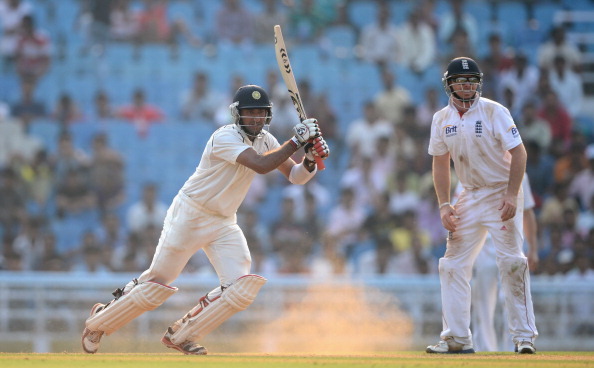 After England were soundly thrashed by 9 wickets last week, much of the focus centred on the non-selection of Panesar. Clearly, with hindsight, he should have played. But would he have made a difference to the result? Doubtful. There were two key problems for England in the last Test, their batting and Cheteshwar Pujara.
Whilst Panesar has impressed on his return to the side, his dismissal of Tendulkar in particular was reminiscent of the Panesar of 2006. However, he couldn't fix the main problem. Pujara ends the day not out on 114, his Test average now standing at a Bradman-esque 85.50. It is impossible not to draw comparisons to Rahul Dravid. Pujara has replaced the great man at no.3; he even bats with the same air of invincibility.
When Dravid was batting, especially on a good day, the only way you were going to get him out was with a huge slice of luck, a bad decision, or a very rare loose stroke. The same applies to Pujara. He does not worry about his strike rate, admittedly rather easy with Sehwag, Kohli and Yuvraj in the same batting order. He is technically about as perfect as you could hope to be and, crucially, he can play the short ball.
Early on in the first session, Broad was testing the water. He gave Pujara a sharp bouncer, he ducked under it as it flew through to Prior. Broad, clearly encouraged by the pace and carry of the ball, tried again. This time, Pujara lent back and nonchalantly guided the ball over the slips. Perhaps most impressively, Pujara propped forward to the next ball, which was full and offered the most pristine forward defence you will ever see. Dravid himself would've been proud.
These 3 balls showed exactly why Pujara has the potential to be one of the greats. To have the ability, awareness and confidence to clip Broad over the slips was mesmerising. Then, when some batsmen would hold back, wary of another short ball, Pujara went forward.
Sometimes, a dead pan defence is more demoralising for a bowler than a slog over midwicket. Pujara's defence said to Broad: "You're not getting through here, good luck". Broad had bowled a perfectly good ball, it didn't even test Pujara. So, rather than focusing on whether or not Panesar should or should not play, or to play 5 bowlers or 4, England might want to think about how the hell they're going to get Pujara out. It is a rather more perplexing conundrum.