Pujara double catches England in a 'spin'
1.11K //
16 Nov 2012, 17:38 IST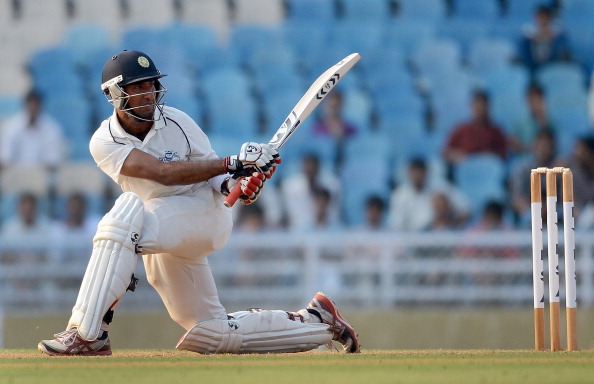 Day two has just come to an end, with England down in the dumps. Their worst nightmares were realized as the day came to a close. England were 41-3 in response to India's massive 521/8 declared.
The morning session started off with some disciplined bowling from England and a few close LBW appeals from Swann and Broad, which were turned down. Pujara reached his second test match ton with a single down to fine leg off Stuart Broad in the 96th over. Yuvraj broke the shackles with a couple of boundaries and a big hit down the ground off Swann in the very next over. This made Alistair Cook to go into run saving mode with defensive fields. Pujara and Yuvraj didn't mind, and were collecting singles and the occasional boundaries. Yuvraj reached his 11th test match 50 in the 106th over with a boundary off Samit Patel. The duo kept going till lunch without any hassles. The score at lunch was 410-4, with Pujara on 133* and Yuvraj on 72*.
India came into the post lunch session looking to grind England further down the barrel. Yuvraj couldn't add much to his score, as he miscued a full toss of Patel, straight to a waiting Graeme Swann at long on. He was gone for 79. Dhoni was next in. Nothing could budge Pujara though, as he brought up his 150 in the 129th over. The Dhoni – Pujara alliance didn't last for long though, as Swann got through the gates of Dhoni to get his fifth wicket. Ashwin joined Pujara, and they continued prodding along, frustrating the English fielders. They stayed put till tea, with the ever-so-patient Pujara on 196* and Ashwin on 21*, India at 502-6.
The post-tea session was going to be about two things, Pujara getting his maiden double and India's declaration. One didn't have to wait long for Pujara's milestone, as he got it in the second over after tea, with a dab towards gully off Anderson. Ashwin did not hang around for long, as he was caught behind for 23 off Pietersen. Zaheer Khan came in and went back swinging for 7, giving Anderson his first wicket for the series.There were no sign of any aggressive strokes till the end, as India finally declared at 521-8 at the end of 160 overs. Pujara remained unbeaten on 206*, and Ojha was with him at the other end at 0*.
After 160 overs in the field, England were given a small matter of 18 overs to face. And to make matters worse for them, Ashwin was given the new ball, along with Zaheer Khan. England's new opening pair of Cook and Compton got off to a solid start. Ojha came in to the bowling attack in the eighth over. The spin duo eventually started causing problems to the English batsmen.
The breakthrough finally came in the 13th over, as Ashwin castled Compton for 9, not the debut he would have liked. Anderson walked in as the nightwatchman, but that ploy didn't work, as Ojha got him in the very next over for 2. Trott walked in and went out in a hurry, without troubling the scorers, as Ashwin had him caught at short leg for 0. The "Reintegrated" KP walked in, with a massive task at hand. Cook and KP played out the remaining couple of overs, sans much drama.
So, going into day 3, the result looks a foregone conclusion. It will just be a matter of how soon for India. Or will we see a miraculous turnaround from the Poms?