Punter the Hunter leaves for good
967 //
01 Dec 2012, 22:00 IST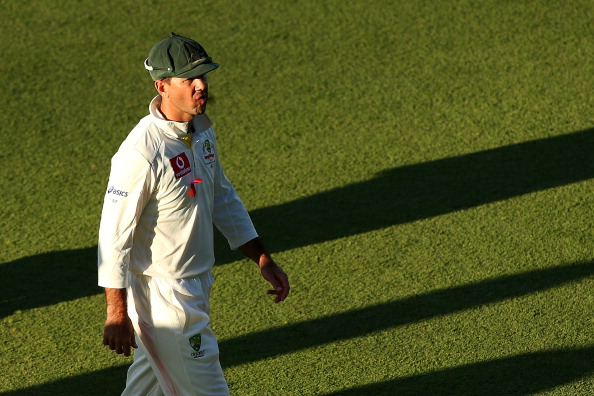 Is he the finest batsman of our times? NO – Brian Lara, Sachin Tendulkar, Rahul Dravid and Jacques Kallis were far better batsmen than him. Was he the best Australian batsman in his time? In terms of statistics, yes. Was he the most fortunate player of all time? THAT IS A BIG YES! I worship Sachin and I hugely admire Lara (at one time all my internet passwords had a combination of Lara scores), but if I had been born as a cricketer, I wish to live like a king amidst the best of men, much like Ponting. Think about it, the Australian team was legendary. Mathew Hayden, Micheal Slater, Justin Langer, the Waugh brothers, that finest craftsman Damien Martyn (to me, undoubtedly remained the classiest to watch and extremely good in sub-continent conditions) and that once in a millenium cricketer Adam Gilchrist. Batting amidst a legendary group is like a double-edged sword. If you don't perform and your team wins, you will get noticed. If you perform and the team wins, you will also be counted like the stars.
Recently, I happened to read an article that analysed how Kallis felt more comfortable while batting of late. This was after Hashim Amla made his debut in 2006. Before that, Kallis had to do both Dravid-like and Tendulkar-esque tasks when demanded. Till that point, Kallis had 23 test centuries since 1995/96 (roughly 2 a year). Since Amla's debut, he has scored 23 more, including 2 doubles and at a brisk rate. The reason I am stressing the point here is, at no point was Ponting in a stage like Lara/Kallis/Dravid/Sachin, where he was often demanded to produce a Herculean spirit to lift the team. Unlike the others, Australia during his career had some of the best ever openers. Though Hayden is often highly rated for his convertions of double digit scores into triple figures, there were challenging pitches when Langer stood out. Or even when the top 3, including Ponting, did not fetch any, you had Martyn, Steve Waugh and Gilchrist (whose career average after 30 tests was next only Bradman at that point of time), who stood up and raised the game.
So, Ponting actually enjoyed a freedom that others were not lucky enough to enjoy. He never had to be afraid of scoring a duck as they had a world class middle order, and add to that a great bowling unit. You always had the high spirited but friendly Brett Lee who was certainly the fastest in his time, the legendary Glenn McGrath , the rough and tough Gillespie, and Mr. Hollywood, Shane Warne, who could make any opposition look like a group of clowns (barring the Indians and especially the Illusionist, Mr. VVS).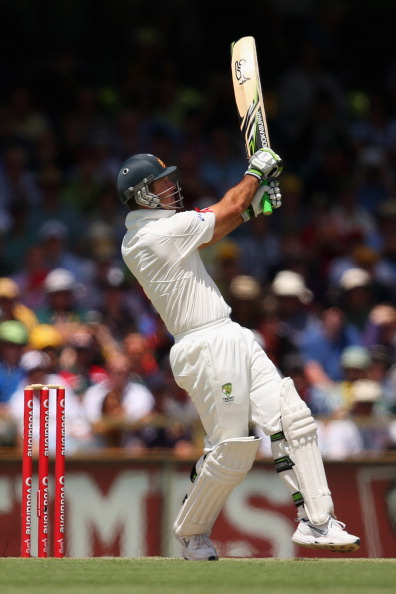 But there were times when he raised the bar. His turning point was when Steve Waugh promoted him to the No. 3 slot. He consistently knocked down opponents. The ferocity of the pull shot left the audience in awe. He always loved challenges. Who could ever forget the 2003 World Cup final knock against India? His century against India in 2011 World Cup quarters when the world was questioning his place? Certainly a fighter!
However, I feel he greatly benefited from Steve Waugh's captaincy. By the time Ponting had become captain, you knew that the Aussies were self-made captains. No one had to be told anything. Even when he was not present at the helm, things were running smoothly. Consider the 2004 India-Australia test series as an instance. Gilly was the skipper for the first 3 tests. Aussies won the 1st and 3rd. The 2nd which was very much in our hands, but slipped away  due to rain, Damien Martyn, and his partnership with Jason Gillespie, the nightwatchman. Gillespie was middling every ball like a proper batsman. It told you of the quality and self-ethics that existed in the team.
We may have heard the axiom, 'What makes the film perfect is the casting'. The same could be attributed to a cricket team. The Aussies just had the perfect casting. They always had the right men for the job and they always had perfect replacements. John Buchanan's influence may have been there, but I am skeptical about his reach. No matter which ground, they could win even if they appeared to struggle. Ponting was able to enjoy in the success only because the captains preceding him, from Border to Taylor and to a large extent Steve Waugh, helped in 'casting' effectively!
But there were times when he made sound decisions, such as standing by Symonds prior to 2003 World Cup. Symonds paid back that support by scoring 2 of the best ever knocks in World Cups – a 143 versus Pakistan in a group match and that unbeaten 91 in the semifinal against Sri Lanka. It turned his career from that of an average cricketer to one of a rockstar. The decision to allow VVS Laxman a runner in that one-wicket thriller in Mohali, or the one which we only got to know through the words of a silent man, Dravid, about how Ponting motivated him in that 2010 tour of India, are noteworthy. He also made some unmanly, or rather devilishly Greg Chapell-esque tactics, like the ones in that Sydney debacle (in the words of my father, an ardent cricket follower: "To my dying breath, I will continue to hate this man for that."). Or even as he mimed Sharad Pawar on receiving the Champions Trophy 2006 – not very gentleman-like. He seemed to be against walking when Gilly practised it in the World Cup semi-final in 2003 against Sri Lanka. He was honest enough to admit that he was an opportunist at all costs.
And the fact that he was certainly one of the finest fielders in the cricketing world. Ponting could do a Mark Waugh at slips and a Jonty anywhere else. He has made some spellbinding runouts, and taken some blinders. Even in the matches that he did not score any, by saving 30/40 runs in the field, he added a lot of value to the team.
But despite all the brilliance he possessed, we Indians loved to see him lose. Remember March 12, 2006. I was feverishly praying that Ponting's 20th ODI century in that mammoth 434 score (unheard of in ODIs till then) would go in vain. I remember how the entire hostel rejoiced when Mark Boucher hit that famous single, a kind of celebration akin to India's World Cup wins. Remember the teasers of Shane Bond, Harbhajan Singh, and Ishant Sharma.
Punter was a hunter at all levels. He wanted to win at all costs, and therefore was always a challenging opponent.
But despite all his follies, I shall fondly remember him. How? I see him amidst a sea of baggy greens, lifting a golden trophy. A Band of Legends – Adam Gilchrist, Steve Waugh, Mark Taylor, Shane Warne, Glenn McGrath, Mark Waugh, Shane Warne, Brett Lee, Damien Martyn, Justin Langer, Micheal Bevan, Jason Gillespie, Darren Lehmann, Micheal Slater, Matthew Hayden, and then I see him wearing a flashy smile, proud of his place, Ricky Thomas Ponting.
An international career spanning 17 years, amassing 27070 international runs with 71 centuries. 3 World Cup wins as a player, which includes 2 as captain. The player with the most test wins.
Phew! He may not be a legend like Lara or Sachin, and he never had to. But I repeat, if I were to be born as a cricketer, I wish to lead a life like Ponting, for his was the life of a king. Fortunate beyond measure, but in his retirement, Australia would have lost a precious treasure.
Mr. Ricky Thomas Ponting- the man who possessed the Midas' Touch, finally leaves the field.
Take a bow, Punter! I definitely loathed your presence, and I will sorely regret your absence!