Rahul Dravid: More than just a wall
5.78K //
12 May 2014, 12:40 IST
He was known as 'The Wall' to his fans all over the world and as 'Jammy' to team mates. But as John Wright remarked rightly, he is indeed a 'Gem'.
Rahul Dravid was given the nickname 'The Wall' because of his fantastic defence. His defence, like a wall was strong, solid, reliable and could take anything the opposition threw at him. Like a wall, it could withstand all conditions – seaming, swinging, turning, bouncing and in fact seemed even stronger when the conditions were toughest.
But if Rahul Dravid was a wall, he was a wall like no other. This wall was one which could adjust and mould himself according to the team's needs and situation. This was a wall which could hit back too. Rahul Dravid has been so much more than a wall in Indian cricket that we need to look at all the different contributions separately in order to understand his brilliance.
The stellar batsman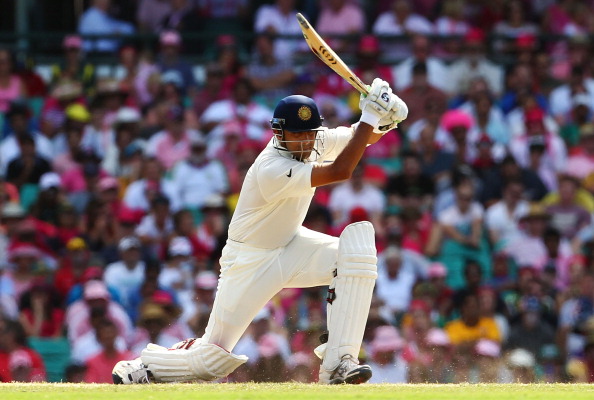 Rahul Dravid in Tests was a batsman par excellence. Statistically he scored 13,288 runs at an average of 52.31 with 36 centuries and 63 half-centuries. These stats themselves are enough to showcase his class but there is much more to them. Dravid was easily India's best player when the conditions were toughest. In an era when India were known as tigers at home and lambs abroad, Dravid's performances abroad were a telling statement. It was said that when Sachin played well, India slept well. But when Dravid was batting, India could breathe normally.
In overseas Test wins, Dravid averaged 65.70 and an even higher 75.19 in overseas Test draws. He also has the most number of man of the match awards overseas for India, with 8 of his 11 MoM awards coming overseas. This also includes India's last overseas Test win as of today at Kingston in June 2011.
Dravid was labelled as only a Test batsman very early in his career. His amazing technique and defence was supposed to be his pitfall in the fast paced and aggressive shorter format. He did struggle but managed to do fairly well for himself one would say in the end, scoring 10,889 runs at an average of 39.16 with 12 centuries and 83 half centuries.
When the team for the T20 World Cup in 2007 was announced, Tendulkar, Ganguly and Dravid opted out to give the youngsters a chance. Eventually Dravid did play one solitary T20 match for India in 2011. So surprised was he at his own selection that he promptly announced his retirement from the format lest the selectors pick him again.
However Dravid did leave his mark on the shortest format of the game too. After Shane Warne retired from the IPL, Rahul Dravid took charge of the Rajasthan Royals and led them in two seasons, reaching the playoffs in 2013. The hallmark of his IPL career was his opening partnership with young Ajinkya Rahane. Together they showed that in the world of switch hits, reverse sweeps, slogs and hoicks, conventional batting can not only succeed but be most pleasing to watch as well.
As a batsman, Dravid was always considered by a majority to be 'less talented' than his peers like Tendulkar and Ganguly, an idea stemming from Dravid's earlier struggles in limited overs cricket. He was supposed to be the perfect example for Malcolm Gladwel's 10,000 hour rule. But what he lacked in 'talent' supposedly, he made up in his grit, determination and tremendous dedication to his art. If at all, it is even more creditable what he achieved with less talent.
The aggressive captain
Not many remember Rahul Dravid's captaincy regime, let alone his captaincy but Dravid's captaincy was refreshingly aggressive and achieved a lot for Indian cricket.
Under his captaincy India was able to win a series abroad after many years in West Indies and England. They also won a Test match in South Africa but failed to win the series. He played with 5 bowlers on flat tracks against Pakistan and even dropped VVS Laxman against England in order to play with more bowlers.
Not a long time ago, India were the worst chasers among the top teams. They used to depend heavily on Tendulkar and crumble easily under pressure. Under the captaincy of Dravid, India started chasing really well and he led them to 14 consecutive successful chases. India hasn't looked back from there and continue to chase really well even now.
Dravid was part of the Greg Chappel experiment which turned out quite badly for India and maybe India lost a really great captain. In ODIs he has a better record than Ganguly and won us some great Test matches abroad. However his captaincy is remembered mostly by the horrible 2007 World Cup campaign or the fact that he declared the innings when Sachin was not out on 194.
The team man
Rahul Dravid would do anything and everything for his team. Many other cricketers also would do that but in the case of Dravid, he literally had to do anything and everything. He was easily one of  the best #3 in the world but he's had to play in almost every position because the team needed it. Even at the age of 38, he was asked to open the innings in England and he did that successfully too scoring a century at The Oval in August 2011.
He was an extremely reluctant wicket-keeper and it showed. At best he was a backup for a 'specialist' keeper. But he had to do the job because India didn't have an all-rounder. He did that in 73 ODIs and was one of the main reasons for India's success in the 2003 World Cup.
The gem of a person
Rahul Dravid's behavior on as well as off the field was so exemplary that it is hard to find out what people admire more. Words like 'honesty', 'grace', 'dignity' are used to describe him always. Be it his behaviour while batting, fielding, giving interviews right down to the press conference announcing his retirement.
Rahul Dravid will always be the 'nice guy' but that does not mean that wasn't competitive or aggressive. Mathew Hayden once remarked that if you want to see aggression, look into Rahul Dravid's eyes. But never did that translate to cursing the opponent. In today's world where using swear words after taking a wicket or even scoring  a century is common place, Dravid's behavior shows us that it need not be this way.
An extremely studious and down to earth person, Dravid could be witty as well. His speech at the Bradman Oration in 2012 is one of the best speeches given by an Indian cricketer ever. In it, Dravid talks on many topics like the dwindling crowds in the ground, the sacrifices Indian players make to play for their country, match-fixing etc. But the most poignant statement he makes is that just playing the game is not enough but how you play the game is important as every game leaves a footprint in cricket's history.
Rahul Dravid has indeed left huge footprints in cricket's history and I hope that he continues to do the same after retirement as well.