Raina and Rohit made the difference, says Cook
News
24 Jan 2013, 13:25 IST
3.12K
Watching Rohit Sharma bat earlier, was supposed to be frustrating because of his unnatural approach towards the innings. He, however, gradually improved his batting through domestic cricket and replicated the same in the fourth ODI against England, and played a major role in India's series win.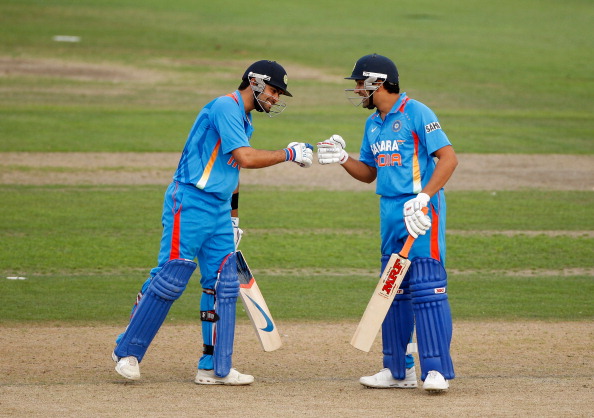 When he does fire, his timing is exquisite and all his efforts were seen on the screen against England. He shared crucial partnership with Virat Kohli and Raina in helping India to post a comprehensive five-wicket victory.
England's skipper Cook gave credit to Rohit and Raina as they shared a constructive partnership of 68 runs for the fourth wicket, which in fact made all the difference.
"I thought they played quite well," said Cook after the match. "Sometimes you have to give the opposition credit. They are a hard side to beat at home in one-day cricket. That has been proven. But you know we did have the real tough end of conditions, so to get to the 260-mark with the way we batted – we held our nerve, which we had not done in the last two games. You know how hard it is to defend at the end. The way we kept our wickets at the end and kept our patience. To have the skill and execute those big shots and get a hundred off the last ten overs, we can take really good stuff out of it. The last two games, we couldn't really do that."
He also said that toss played a crucial role as due factor played a major role in fourth ODI. "You saw throughout the first 30-40 overs, it nipped around for the seamers and as the dew came, it kind of skidded on a bit more," said Cook. "With 260, we thought we were in the game. We needed a couple of early wickets but I thought the partnership between (Suresh) Raina and Rohit Sharma (did the difference). Just when he (Raina) came in, they needed six runs an over but they got going really quickly.
"We had a couple of chances in the field that we didn't quite take and that's a little bit frustrating but overall, I'm not as disappointed as I was after the last two games."
Cook, however, was happy with the performance of the batting as they managed to put a score closer to 260. "We stuck in there with the bat, especially the way Joe Root played, I don't think I've seen him play shots like that and to do that in the middle was fantastic," he said. "He used his cricket brain to score as quickly as he did and it bodes well for the future. From my point of view, we can be quite positive about that performance."
The final match of the series is scheduled at Dharmasala, where there won't be any change to the condition and wicket, which prevailed in Mohali. The weather is expected to be the same. which means seamers would relish the conditions initially. England will play for pride and they would look to finish the tour on a winning note.