A few reasons for predicting imminent WC Disaster: All that ails the Indian team in Australia
11.96K //
21 Jan 2015, 03:57 IST
In the post-match presentation after the drubbing to England at the Gabba today, one felt even presenter Mark Nicholas was struggling to put questions to the captain of a side that's got the most historically gigantic media and fan fare, and has been routinely crushing the expectations placed on their team.
It's been close to two months in Australia, with roughly two more to go, and India's woeful run would make the BCCI mandarins wish they had somehow arranged a shorter tour. Even someone with skins as thick as our BCCI officials' would feel like burying their heads under the sand at the humiliation the national team has been periodically handed out, apart from it having not been presumably too profitable for their pockets.
At the end of one more ghastly day's cricket, one thought time was perhaps right to explore what's so massively amiss with the team that has supposedly the biggest talent pool in the world!
Specialist ODI team tag under threat
At the Gabba today the Bell trolled India. On a lighter note it seems, MS Dhoni and co. are indeed keen to wipe out the specialist ODI team tag of their outfit, by making sure they underperform in this format as well! One gets tired of the "overall it was a good match, but..." and "we have an exciting team but they need more experience" lines by our captains.
What's the most obvious reason for such repeat-mode disasters? Any newbie cricket fan would tell you – the Indian bowling! Having said that though, the batsmen did try hard to outdo them in the last couple of ODIs.
As one watches with resigned apprehension days of further disgrace trickling nearer as the World Cup approaches, one wonders – did India do as much as they at least could have done? The result after all can never be granted, but one can at least ensure putting the best foot forward! The answer sadly would be a painful NO, what with the people at the helm responsible for ruling cricket in our country at the moment.
Keeping a largely unvaried set of players for 4 months of Tests, ODI's and the WC:
An incredulous thought-process in the context of modern sports! The same Dhawans and Rohit Sharmas and Virat Kohlis and Rahanes. The same Shamis and Umesh Yadavs and Ishant Sharmas. For all four months! Why on earth could the selectors not think of rotating?
Not having picked Ishwar Pandey and Rishi Dhawan, as well as keeping Mohit Sharma away from the WC:
In the context of the current group of pace bowlers' collective failures it was important to make optimum use of all available talent at their disposal. Madhya Pradesh pace bowler Ishwar Pandey was the highest wicket taker of the 2012-13 Ranji Season with an average of 21.06, and in the 2013-14 season he had the average of 24.76 in eight games. Yet despite having been picked for the tours to New Zealand and England, the team management failed to give a single match to the fast bowler, and even more inexplicably dropped him from the subsequent tour to Australia.
The 2014-15 Ranji bowling charts are presently being topped by Himachal all-rounder Rishi Dhawan – with the second highest tally of 26 wickets. In the hard wickets of Australia, Dhawan with his superior height and ability to hit the deck might have been a more effective selection than Stuart Binny. His handy-ness with the bat is known of as well.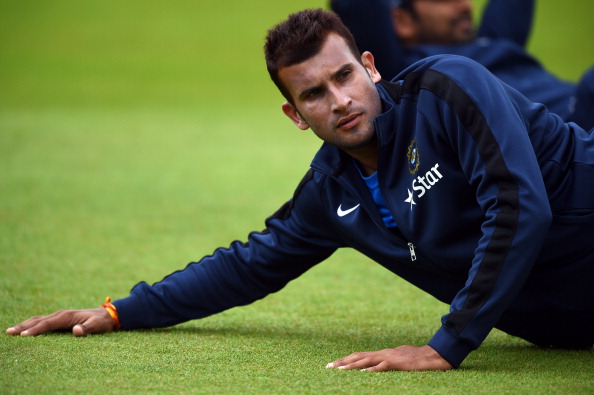 The omission of these two players, as well as that of Mohit Sharma from the WC would mean depleting an already dubious bowling arsenal, as well as more difficulty in managing the fitness of tired senior bowlers like Ishant Sharma.
Selecting two similar players in Axar Patel and Ravindra Jadeja and keeping out Yuvraj:
Sunil Gvaskar had once mentioned the Indian team to be like a sort of club with a clique of elite players, where "outsiders" find entry difficult. Judging by the strange operations of the Indian selectors he may not have been off the mark.
Apart from his well-established match winning credentials, let's just say Yuvraj's left-arm off-spin to supplement that of Jadeja's wouldn't have been too too bad an exchange for Axar Patel. Given especially the kind of batting experience he'd bring on board. Is it too illogical therefore to imagine Yuvraj to have been a much more meaningful inclusion than the Gujarat spinner?
Persisting with the likes of the same-old's like Mohammad Shami:
One of the saddest sights in Indian cricket right now is that of Mohammad Shami huffing and puffing to the crease only to get dispatched by the batsman more often than not, for the umpteenth boundary.
Wasim Akram has been quite articulate about the bowler's present form, from the very First Test in Adelaide: "There seems to be something wrong with Mohammed Shami. He seems to be stopping in his run-up."
One gets tired of his unimaginative bowling lines and frequent drifting down the leg side to leak runs. But the Indian think tank, instead of giving a break to non-performing cricketers so they can iron out their flaws, follows the strange procedure of continuing with them in some wild gesture of optimism, while at the same time ignoring other talented probables for equally obscure reasons.
Strange rules of keeping and selecting coaching personnel:
It probably does not take a rocket-scientist to figure out that India needs an experienced internationally experienced hand to guide the talented but not quite effective crop of current bowlers at the highest level. Is demanding a 300-wicket club Test bowler for the national bowling coach's position too unreasonable?
Not following a clear selection policy:
Ishwar Pandey, gets selected for tours of New Zealand and England. Doesn't even get a game.
Pankaj Singh, gets two tests in England and just when he seems to be garnering some wicket-taking form, he's left out of the tour to Australia, where his height was likely to have produced the most advantage.
Robin Uthappa after a good IPL, CL and domestic season gets picked for the tour to Bangladesh, but most bizzarely not the subsequent one to England. Despite a half-century in the low and slow pitches of Bangladesh, he's hardly been provided a platform to stake his claim for the World Cup.
Rishi Dhawan, despite good showings in domestic tournaments as well as IPL, doesn't get a single selection call, and somehow the men who matter make it appear as if there's a complete absence of pace-bowling all-rounders in the country for which they're forced to persist with Stuart Binny.
And last but not the least, Karn Sharma gets picked for a single Test in Adelaide, where despite performing none-too-badly gets dropped for the rest of the series and it remains to be seen when we next hear of him again!
Needless to say, such strange practices are hurting India's chances on overseas tours as well as badly maiming all prospects of a decent showing in the World Cup. For a country with such a generous blessing of talent it's quite frustrating to witness the handling of team affairs in such manner.
Kindling up a billion people's hopes and then invariably presenting a flop show in a much-anticipated event like the World Cup, is after all not a pleasant future to foresee. One dearly hopes the bureaucrats and businessmen who run the hopelessly popular sport in the country, finally grow a conscience, and feel answerable to the billions who waste time and money to keep their business running.