Ricky Ponting: High and lows of a much-celebrated career
3.39K //
29 Nov 2012, 16:15 IST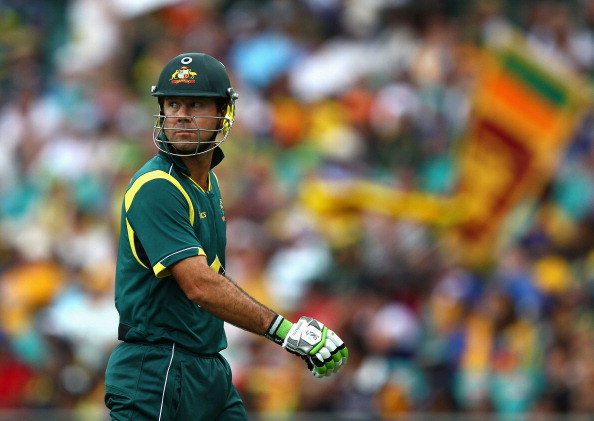 Ricky Ponting is perhaps the only captain in the world who has been scrutinized at every juncture in his career. Unlike Sachin Tendulkar who has the backing of his employers – the Board of Control for Cricket in India (BCCI) – Ponting never enjoyed such luxury in the eyes of a brutal Cricket Australia (CA), who wouldn't go by emotions before sacking a player who won Australia two World Cups.
In an interesting career graph of the Australian great, Sportskeeda.com takes you through the highs and lows of Ricky Ponting's incredible international career spanning almost 18 years.
Birth of a star:
On December 19, 1974, Ricky Ponting is born to working-class family in Launceston. He grows up to become the youngest player to represent Tasmania in the Sheffield Shield when he makes his first-class debut against South Australia. He was only 17.
Plays first game against an international side:
Nephew of Test seamer Greg Campbell, Ponting made an impressive debut in his first match against an international team. He was hardly 20 when he played for Australia A against England at the MCG in December 1994. He scored 31 runs.
Maiden ton:
In January 1996, the stylish and improvised Ricky Ponting hit his first ODI century against Sri Lanka in Melbourne. Ponting went on to score another ton against West Indies in the same year's World Cup. He scored an impressive knock of 45 runs in the final in which Australia were beaten by Sri Lanka to lift the World Cup.
Admits to alcohol problem:
In early 1999, Ricky Ponting suffered a major setback. He was involved in a club brawl that left him with a black eye. He was subsequently suspended for three matches for the controversial behaviour. For the first time, Punter, as he is popularly known due to his love for gambling, makes headlines for all the wrong reasons.
Earns Test berth:
Despite a bad start to the year, Ponting gets a Test call thanks to an injury suffered by Greg Blewett. Later, Ponting finds himself as one of the key members of the team when Australia win the World Cup in England during the summer of 1999.
Ponting helps Australia clinch Ashes: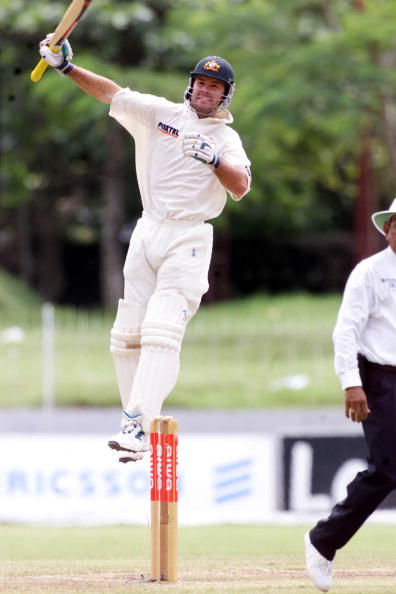 Following his fierce performance with the willow in 1999, Ponting establishes himself as a valuable player and takes up the No.3 position for Australia in both forms of the game. He plays a crucial role in helping Australia beat England to win the Ashes 4-1 in 2001. He proves his strength as a team man with a vital century at Headingley.
Earns the skipper hat:
In February 2002, Ponting sets out on a new journey as the captain of Australia. His redemption is complete when he is announced as Australia's one-day captain for the tour of South Africa. He replaces legendary Australia captain Steve Waugh and leapfrogs existing vice-captain Adam Gilchrist to earn the skipper's hat.
Ponting reaffirms his value in the team:
After another Ashes series win in 2002/03, Ponting repays the selectors' faith with a man-of-the-match performance in the 2003 World Cup final in South Africa. He hit a swashbuckling unbeaten 140 runs as Australia beat India by 125 runs to lift the coveted World Cup.
Ponting boasts of a formidable side:
Mean critics would always love to shun Ponting's legacy as one of the best captains in the world simply because he led a side which possessed some of the greatest players in cricketing history. The Australian team post-2003 World Cup win were almost unbeatable. They gave new meaning to the term 'formidable' and played as though they swore by it. Ponting's brigade included stellar performers – spin legend Sharne Warne, pacer Glenn McGrath and keeper/batsman Adam Gilchrist. Critics argued that Ponting took over the reins of a team that was by itself great and Ponting had nothing to do with it.
Despite stalwarts, Aussie taste defeat:
Though the Australians enjoyed a great run post the 2003 World Cup win, they tasted defeat in 2005. Despite Warne's heroics, the Aussies couldn't stand up to a resurgent English squad led by the charismatic Michael Vaughan when England claimed the Ashes for the first time since 1986/87. It was then that Ponting's captaincy came under severe scrutiny after suffering a 1-2 loss in England.
A foul-mouthed captain:
The bitter loss was so humiliating for Ponting that he couldn't control his temper. He famously lost his cool in spectacular fashion that came to be known as one of the most controversial incidents in recent times when he was run out by substitute fielder Gary Pratt in the fourth Test against England. He was fined 75 percent of his match fee for foul-mouthing England coach Duncan Fletcher as he walked off the pitch at Trent Bridge.
Team looking for redemption:
The Ashes loss in 2005 only made the Australian team much stronger. They came together under Ricky Ponting, as though looking for redemption, to prove their mettle as they beat a strong South African team to win the ICC Champions Trophy. This was followed by the skipper scoring hundreds in each of the innings while playing his 100th Test.
Australia avenges Ashes loss:
Australia regained their greatness when they claimed the Ashes in spectacular fashion in 2006/07. Ponting was unstoppable during the series as he went on to hit 576 runs at an average of 82.28. Australia avenged their loss with a 5-0 whitewash over the old enemy. At the end of the series though, icons Shane Warne, Glenn McGrath, opener Justin Langer retired from Test cricket.
Ponting's second World Cup win: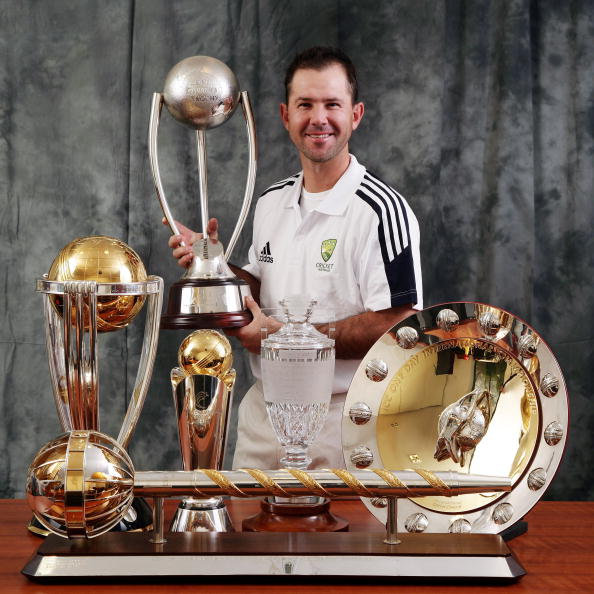 Ponting's career as skipper reached a new high with Australia winning a third successive World Cup in the Caribbean in 2007. This would be Ponting's second as captain. Following this feat, the Australian side is left depleted and in transformation mode with some of the senior players calling it quits, thus ending their golden era. Adam Gilchrist and Matthew Hayden too leave the side.
Suffers a whitewash in India:
In 2008, the Australian skipper suffers another blow when his side toured India for the Border-Gavaskar Trophy. Cricket maestro Sachin Tendulkar went on to score a double ton in the Test in Bangalore and was also adjudged man of the series. Australia had suffered a whitewash with a 2-0 loss.
Ponting crosses a milestone but comes under fire:
In 2009, Ponting surpassed Allan Border's record of 11,174 Test runs at Edgbaston. However, the same year he also became the third Aussie skipper to lose two Ashes series. Even their ICC Champions Trophy win the same year couldn't help them forget the bitter Ashes defeat. Despite engineering a 5-0 revenge in the ensuing home series in 2006/07, he again lost in 2009 and 2010/11. That last failure was badly received in Australia — it was their first Ashes loss at home for 24 years and followed a series of defeats by Ponting-led teams.
The final blow:
Ponting's final blow as skipper came in the 2011 World Cup when the Aussies lost to India in the quarterfinals. Ponting had scored a century but still came under scrutiny and subsequently resigned from the captaincy within days. Though later he was asked to step in as stand-in captain for a couple of ODIs in early 2012.
Ponting finds lost confidence:
Back in the ranks under his successor Michael Clarke and without a Test fifty in almost a year, Ponting's place was under threat. But to the surprise of his fans and many others, he scores a fabulous 643 runs at 80.38 including a double century in Adelaide in the 2011/12 home season against India.
Sacked from ODI team:
Though he went through a great Test run and despite standing in as skipper for the injured Clarke in a couple of one-dayers, Ponting is shockingly dropped from the ODI squad in the middle of the series after a poor run of form. He had scored just 18 runs in five innings in the tri-series against India and Sri Lanka in Australia.
Retires from ODIs: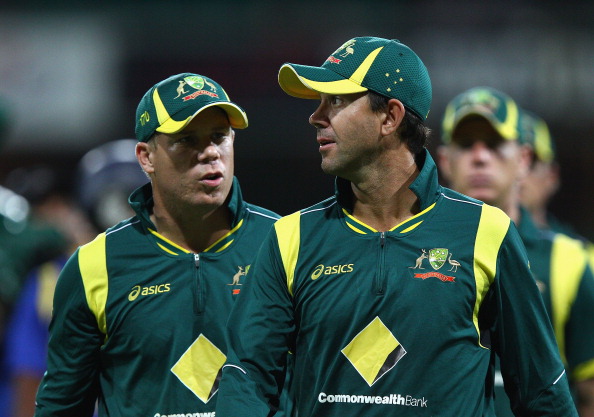 After the humiliation suffered due to Cricket Australia's harsh decision to sack him, the following day, Ponting calls for a news conference and says he does not expect to play one-day cricket for Australia again. He announced his retirement from ODIs but insisted on playing in Test cricket.
A few months later, gives up on Tests too:
It was in February 2012 when Ricky Ponting was dropped from the ODI squad. He gave up on ODIs after that and decided to focus on Tests but to his luck he ran out of form in the longer format too. He came under intense criticism from the media all over the world regarding his poor run, a reality that triggered him to kiss Test cricket goodbye and draw curtains to one of the most illustrious cricketing careers the world had ever seen.