Ricky Ponting's legacy
1.42K //
30 Nov 2012, 10:24 IST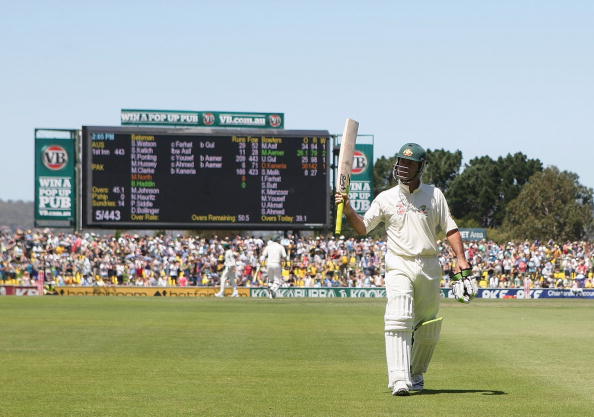 Today will be the start of the final five days of the illustrious Test career of Ricky Ponting. The man who personified the hard Australian attitude on playing cricket, bordering on cockiness and arrogance, has decided to hang up his boots at the end of the ongoing series against South Africa after a string of poor performances over the last 18 months, specifically in this series. Ponting will go out as one of Test cricket's greats, deciding to call it curtains before the selectors wield their axe, as they did from the One Day squad midway through the home ODI series last Australian summer.
The end was quite imminent after he had got himself all tangled up to a fuller ball that bowled him, sent down by Kallis in the first innings in Adelaide, making himself look quite foolish in the process; this came after a failure in his only innings in Brisbane. With a few of the younger men in Sheffield Shield cricket knocking on the doors of the national team, Ponting knew it was only time before they would tap him on the shoulder, shutting down any dreams of making one last Ashes tour to England to recapture the urn which Ponting himself had lost as captain on home shores.
Ponting will be remembered for a lot of things after his career comes to a close: the classic pull shot, his grit and determination to dominate the world of cricket, and the way he provided his team with countless pieces of all-round brilliance in the field. However, many in the cricketing world will remember the arrogance, the tantrums, and perceived disrespect that Ponting showed his opponents, on and off the field. The late Peter Roebuck had even at one point-called for Ponting to be sacked as captain during a rather controversial summer when India toured in 2007/08.
At times Ponting showed such utter disregard for the spirit of the game, turning people off the game that we love so. Ponting famously used to ask opposing captains to take the word of a fielder claiming a catch rather than trusting technology (pre DRS days), yet believed it was fair game for a batsman to stand his ground until an umpire had given him out, double standards in some peoples books. Ponting also brought the game into disrepute on many occasions as captain, without paying much penalty. Famously spraying Duncan Fletcher after being run out by a substitute fielder in the 2005 Ashes, showing dissent to Umpire Aleem Dar after a DRS referral was overturned at the MCG in the 2010/11 Ashes series, taking out frustration on his equipment and team mates in his only unsuccessful World Cup campaign as captain to name a few instances. However, it was his conduct on and off the field during the infamous "Monkey-gate" Test in Sydney in 2008 that will remain in everybody's memory the most.
Despite Ponting not always showing himself to be the refined leader of men his predecessors and incumbents have been, he will go down as a legend of the game. His record speaks for itself, only second to Tendulkar in the amount of Test and ODI runs scored, with an amazing 41 Test centuries and Australian record Test appearances. The way he dominated attacks around the world with such ruthless aggression, was unlike the Dravids and Kallis' of the same era, who were more traditionally defensive batsmen. All of Australia, and much of the cricketing world will be hoping for a fairy tale ending for the man who dominated for so long, one can only hope he rekindles the form that the world saw during his twin double hundreds against India in 2003/04, and not end on the same terms as another Australian legend, the great Don.
My favorite Ricky Ponting moments:
3. Ponting's twin double centuries against India in the Border-Gavaskar Trophy in 2003/04. Ponting notched up 242 against India in ultimately a losing cause in Adelaide, before blundering a career best 257 at his happy hunting ground the MCG to take the third Test of that series away from India.
2. Twin centuries in his 100th Test v South Africa. Ending a rather disappointing series, Australia's first home series loss for quite sometime, Ponting stepped up in his personal milestone game with twin centuries to win the dead rubber and some momentum leading to the follow up series against South Africa away.
1. Return to form with a hard-fought 134 in Sydney vs India in 2012. This innings will forever be forgotten due to Michael Clarke's 329*, but Ponting fought hard for this innings – his first ton in two years, and a memorable one at that.
My least favourite Ricky Ponting Moments:
3. Ponting's general attitude during the 2011 World Cup. If he wasn't damaging his own equipment and change rooms, he was taking his frustration out on his own players on the field. Not a good look for a leader out on the field.
2. Ponting's handling of his team on and off the field during the 2007/08 Border-Gavaskar Trophy. Ponting put the game into disrepute with the way he claimed catches, argued with his opponents and umpires, and then lashed out at the media during the post match press conference.
1. Ponting's 140* v India in the 2003 World Cup final. Ok, this has got to be one of his greatest ODI innings, but as an Indian fan, he shattered every hope, dream, prayer I had as a fat little 15-year-old at the time. So many tears I wept, as he single-handedly took the game away from India and at that stage I thought I'd never see India win the World Cup in my lifetime. Brilliant knock though.