Rights for broadcasting IPL in news
818 //
05 Mar 2010, 22:55 IST
Ok, this is turning out to be downright annoying for cricket and Indian Premier League Fans. First there was the player auction mess, then the squeamishness of the Australian cricket players, next came terrorism threats, Shiv Sena and Telengana – it seems the elements have been conspiring to create havoc with the IPL.
And now, just when all these little niggles have been put to rest for about a week, comes the news of the Indian news Channels' protest against the IPL live broadcaster: Set Max.
The news channels have opposed the new guidelines for coverage of the IPL set by IPL and Set Max and have refused to follow the new rules. Their spokespersons have said, "In view of this position unilaterally taken by IPL/Set Max, members of the NBA are unable to offer their viewers any coverage in relation to the IPL or its proposed matches."
Though this piece of information is pretty much common knowledge now, not many are in the know regarding the controversial new guidelines. Here is a gist of the offending regulations laid down by the IPL/Set Max: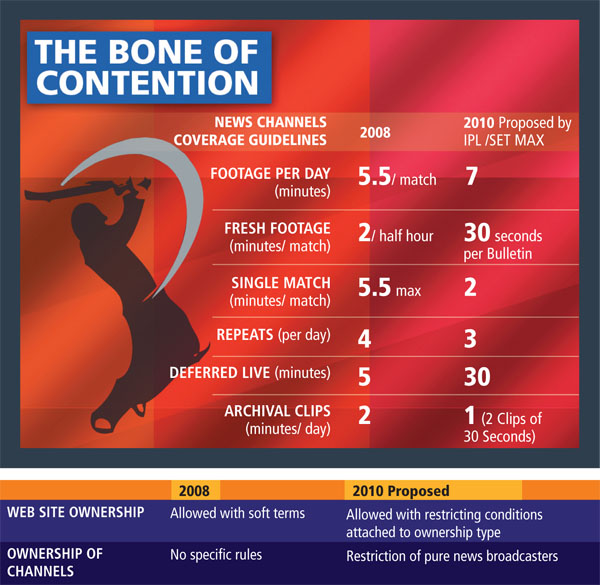 Thanks to Hemal Seth for this illustration.
Now, Set Max and the IPL would do well to maintain good relations with the news channels, because they do not want to find themselves in a position where the broadcasting rights are taken away from them. There are plenty of other broadcasters that would swoop in and grab the slightest opportunity of gaining broadcasting rights for the IPL if something like that happens and among them the< major players are:
Nimbus Sports Production :The well-known and popular Neo Sports and Neo Cricket channels have recently got rights to broadcast all domestic matches of India till 2014.
ESPN Star Production : – The most viewed group of Sports channels in is the group of ESPN and Star. They have rights to broadcast all ICC T20 Games.
As of now, the news channels are standing firm by their proposed boycott, but here's hoping that a solution to the deadlock makes an appearance imminently.