SATIRE: The Art of Losing by Sri Sri MS Dhoni
4.65K //
08 Dec 2012, 20:03 IST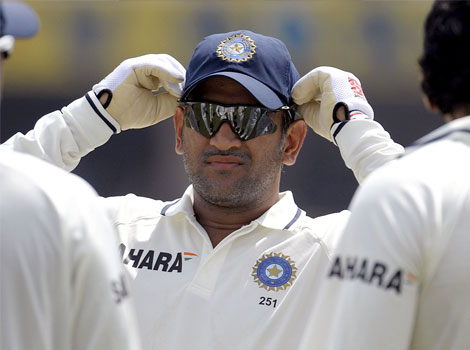 Howazztt! It's here! It's here! It's here! The ultimate name in Sports courses!!!
Greetings aspiring losers, my dear fellow cricketers. As the Indian team's (self-appointed) PR manager, I, "bookworm", would like to bring to your attention, a world-renowned BCCI certified course with 100% guaranteed formula for failure - THE ART OF LOSING!
Never before seen in the world of international sports, this revolutionary technique of losing has taken all world sporting bodies by storm and created a unique culture based on loss of self-dignity.
So, if you want to let go of all "moh" and"maya", all material happiness and worldly possessions and play for the ultimate intention of losing against top as well as bottom teams, read on to get a brief info and highlights of this amazing course.
THE ART OF LOSING
Course Director :- Sri Sri Mahendra Singh Dhoni
Course Syllabus:-
Module 1: Understanding Public Mentality
Module 2: Keeping top officials and coaches in your pocket
Module 3: Team-mate rivalry and Cultivating 'chamchas' in the team
Module 4: Public speaking and Press conference training
Module 5: Cricket follies and Pitch dynamics
Course Highlights:-
1) Learn how to lose an easily winnable match in less number of days, effectively ending the test on the 4th day so that the need for 5th day of a test cricket is totally vanished.
2) Learn (un)effective field placement most beneficial for opposite team's players, which will help them accumulate a mountain of unattainable runs.
3) Learn to rotate bowlers in the most atrocious of all ways, which will even make them question their existence in the national team.
4) Learn how to de-motivate top players with innovative methods so that they fail and contribute a lion's share to the team's subsequent loss.
5) Learn how to smile less, exhibit a grim face and show total lack of emotion in your facial features.
6) Learn how to blame it on IPL, tight cricketing schedules, government, weather, media and other external factors.
7) Learn how to bribe selectors and other officials who will give you free rein in choosing players in the side and keeping those who do not perform forever in the team.
8) Learn how to throw tantrums, demand top-class pitches favourable for opposite teams, behave aggressively with the media and defend foolish decisions.
9) Learn how to win tosses but play in such a manner that losses are inevitable.
10) Learn how to win a match or two in between, because people's memories are short and that will keep you in the clear to lose the next 10-15 matches with ease and no interference.
Course Requirements:-
1) Any current captain of international stature willing to experiment
2) Any other team player tired of minting money from IPL and his A/B/C national category
3) Anyone who wishes to follow the non-violence policy, letting go of worldly desires and establishing a feeling of brother-hood among cricketing community
4) Any player belonging to non-cricketing sport intelligent enough to apply the course modules to his own game (Special discount for Indian Hockey Team)
Course Fee:-
While we do not endorse greediness and running after material pleasures; nothing in life is free so price will be disclosed on request.
Course Duration:-
First Stage – During any away tour*
Second Stage – During home tours*
*Warm-up matches will be included in training
HURRY! Special discounts for captains with good loss record! Special discount on first come first serve basis! Our Swami Sri Sri MS Dhoni's never win formula now at your doorstep!
Contact: Bookworm PR agency for Cricket, 100 Failure tower, Loss & Defeat road, India-420840. Phone no. 99999
[Disclaimer:- This is an intentionally unsuccessful piece of writing, written in remorse of team India's dismal performance and a fan's incomplete emotional mechanism to deal with the stress arisen due to India's continuous losses. To be taken with a pinch of salt. Apologies to true team India and MSD fans, I love my team too and believe in miracles but sometimes, can't help being sarcastic!]