Selecting India's all time ODI XI
7.54K //
31 Jul 2013, 14:44 IST
Disclaimer: This article reflects the opinions of the author and not necessarily that of Sportskeeda.
Being a selector is a thankless job in cricket, especially in a huge country like India. Choosing a 15 man squad from the depth of talent available is not easy, as the fans will feel disgruntled if certain people are left out. I am going to attempt choosing an all-time Indian ODI XI, from when India played its first ODI in 1974 till present.
As of 31st July 2013, 197 players have represented India in ODIs. Here is my XI in batting order, though that will be flexible according to the form of players and the situation of the game.
In my opinion, 5 players, namely Tendulkar, Ganguly, Dhoni, Kapil and Kumble, should be unanimous in everybody's choice, while the others' selection can be debated. Here is my reasoning behind the selection.
The most obvious question would be the selection of Sehwag, particular as an opener, thereby breaking up the most successful opening partnership in history, of Tendulkar and Ganguly. Tendulkar has been involved in partnerships with Ganguly in 176 innings, and they have together scored 8227 runs with a stupendous 26 century stands. Moreover, everybody considers Sehwag to be an underachiever in ODIs.
Overall, he has scored 15 centuries to Ganguly's 22. But he scores a century every 17 innings, whereas Ganguly scored one in every 14 innings. That's not much of a difference. But there are 2 points which are overwhelmingly in favour of Sehwag. One is that he scores 31 runs more per 100 balls quicker than Ganguly, and also, if Sehwag opens the batting, then Tendulkar can concentrate on playing through the innings. Also, if Sehwag scores a quick 50 off say 40 balls, then India are well on their way to winning after such an electrifying start.
In spite of being so young and playing only 111 ODIs, Kohli is the joint 3rd highest scorer of centuries for India with Sehwag, and is equally adept against pace and spin. He already has many records to his name, like being the youngest to 15 ODI centuries. He also has the tendency to finish matches. I would send him at No.3 if an early wicket falls, and push him to No. 4 behind Ganguly if no wicket falls in the first 15 overs, as the former can go after the spinners, as is his wont.
I also considered Gambhir and Srikkanth, but they wouldn't be able to edge out the players chosen.
The number 5 position is a toss-up between Yuvraj Singh and Azharuddin, and I narrowly went for Yuvraj because his strike rate is 13 runs per 100 balls better than Azharuddin. Also, he can bowl useful left arm spin. Among the batsmen chosen, Tendulkar and Sehwag can bowl spin whereas Ganguly and Kohli can chip in with medium pace.
The No.6 and No.7 positions need no explaining, as Dhoni and Kapil Dev have no peers or contenders for those positions. While some would argue that Dhoni is not India's best keeper, his batting his so much better than his closest rival that it dosen't even merit a discussion.
Since Kapil is a bowling all-rounder, to keep the balance in the side, I am going for 2 spinners and 2 bowlers to complete the XI. Among the spinners, Kumble is a certainty, not just because he has the most wickets (334) but also because he used to bowl in the first 15 overs and also at the death. The other would be Harbhajan Singh, because he is an off spinner and has the 2nd highest number of wickets among Indian spinners with 255, and also because he has an incredible economy rate of 4.29 (equal with Kumble).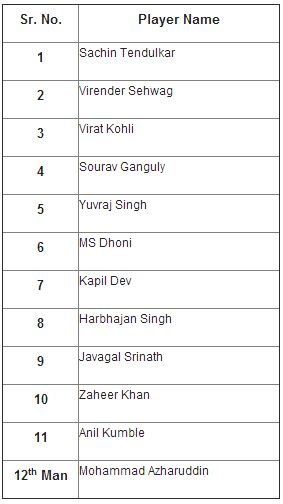 He is also useful with the bat. I have not considered a left-arm spinner because Yuvraj can do that job. Also, you need versatility with spinners who can turn the ball both away and into the bat.
As far as the fast bowlers go, I am selecting Srinath not only because of his 315 ODI wickets, but also because of his ability to reverse swing the ball; and also because in an ODI XI you need at least one bowler with genuine pace. Zaheer Khan narrowly edges out Prasad, Binny and Agarkar for the other pace bowler's slot because of his sheer versatility in obtaining both conventional and reverse swing. Even though Agarkar has more wickets, he is much more expensive than Zaheer. My 12th man would be Azharuddin because he is India's best all-round fielder by a distance.
I think this team would beat the all-time ODI XI of any country because of its class, versatility and depth.