Shane Warne - The Rockstar who played Cricket!
2.01K //
18 Apr 2012, 20:35 IST
Whenever I watch the Rajasthan Royals play in the IPL V, one cricketer always seems conspicuous by his absence.
He is none other than Shane Warne – an artist who choreographed a Cinderella story for a bunch of underdogs in the IPL's very first edition. As far as I can remember, I unfailingly rooted for Warne in India-Australia matches. Yes, I always hoped for a swashbuckling innings from Tendulkar, but I also wanted to see a fifer against Warnie's name.
Even his harshest critics would agree that Warne's contribution to the game is too gigantic to be ignored. What is it about this man that makes it so hard for the public to forget him, even six years after he has retired from international cricket?
Before Warne arrived on the scene, leg spin was being spoken of as a dying art. Right-handed batsmen usually prefer the ball turning into them than away, yet there were very few who could successfully exploit the art. Then in the early 90′s arrived Warne, looking more like a flamboyant  beer-guzzling beach surfer than a Test cricketer. His figures in his debut Test against India were quite unflattering, yet understandable as Indian batsmen are renowned for their ability to tackle spin even in their sleep (note: this fact only applies for spin; it's a very different story with quality fast bowling but alas, I digress).
Warne began displaying the ability to turn the ball square and most importantly – he had great control over his line. A severe drought of quality leg spinners in the past ensured that batsmen had never before seen a cricket ball perform such a variety of tricks after landing on the pitch. Mike Gatting can firmly attest to this after being bowled by a delivery that eventually came to be known as the ''ball of the century'', which was incidentally Warne's first ever delivery in an Ashes series.
Though conventional leg spin was the prime weapon in his arsenal, he was far from being a uni-dimensional bowler. There was the reliable wrong'un, the slider, which hurried on to the pads, and the flipper, which kept deceptively low. The quality of the pitch was never a major influence on his wicket-taking ability. Australian wickets are not known to be very helpful to spinners (just ask Ravichandran Ashwin), yet he grabbed wickets in heaps, season after season. At one time he held the record for most wickets in Tests, that was eventually overtaken by his chief rival, Muttaiah Muralitharan. The question of who was greater among the two will forever remain an unresolved debate in cricketing lore.
There are some players who graft mindboggling records and statistics but fail to leave a lasting imprint on the mind. Warnie's legacy on the other hand goes much beyond such mundane trivia. The pause and the stare before starting his run-up and his immense popularity with the crowds always created an atmosphere of anticipation that you could sense even in front of a TV set. Cynics may point towards his misdemeanours like failing a dope test or his never ending list of marital infidelities but his fans will cherish the fact that one who could display such divine skills showed human frailties too. For them, his controversies only seem to enhance his aura.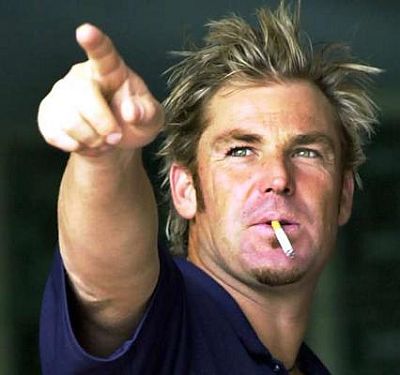 However, keeping all gushy sentiments aside, my biggest complaint against Warne is that he was too controversial to become the captain of Australia. Seeing what he could do with a bunch of "no-hopers" in the IPL, it would have been fascinating to see what he might have achieved as captain with the insane amount of talent that the Aussies possessed. But his adventurous and laid back attitude didn't him waste time pondering on such ifs and buts.
It is quite evident from the fact that he comfortably juggles things like playing poker professionally, modelling and of course, dating Elizabeth Hurley. Does Warne deserve a place in the pantheon in the elite list of all-time greats? My answer is that I simply couldn't care less.
To me, he will always be the rockstar who chose the cricket field as his stage.
You might also like to read:
https://www.sportskeeda.com/2012/04/16/captaincy-is-it-what-we-think/
https://www.sportskeeda.com/2012/04/16/yuvraj-singh-a-fighter-beyond-measure/