Sledging at its funniest
7.51K //
06 Mar 2012, 18:49 IST
The term 'sledging' can be credited to Carl Rackemann during the 1989 Ashes. The then Australian captain – Allan Border – was contemplating the target he wanted to set England on the final day, when Rackemann convinced him to keep England waiting a little longer with an extra morning on the field. This resulted in Australia not having enough time in the match to get 10 wickets; however, it ensured an Australian series win. The extra couple of hours of torture inflicted on the English players, both mental and physical, seemed to completely wear out the English players, and the Australians would have tasted success in that very match had the weather not played curmudgeon.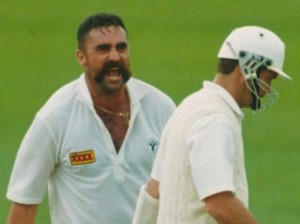 Steve Waugh, over the years, and throughout his career, has repeatedly upheld the virtues of sledging, stating that it was more of mental disintegration than vilification. It is clear, though, that his views weren't shared by his opponents, who often got irritated with the constant chatter by the Aussies and eventually fell prey to their tactics.
As I had said in my previous post – classic cricketing sledges, I believe sledging is merely a method of getting under the skin of your opponents and is not, as it is widely believed, intended to be sneering or offensive. Luckily enough (purely from an entertainment perspective), some of the famous sledges in history have been caught on camera. Here's a list of some of the more memorable sledges seen on the cricket field through the years:
1. Mark Boucher's incessant jabber from behind the stumps aimed at Tatenda Taibu during a Test match.
 "What are you averaging, 9, 10? You must know your average.
9 or 10, I think its 9, maybe 9.5, so we'll give you 10."
 Watch the video below.
http://www.youtube.com/watch?v=dOznujyKsoc&feature=related
2. Andrew Flintoff and Dwayne Bravo having a go at each other.
 Bravo started a little banter which Flintoff curtly ended with a string of nasty little retorts.
"Will you even be in the team 3 years from now?"
http://www.youtube.com/watch?v=Clrk10BhOj4&feature=related
3.  Sangakkara taking on South African Shaun Pollock as recorded through the stump microphone
"Oh man, the weight of all these expectations….he's gonna let the whole country down now if he fails!"
http://www.youtube.com/watch?feature=endscreen&NR=1&v=TDEIURzds1o
4. Chris Gayle and Graeme Smith
No comments needed.
http://www.youtube.com/watch?feature=endscreen&NR=1&v=k9VPgo1NVok
Although in recent times there have been instances where battles of words have gone out of hand and resulted in ugly episodes, these can be avoided if players don't get too personal and the banter is received in the right spirit by the targeted players. That said, the above instances show exactly why sledging brings in plenty of comedy and relief that can reduce the seriousness of an ongoing game.
Where's the fun without the lighter side?