Sourav Ganguly - caught being bold?
2.28K //
11 Mar 2013, 20:28 IST
"It would be wrong to assume that there are no inputs from Dhoni in selection matters. If a captain asks for a particular player, it is difficult for the selectors to say no. So I believe there were inputs from Dhoni even if he may not attend selection meetings," - Sourav Ganguly.
On Saturday, Sourav Ganguly, the former Indian skipper, expressed his views on Sehwag being dropped in the media. Not only did he hint at Dhoni's role behind Sehwag's exclusion, he vehemently took a dig at the performances of Sachin Tendulkar and MS Dhoni himself.
"I am very surprised at his exclusion. If Sachin (Tendulkar) and Dhoni who have been struggling with their respective forms can be persisted with, then what's wrong with Sehwag?" his statement read.
Though his comments raised a few eyebrows among fans and experts, not many openly opposed or discarded Dada's views. Dropping Sehwag was an easy call for the selectors but Sourav Ganguly did have a point when he said,
"He has completely changed the grammar of Test match opening. The sheer number of runs and the manner in which he has scored them, India will miss his presence."
Very true. A player of Sehwag's class and calibre is tough to drop because of the simple reason that there's no replacement for him. He is a special player with special abilities and has achieved numerous feats that are beyond the grasp of most normal batsmen. However, not many would argue with his exclusion. Lately, his performances have been patchy and have lacked conviction. He has not shown any signs of regaining his lost touch and has lived on one-off innings. His multiple injuries have also taken a toll on his fitness which in turn has affected his performances.
However, this isn't about Sehwag, but about Sourav Ganguly. Ganguly voiced his opinion and did make his point (very strongly!) on Saturday but in a span of 24 hours, Dada did a "Fosbury Flop". On Sunday, he played a different tune and gave Dhoni the benefit of the doubt.
"It's very difficult to say whether Dhoni has a hand in Sehwag's exclusion but normally captains do have a say in team selection."
Not only did he let Dhoni off the hook, he dumped his allegations on the selection committee.
"That doesn't mean that captains' opinion is taken all the time by the selectors. At times, they do listen and at times they don't. So it's very difficult to say whether Dhoni had a hand in Sehwag's exclusion."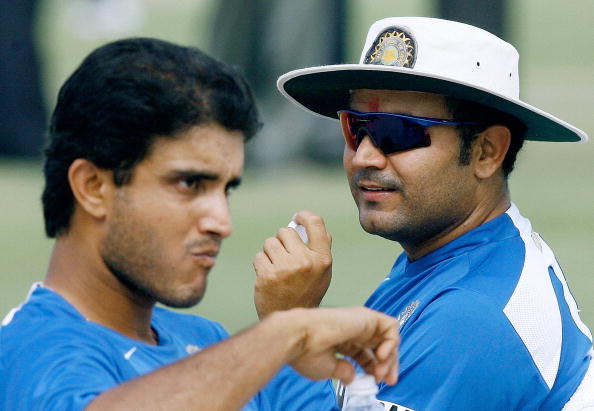 The question arises – why? Why would someone like Ganguly make a statement like he did on Saturday and then retract his views within 24 hours? Was he asked to? Or was it just a publicity stunt pulled in front of the media to grab some eyeballs?
In the last decade, cricket commentary and post match shows have reached a new low. The ex-cricketers and so-called-experts grace the TV channels and with their minimal knowledge of the game, deliver little substance. But with the emergence of the new breed of commentators in Sourav Ganguly, Rahul Dravid, Shane Warne, Paul Collingwood and recently Matthew Hayden, the broadcast has elevated its quality by a few notches. The new set of commentators have brought in a fresh approach and have refrained from targeting players in order to settle their personal scores.
However, the comments from Ganguly have surprised quite a few. There's no harm in expressing your opinion but blaming the captain of the national team for exclusion of a certain player doesn't sound like the man who had once led India with pride and distinction. Even though Dhoni has broken his captaincy record, for the fans, Dada still remains the undisputed 'Macho man' of Indian cricket who was the main architect of Team India. So blaming Dhoni for Sehwag's exclusion wasn't something we expected from the person who, on various times, has been a target of unwarranted criticism.
This is not the first time that Ganguly has taken a stance. Even back in his captaincy days, he was never short of a word and his bold statements made cricket more interesting. Whether playing mind games with Steve Waugh or locking horns with Greg Chappell, Dada did it all with a lot of class and élan. Even now, he was right to express his views and support Sehwag. He perhaps knows more about Sehwag than most because the 'Nawab of Najafgarh' was one of Dada's boys who once formed the nucleus of Team India. But one expected him to stick to his view and not go back and "clarify" what he actually meant.
We have always despised the ex-cricketers who go on TV programs with personal agendas. We have made fun of the commentators who deliver biased clichés about certain superstars. But when someone like Sourav Ganguly goes to and fro clarifying his comments, it saddens cricket lovers. No one has ever denied his cricketing intellect nor has anyone challenged his opinion in the past. The ones who tried didn't survive, and for good reasons. But this time neither his statement nor the track back had much meat to it. Even then, no one expected Ganguly to go back on his words. Was he asked by "someone" to clarify it? If he was, it's not surprising. This has been a trend for some time and Ganguly himself has exercised it when a couple of ex-cricketers made crass comments about him and his team. One lost his job at the network, while the other voiced an on-air apology while Ganguly was at the commentary box. But was it necessary for Dada to follow the same route?
It's not the first time that people have used the "I have been misquoted" excuse. The "what he says and what he means" game is a popular one among stars and experts but a legend like Sourav Ganguly shouldn't need it. We admire him for his straightforward approach and views. He has never taken a backward step during his playing career and shouldn't do so in the second innings of his life. However, the life behind the mike is a touch trickier. It's easier to face Lee and Akhtar rather than say the right things because the media loves sensation. Words can be twisted, views can be misrepresented and that's where the God of offside held out. He has never taken orders nor has he trod the diplomatic route, and should never do so because when he speaks, India listens.