South Africa set for a big score courtesy Amla and Kallis
699 //
09 Nov 2012, 23:33 IST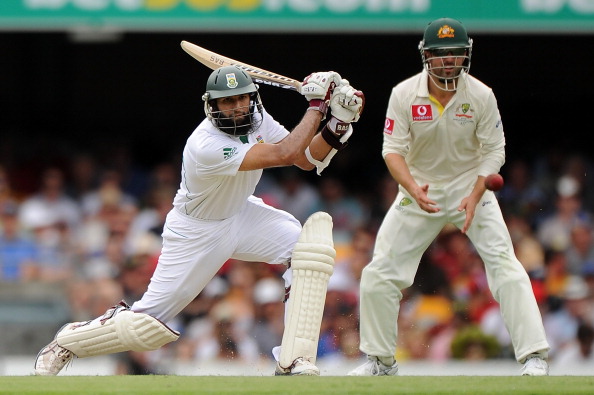 The battle for the Numero Uno spot in the test match cricket started at Gabba, Brisbane today. The spectators over the years have been quite familiar with some of the inspiring spells from Australian bowlers and a lot of chatter from the close-in fielders. Sadly, by the time the 82nd over- the last over of the day was bowled, most of the Australian fans would have been happy to see the end of day's play. Whatever noise came came in from Hashim Amla and Jacques Kallis' bats. The score of two wickets for 255 runs is a solid foundation for the visitors and unless the Australian bowlers find an inspiration in the morning session of Day 2, things look ominous for the hosts already.
Amla's artistic display of batsmanship and Kallis' solidity in the middle must have given Australian captain Michael Clarke a headache. The three-pronged pace attack and spinner Nathan Lyon looked innocuous as the Amla-Kallis alliance was blossoming. Clarke's helplessness can be gauged from the fact that Michael Hussey and debutant Rob Quiney bowled at the fag-end of the second session. The pace trio got some movement with the new ball but unfortunately, failed to get the desired results.
Australian new ball bowlers- Ben Hilfenhaus and James Pattinson did not pitch the ball up consistently. There were several deliveries bowled which were just "help-yourself" deliveries on the leg side for a single or boundaries. Even Siddle, like the other two pacers, seemed a bit rusty. Nathan Lyon looked impressive at times. His off-breaks did not trouble the batsman much, except when he got the ball to jump on occasions. He beat opener Alviro Peterson in flight, inducing an attacking shot from Peterson which failed to clear Hussey at mid-on. But later, Lyon failed to stem the flow of runs.  Full tosses and rank long-hops are not the deliveries that are going to trouble many international batsmen – most certainly not Amla and Kallis.
So close, yet so far:
Kallis, when on 43, failed to execute a pull shot, which was caught at mid-off by Lyon. Umpire Asad Rauf went upstairs to see if Siddle's foot landed in front of the popping crease. It did and Kallis got another life- which dampened the home side's spirits.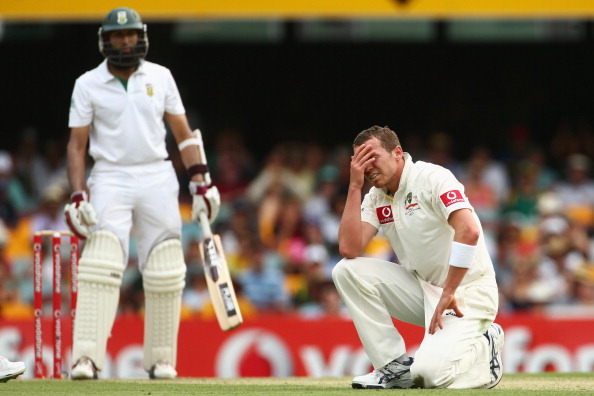 Amla was dropped by Siddle while he was on 73. The dropped catch summed up Australia's luck.
Referrals used:
Australia used up one of their two referrals, when Hilfenhaus's delivery brushed Smith's pad on the way to keeper Matthew Wade, down the leg side.
Performance analysis for the day:
Ben Hilfenhaus – Wasted the new ball bowling short. Could not find the in-between length.
James Pattinson - The ball which got Smith was the ideal length to bowl on the Gabba wicket. Pitched on the off stump and straightened at the last second. He could not replicate that length consistently. Like Hilfenhaus, he was guilty of bowling a bit too short.
Peter Siddle- He was unlucky not to get any wickets. The ball which left Peterson in his early spell was unplayable. In the third session, he could have had Kallis and Amla. Will he be lucky tomorrow?
Nathan Lyon – Lyon looked threatening at times and bowled better than the pace troika. He bowled a lot of bad balls, which neutralized his threat to a certain extent.
Michael Clarke – Looked short of ideas when the Kallis and Amla partnership was blossoming. Quiney and Hussey bowled ten overs amongst them.
Hashim Amla – A measured approach adopted by Amla especially during the middle session. He looked determined not to give away his wicket. He is batting on 90, and unless he loses his concentration like when he played an uppish drive to Siddle on 74, he looks all set to score yet another test match hundred.
Jacques Kallis – He scored 84 from 135 balls. He looked solid and added to opposition captain Clarke's woes. Got a life at 43, and capitalized on that lapse totally. Kallis has helped South Africa's cause with his positive intent.
Predictions for tomorrow:
Watch out for the second new ball. It is going to determine for how long Australia chases leather.
Amla and Kallis will be aiming for big hundreds. They would entertain their prospects if the initial half an hour is negotiated by them.
Duminy out:
Jean Paul Duminy ruptured his Achilles' tendon, while he was doing his fitness practice at the end of day's play. He will be out for six months from international cricket.