I still get nightmares of the Varun Aaron bouncer: Stuart Broad
9.85K //
04 Mar 2015, 05:23 IST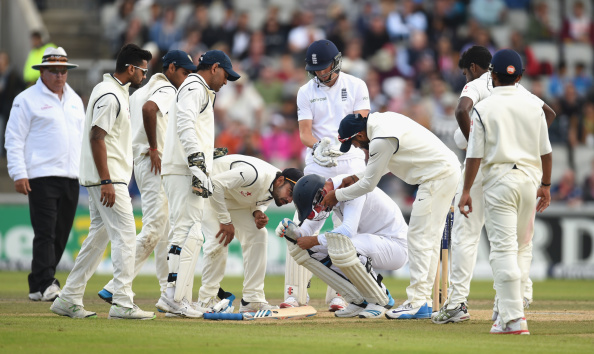 England pacer Stuart Broad, currently under pressure from all quarters for his dismal performance in the ongoing World Cup, has admitted that his confidence has taken a knock after the Varun Aaron bouncer that left him with a broken nose in August 2014.
Broad had been forced to retire hurt on Day 3 of the 4th Investec Test between England and India at Old Trafford last year. Broad, the hero on day 1 of the Test with six wickets, had just hit two consecutive sixes off Varun Aaron before the livewire India bowler struck him on the face with a rising bouncer.
The ball managed to squeeze between the gap in his helmet and smashed into his nose, leaving blood gushing out and the bowler shell-shocked and unable to continue at the crease.
Admitting that he is suffering from recurring nightmares of the Aaron ball and that he has had to seek help about it, Broad said, "I get nightmares still and I wake up thinking I have been hit in the face by a ball, so even when I get tired, I see balls flying at me."
Broad has previously showed his usefulness with the bat, even having a century at Lord's to his name, but his form has taken a beating in recent times. He has even been criticized for backing away from quicker bowlers in the World Cup.
"Potentially it has affected my batting, but I am working with the psychologist on focusing about my process rather than the other stuff," he said.
"It probably has affected me (as a person) more, like my jaw clicks from it, if I have two glasses of wine I have black eyes so it probably has affected me. It was a decent blow."
Anderson and me only aggressive people in team: Broad
Broad is also part of the beleaguered England side who need to win all their matches from here on in the World Cup to progress to the next stage. Broad and Anderson, famed pace duo, have each taken two wickets and gone at more than six runs an over – thus rendering the Three Lions bowling attack a toothless one.
"It was a very quiet changing room after the game and you sensed a bit of anger in there as well. I know I was frustrated and angry," said Broad about the close defeat to Sri Lanka.
"There was such a high at half time – 310 wasn't perfect by any means but we should have defended it – and to have that sucked away from us like that was really gutting.
'We need players to perform and be brave now. It's a young group but they have to stand up and believe they can take on the players here. We don't have natural 'out there' guys at all. Everyone's lovely. Everyone's really nice. Anderson and me have to close in on the batsmen to make them uncomfortable."
England face Bangladesh on Monday in their next World Cup match, and a defeat will render all subsequent matches ceremonial.