MS Dhoni's retirement an emotional moment for youngsters like me: Virat Kohli
23.19K //
05 Jan 2015, 11:38 IST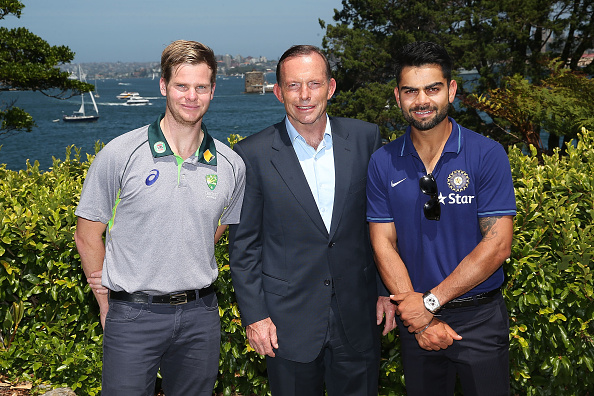 Indian Test captain Virat Kohli has said that MS Dhoni's sudden decision to retire from the longer format of the game took the entire team by surprise and that it was an emotional moment for players like him what made their international debut under the 33-year-old's leadership.
Following the Boxing Day encounter against Australia that ended in a draw, Dhoni chose to part with Test captaincy and call it a day from the format to prolong his ODI and T20 careers.
Kohli, speaking for the first time since becoming a full-time national captain, said: "It (Dhoni's retirement) was a surprise for everyone. After the match, we were changing and packing our stuff and that's when he announced his decision. We didn't know how to react. We were all stunned. It was so sudden, we had no clue. We never saw it coming."
He added: "It was a very emotional moment for him and also for young players including me who started playing international cricket under his captaincy."
'I love my hair and I don't want to lose them'
Kohli said that he will be open to inputs from Dhoni and will look to improve by taking the positives from his predecessor.
On the contrasting styles of the two, the 26-year-old said: "I hope I can be as calm as he is. Everyone has different styles but as long as you keep taking in the positives from others, you will improve."
"I know the amount of pressure and expectations that come with the job. But I also know that as a captain you are only as good or bad as your team plays. I love my hair and I don't want to lose them. So I will try not to take too much stress."
'My bowlers can take 20 wickets and win the game'
Bullish about his bowling unit's ability to take 20 wickets in a game, Kohli said that they are very close to getting there.
He said: "I still maintain if you have three bowlers bowling 140-plus you have an advantage. But at the end of the day how consistently you bowl in the right areas matters most. They know it and we want to give them the breathing space."
"They are very close to getting there. They showed that in the second innings of the MCG Test and they know it can be done. I was really excited to see what they did there and I hope they maintain it in the future."
He added: "Sometimes we become too harsh on our bowlers. When our bowlers get hit it is bad bowling but when we hit other bowlers, it is good batting. I have complete faith in my bowlers and I know they can win us Test matches by taking 20 wickets."
'Vision is to become a strong Test side'
On the team's vision, he said: "The collective vision is to become a strong Test side because there is a lot of ability and talent. Commanding the position will come in some time and we want to be able to dictate terms when we go out there to play.
Looking back at the first Test of the ongoing series, where he filled in as a skipper in place of an injured Dhoni, Kohli said: "There were quite a few things from Adelaide that can be improved on. I thought about the mistakes I made in Adelaide and how I can correct them.
"I don't think there are a lot of changes because the message was simple – go out there and back yourself to play. What we could have done better is win those important moments."
The fourth and final Test of the series starts on January 6 at Sydney. Australia go into the match having already won the series 2-0.