As T20 Blast 2023 commences, eight matches were held on June 2, including four matches in the North group and four matches in the South group. The results brought about significant shifts in the batting and bowling rankings.
On June 2, as the T20 Blast 2023 commenced, eight matches took place across the North and South groups. In the North Group, Durham secured a comfortable victory against Lancashire by six wickets, chasing down their target of 153 runs with 10 balls remaining.
Northamptonshire also emerged victorious, defeating Leicestershire by eight wickets as they reached their target of 165 runs with seven balls to spare.
In the South Group, Glamorgan achieved a convincing seven-wicket win over Kent, successfully chasing down their target of 190 runs with 18 balls remaining. While Somerset displayed a dominant performance, winning by 9 wickets against Middlesex, as they surpassed their target of 137 runs with 39 balls to spare.
In another North encounter, Derbyshire emerged victorious in a thrilling encounter against Birmingham Bears, winning by 17 runs after setting a target of 175 runs.
Gloucestershire secured a close victory over Surrey, winning by two wickets in the final over of the South Group's match. Whereas, North Group's Worcestershire showcased an impressive batting display, posting 226/5, which proved too much for Nottinghamshire, resulting in a 56-run victory for Worcestershire.
South group's Hampshire delivered an exceptional performance, defeating Essex by a massive margin of 118 runs, as they set a target of 215 runs and bowled out Essex for just 96 runs.
---
Wayne Madsen leads the batting charts, Dawid Malan drops to third
Wayne Madsen's unbeaten knock of 71 runs in his last game has propelled him to the top of the batting charts in the T20 Blast 2023, accumulating a total of 348 runs in 5 innings.
With 247 runs from the same number of innings, Yorkshire's Dawid Malan drops a spot to third as Hampshire's James Vince climbs to the second spot, having amassed 280 runs from just four innings.
---
Significant changes in top 3 bowling positions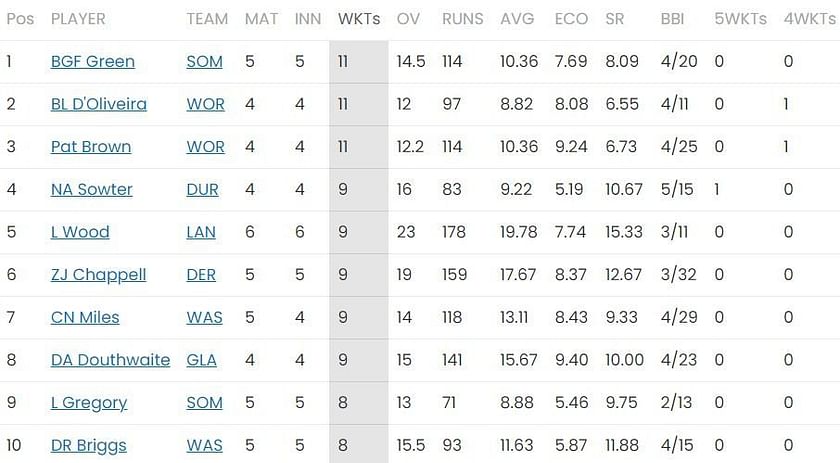 The bowling charts in the T20 Blast 2023 witnessed notable shifts after the matches on June 2. Sitting at the top position now is Worcestershire's De Oliveira, who has claimed an impressive 11 wickets so far.
The second and third positions are held by Pat Brown and Ben Green, both also with 11 wickets to their names. However, their rankings differ based on their bowling averages, indicating their effectiveness in different matches.