Team India vs Men In Blue: The case of the red ball phobia
945 //
26 Nov 2012, 16:01 IST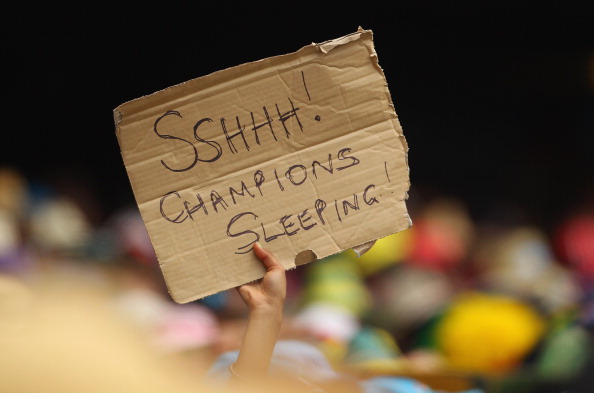 The Indian cricket team has redeemed itself from the depths of self-destruction that it had dug up for itself on the England and Australia tours. With a test match record resembling Bangladesh more than Australia (0 for 8 anyone), surely our team needed a radical revamp.
Since the selectors were definitely not going to do anything, two of our most respected players took it upon themselves and we saw the retirements of Laxman and Dravid.
India promptly won the next three test matches they played, so a big thank you to both these gentlemen.
But something else happened in that period from about Aug, 2011 to about Oct, 2012. It seemed there were two Indias at play.
There was an India that was old and cold and grumpy and never looked like winning a match. This India was appropriately dressed in the funereal White.
There was an India which was young and energetic and looked to put up a fight every time they went out to play. This India is popular in the media as the 'Men in Blue'.
Lets just compare the records of both these teams for a minute.
India White: In the last 2 years, India White played 21 test matches and, contrary to popular opinion, did win 7 of them, but also lost 10 of them. 5 of those victories came at home against opposition that could only discern the amount of spin from the player's TV profile, they were that clueless.  For the record they were WI, NZ and England before Pietersen woke up from his Kumbhkaranesque slumber and thundered 'Mujhe Spinner la kar do'.
India Blue: In the last 2 years, India Blue have played 69 matches and won 43 of them, losing just 22 of them. Though there were a fair few matches played at home, there were thumping victories against strong opposition like SA and Australia in their own backyards.
So where does the Indian team generate its game changing power from, given that Dravid and Laxman constitute the sum total of the changes between the two sides, with Ojha occasionally entering their hallowed company?
I believe its a tale of two colours, Blue and White.
Let me elaborate on 'Blue' first.
Most of us have grown up reading some sort of superhero comics, Nagraj and Dhruv for the more desi amongst us, Batman & Superman for those with a more cosmopolitan bent of mind. The most important aspect of these heroes was their uniform; a distinct creation that was uniquely their own and became as much a part of their persona as their super-powers. You can't imagine Superman with a black mask on his face or Nagraj minus his green-tinged skin. A uniform displays power and a sense of purpose. The Indian limited overs team has a uniform: a colour that is all their own, a big 'India' emblazoned across their chests and a world identity based on that. The opposition is not just the opposition; it is the enemy of the uniform, threatening the dominance of the 'Man in Blue'. Their identities coalesce into one and form a super-structure, much like the way the ancient Spartans fought like one big machine.
Now contrast this with the Test arena. The opposition shares the uniform, they don't threaten the identity of the player; in fact, it seems like a 'friendly', where you're playing against members of the same family. Not for a moment am I suggesting that test cricket is easier, its just as a nation we've only ever defended our turf. Indians are not known as aggressors historically: our most martial races, the Rajputs only protected their kingdoms and rarely harboured plans for world domination. To top it off, our penchant for moral hazards have been well known since the time Arjun put his arms down and Krishna had to cajole him to fight people wearing the same uniforms.
Look around the entire sporting arena, across the spectrum, there is no sport in which the two teams participating share the same uniform apart from the high quality sport of gully cricket played in the new national dress of tweens : the three quarter pyjamas.
To add to all this introspection of 'Who am I? Who am I fighting against?' aided by the shared whiteness, another colour rears its ugly head. The Cherry Red that adorns the leather bomb currently masquerading as a cricket ball.
Red is the colour of Danger, so you cant really blame the Indian batsmen when they want to face as little of it as possible and immediately start craving for the comfort and security of the White ball which comes in peace. Indians get bored very easily and don't want to play with the same ball for a full day. After all, who plays with the same ball for 80 overs, if the white ball is changed after 30.
The Red ball is like being attacked after a white flag is raised for truce, and again, you cant really blame our players to get confused between the same but different opposition, and their actions by throwing down the gauntlet again with the white balls.
I humbly request the BCCI to either change the ball to white, so that the players get that friendly feeling through the game, or to change the test uniform so that the Men In Blue can start a proper warlike campaign.
Heil Blue.