Tendulkar's recent 'failures': What's all the fuss about?
1.56K //
15 Dec 2012, 18:05 IST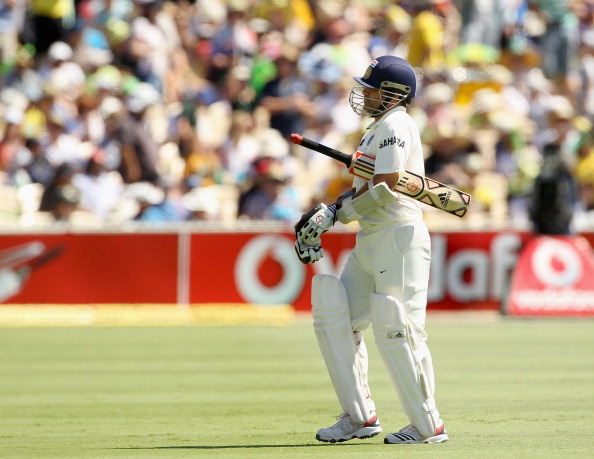 December 2012. Scoreboard at the Vidarbha Cricket Association Stadium in Jamtha, Nagpur: Compton 3, Sachin 2, Cook 1, Sehwag 0.
That isn't some curious countdown in the India vs England Test match, it's a list of scores.
The 4th  test of the India-England series saw the best batsmen on both sides succumb. They succumbed to everything – to the wretched pitch, to their temporary lack of form and, unsurprisingly, to some good bowling and fielding.
Why is only Sachin's 'failure' being singled out for page-one treatment? What's all the fuss about?
Is it because he's a few weeks short of being 'a 40-year-old'?
Are critics complaining because he's played for too long or because he's having a lean year?
If it's the latter reason, we might consider giving him some room. After all, in a career of over 23 years, a bad patch over 6-12 months is more like spam; it's not a system crash. In a career of 194 Tests, a bad patch across 3 Test series' is more like a bounced cheque; it's not insolvency.
If it's the former, that's an odd grouse. It shouldn't worry anyone how long a player has played; only how well he has played and how well he can continue to play.
It's another matter if Sachin himself reads too much into his low scores. He shouldn't. He should instead draw solace from the fact that Bradman had scores of 18 or fewer runs in 23% of his Test innings. That's right. 22 out of Bradman's 80 test innings  (or 23% of his test career) saw him score 18 or fewer runs. These included 7 ducks.
If the Don himself was given the leg-room to consistently get away with May Day scores, why is Sachin being crucified?
November 2012. Scoreboard at the Wankhede Stadium in Mumbai: Bairstow 9, Sachin 8, Kohli 7, Pujara 6, Gambhir 4, Trott 0.
This isn't another countdown; it's merely another list of scores, this time from the 2nd Test. Again, the better batsmen 'failed' – in both teams. All right, one team fared worse, but isn't that the point of cricket?
Why are snappers and sub-editors working overtime in capturing and captioning only Sachin's dismissals in slow-mo and hi-def?
What's all the fuss about?
No matter how disastrous 2012 looks, the Indian team played only 3 Test series' this year, against just 3 teams. They played far more in 2011 (12 Tests against 4 teams) and 2010 (14 Tests against 5 teams), and did OK. All right, 2010 was better than 2011, but that's wear-and-tear.
The team is shedding the old guard – Dravid's gone, Laxman's gone…soon Sachin will be. Let's not rush everyone into retirement. The rest are buckling too.
Let's give everyone the room they need to 'breathe': fall, get up, fall again, get up again. That's a rhythm all teams need to get in to till they are almost unbeatable.
If we're clapping until our hands bleed, there's something wrong. We must have the luxury to stop and simply pick up our coffee cups.
We'll cheer our heroes again soon. For now, let's sip our coffee.