Thackeray vs Pakistan Cricket team
929 //
14 Nov 2012, 12:21 IST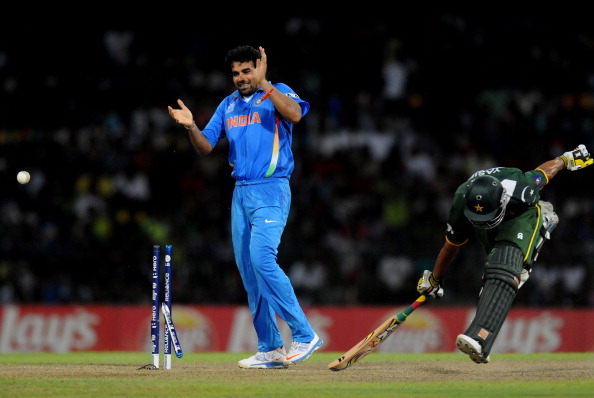 "Mr Shinde, why are you taking this immature step of playing cricket with Pakistan? How can you say that we should forget the past? How and why should we forget the past?" Thackeray, Senapati of Shiv Sena wondered.
This in response to the upcoming India-Pakistan cricket series in India.
"Shinde saheb, if you have any shame, take your statement back or self-respecting and patriotic Hindus will not allow the matches to happen where they are scheduled,"
Thackerty Saheb, please. Calm down. Mutual peace is the way to go. Chill.
"Home Minister should be awarded Nishan-e-Pakistan. How come none of you feels ashamed of playing with Pakistan? None of them has stood up and said anything against playing with Pakistan. Everyone is after money."
Relax man!
"The feet of Pakistani players won't touch Maharashtra but their tour of these cities is a matter of national shame."
Sod it.
He's made a call for "staunch Hindus and patriotic people of India" to disrupt cricket matches between India and Pakistan. What about staunch Christians, and other assorted religions? Why are they exempt of this noble act? Talk about generalization. Applying the blame of the actions of a few to an entire country. The comments section in this thread are dripping with venomous hate.
At the end of the day we need to decide if we value revenge and hostility over peace and trust. Whatever indiscretions may have been done in the past by the two countries, the players on either team aren't the ones guilty of bloodshed. And associating a few sportspersons as representatives of hatred is bigotry unless you have conclusive proof associating them with extremist actions.
One way to move towards peaceful relations is to get the general population of the two countries to dispel the hostility brimming between them. One thing which has not been proven or even alleged is that the cricket team of either country contributes towards terrorism. Provocative statements which incite hostility don't help anyone.
When it comes to inter country relations, its either an all out war, mutual peace, or uneasy tensions. The ideal scenario would be mutual peace. But for that to happen, firstly the citizens of both countries need to ease up on the hate. Wars are not fought by all the countrymen. The general population isn't lobbing grenades across the border. Only a select few group of extremists here and there who disrupt the peace.
The cricket series would comprise three ODIs and two T-20 matches to be held between December 25 and January 6. The ODIs will be played in Chennai, Kolkata and New Delhi, and the T-20 ties in Bangalore and Ahmedabad.
But Thackeray is the worst affected.
Jammu and Kashmir Chief Minister Omar Abdullah said that India and Pakistan must play the match in a good environment."This remark can affect the relations between the two countries and I will not want that sports should be politicised. I would want that the Pakistan cricket team comes to India and play a match in a good environment,"
Another affected area by the Indo Pak conflict, Punjab. Punjab deputy chief minister Sukhbir Singh Badal speaking at the prize distribution function of the Asia Kabaddi Cup in Lahore, congratulating the Pakistan team on winning the kabaddi cup, "Whosoever wins in India-Pakistan (East Punjab-West Punjab) games, it is Punjab that wins."
Bilateral cricket between the nuclear-armed neighbours were suspended after the 2008 Mumbai attacks in which 166 people were killed. India blamed Pakistan-based militants for the incident.
Thackeray blames the Pakistan cricket team.
God save India-Pakistan relations.